India Seeks Greater Maritime Cooperation With Sri Lanka In Indian Ocean Region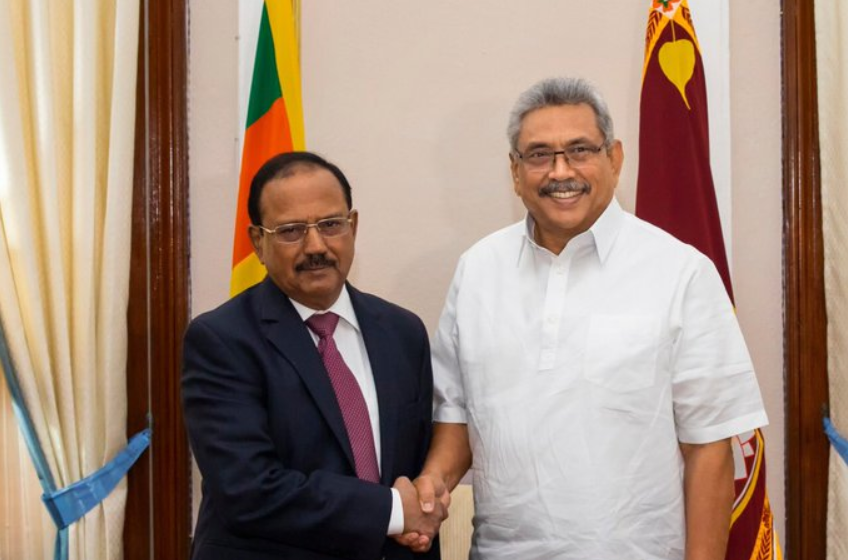 NEW DELHI: In the latest move to ramp up its strategic imprint in the Indian Ocean Region (IOR) and to counter Beijing's power play, New Delhi has reached out to Colombo for stepping up maritime cooperation. The outreach to the new Gotabaya Rajapaksa-led Sri Lankan government was done during the visit of India's National Security Adviser (NSA) Ajit Doval to Colombo last weekend.
During the Doval-Gotabaya meeting, the two leaders are learnt to have agreed to step up maritime surveillance. The NSA also assured $50 million to Sri Lanka for purchase of security equipment.

In recent years, New Delhi has been seeking to counter the Chinese challenge posed by what is described as the 'string of pearls' construct to encircle India in the IOR by boosting its linkages with countries in the region. China is building roads, railways and other infrastructure projects in Sri Lanka and its control of Hambantota port has caused consternation in New Delhi.
Last month, India's Navy chief Admiral Karambir Singh said there were six to seven Chinese warships in the IOR at any given time, while confirming that Indian warships had driven away a Chinese oceanographic research vessel indulging in suspicious activity near the Andaman and Nicobar Islands.
Earlier this month, China held a joint naval exercise with Pakistan in the northern Arabian Sea where it deployed submarines as it regularly does in the IOR on the pretext of anti-piracy patrols.
The New Delhi-Beijing duel to outwit each other in the IOR has seen the pendulum swing from one end to the other. While in 2014, Sri Lanka permitted a Chinese submarine and warship to dock at the Colombo port to India's great discomfiture, three years later Colombo refused the Chinese permission to dock a submarine at the same port.