India And China Made Sri Lanka Debtor, Japan Did Not: Trade Union Leader Lal Kantha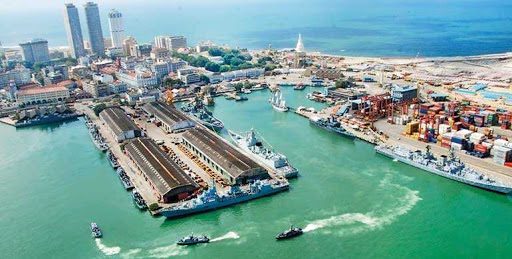 COLOMBO: It has been a week since the Sri Lankan Government changed its plan to offer 49 per cent stake in the East Container Terminal (ECT) of the Colombo Port to India, specifically its giant conglomerate Adani Group, reneging on a tripartite agreement signed with India and Japan in 2019. The Indian Government has not taken kindly to this U-turn by the Sri Lankan Government and has said in no uncertain terms that it wants the latter to abide by the agreement.
The decision to backtrack on the agreement was due to intense and vocal opposition from trade unions both within and outside the Colombo Port, especially by those unions that had supported the government during both the presidential and general elections. These trade unions called off the planned work to rule campaigns and further protests following the approval by the Cabinet of Ministers for 100 per cent ownership of the ECT to remain with the Sri Lanka Ports Authority (SLPA), which was confirmed by Minister of Ports and Shipping Rohitha Abeygunawardena last Monday.

The Janatha Vimukthi Peramuna (JVP)-backed trade union was a prominent fixture in this protest campaign and the party's campaign was led by its politburo member National Trade Union Centre Chairman K.D. Lal Kantha. 'The Morning' interviewed him on the campaign, the government's latest decision and the discussions revolving around the West Container Terminal (WCT).
Below are excerpts from the interview:
Are you satisfied with the solution given by the Sri Lankan Government regarding the ECT?
The Sri Lankan Government had no choice but to kneel down. Trade unions attached to the Colombo Port, leftist political parties, nationalists as well as civil society groups were against the proposal of granting 49 per cent stake of the ECT to Indian companies. Even the media raised concerns regarding this proposal and helped raise awareness regarding the importance of having the ECT under the SLPA. I think this was a joint effort where the government had no choice but to pull out of the deal, where now the SLPA retains 100 per cent ownership.
What's wrong with India investing in the ECT? Are you opposed to private investments?
No, I'm not against them. If we let them invest, we will not be able to stop them. This is not the first time India invaded Sri Lanka. In 1987 also we faced such an invasion. We are an independent, sovereign nation. We might be neighbours but India wants to create conflict and confusion in Sri Lanka. India's pragmatic foreign policy on Sri Lanka is detrimental to Sri Lanka, where they want to rule Sri Lanka. It's not India's property but we need to face this issue as we don't have a stable policy.
Was the ECT removed from India due to Chinese conspiracy?
According to the geopolitical scenario, that can be a fair assumption. But we don't believe this is a Chinese conspiracy because the end result of a tension might be that the door opens up to send China away.
Was China behind the protests?
China was not supporting our alliances. However, we do not know whether China was behind these protests.
Why didn't you oppose it when China was given 85 per cent share in Colombo International Container Terminals (CICT)? Is it because China is funding the JVP?
If China was funding the JVP, we would have won all the elections and had some media stations in our kitty. The problem is no one wants to fund us. We did oppose CICT. We also raised our voice in Parliament. During that time, no one was interested in that issue unlike when we raised concerns regarding the ECT. That is how China managed to come inside the country.
Did you see the danger of the CICT deal back then or not?
We did but we did not get considerable public response to that. If it's a national problem, everyone should get together and raise their voices against it just like we did in case of the ECT.
Do you think the Cabinet's decision on the ECT is irreversible?
Under the Rajapaksa regime over the last decade, a neoliberal economic path was steadily consolidated. While Sri Lanka has been shaped by neoliberal policies by successive regimes since the "open economy" reforms after 1977, the civil war had its costs. It curtailed the inflow of capital and slowed economic growth. Every government elected after 1978 has made selling public property a national policy or a norm where they depend on the commissions and privileges they receive through these deals. Therefore, I don't believe the Cabinet's decision on the ECT is irreversible. This decision could change in one second. So, I request everyone to keep their eyes open.
So what you are saying is that you do not trust the government and there is a danger of this decision being reversed?
Yes, because the ECT is an asset through which they can earn money, so based on what they have done in the past, I'm pretty sure the decision of keeping 100 per cent ownership of the ECT with the SLPA could change.
What you mean by that is you do not trust the Rajapaksa regime?
Whether it is Rajapaksa, Ranil Wickremesinghe or Sajith Premadasa, everyone will follow the same policy of selling state-owned resources or lands to foreign countries. I think people should turn 180 degrees and give another thought to the rulers of the country. If they take a 360-degree turn, they have the same rulers. My suggestion is to have a person or a party who will not destroy the country or assets. If we do not take this step now, the next generation would curse us for not protecting our land.
Did you get the ECT decision on paper?
No, we only have the Cabinet decision on paper. Nothing else.
After all you have gone through, don't you think you deserve the ECT decision on paper?
Well, the current government can write any decision on paper but even a Cabinet decision can change. We don't believe in any of those. We only believe in an active mass force.
What about the West Container terminal (WCT)?
There is no terminal, only a west part. The Colombo South Container Terminal was developed under an agreement with China. We need to build the West Container Terminal from scratch. Sri Lanka has already made a proposal to develop the WCT with India and Japan, to which we do not agree. This may be to make India happy and this time it's with dollars. The government should be ashamed when they say baa ("cannot") like sheep when it comes to development. We say we are capable of developing this port on our own and also paying off loans which we obtained from other countries. With the end of the war in 2009, global capital flows and investment by bilateral donors such as China, India contributed to a massive transformation of the economy with infrastructure and urban development. But why did we let them in and sell our assets? We need to send them back to their countries.
Is the JVP against private investment?
No, we are not. However, we cannot allow them to interfere in our national decisions. India and China made Sri Lanka a debtor. Japan was not like that, they did not.
How can a country and economy like Sri Lanka develop without investment?
Did someone invest in the Kala Wewa in Sri Lanka? We did it ourselves. We had a good foreign policy during the past. But now we let India, China, and the U.S. rule the county. This was after 2009 when Mahinda Rajapaksa let China come into the country and Maithripala Sirisena sold our assets to China. It's difficult to fix it now but we need to fix it.
How do you propose the government fix the economy?
The current government should have a conversation with the public and reveal what the government members took as commissions or benefits and how much the government has to pay as loans. We have to send skilled workers to other countries and let the families stay in Sri Lanka and provide them the facilities they need. So we can get some amount of contribution to the country's economy. At the moment, we depend only on migrant domestic workers' contribution.
Do we need a closed economy like China and Russia those days or an open economy?
We need both.