Disrupt Current Tax Policy And Lose IMF, Warns Sri Lankan President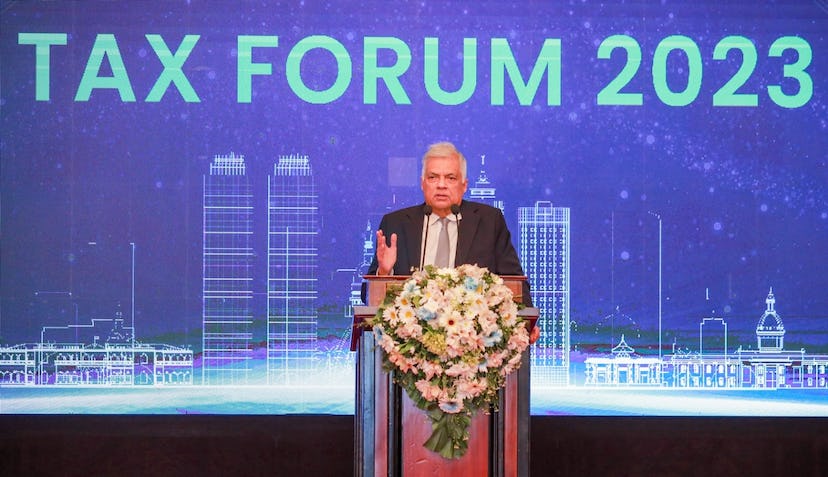 The current tax policy in Sri Lanka is not a normal tax policy but a rescue operation and any disruption to this process will result in Sri Lanka not being able to secure the International Monetary Fund (IMF) funding, which may also result in the opportunity to do business with foreign countries being lost, warned President Ranil Wickremesinghe.
He made these comments while delivering the keynote speech at the Tax Forum 2023, organised to discuss the taxation policies introduced by the government in the 2023 budget.
In addition to his comments on the tax policy, President Wickremesinghe also stated that the budget presented for the year 2023 in Sri Lanka is not an ordinary budget but an operation to rescue the economy.
The President highlighted that, apart from the Sri Lanka Chamber of Commerce, no other party, person or institution has submitted any proposals or alternatives to the IMF.
He added that once an agreement with the IMF is reached, it will be presented to Parliament and it will have the option to pass or reject it, and if the proposal is rejected, the relevant parties should submit alternative proposals to the IMF.
Commenting on the debt restructuring process with the main creditors of Sri Lanka, the Paris Club, India and China, the President said that the Paris Club has guaranteed its financial support for Sri Lanka, and India is following its own method but China has not expressed agreement about its method so far. However, President Ranil Wickremesinghe mentioned that their stand will be announced at the G-20 Finance Ministers' meeting on the 23rd in Bengaluru, India.
(By arrangement with 'The Morning')