Chinese Ship Awaits Permission Around Hambantota Port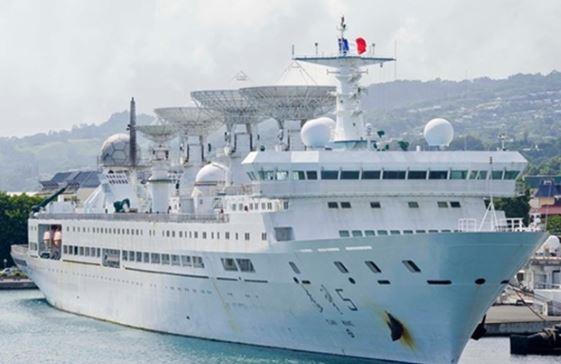 Chinese space and satellite tracking research vessel Yuan Wang 5, which was scheduled to dock at Hambantota Port on Thursday did not arrive at the port as scheduled. It remains 600 nautical miles away, awaiting necessary approvals, following a request by the Government of Sri Lanka (GoSL) to defer the arrival of the ship after concerns raised by the Government of India.
However, Sri Lanka Ports Authority Harbour Master Capt. Nirmal Silva had told Ada Derana that the ship had, at no stage, requested permission to enter Hambantota Port.
The Government of Sri Lanka (GoSL) has been engaged in "quiet diplomacy" to persuade China to agree to its request to defer the docking of the Chinese vessel Yuan Wang 5 at the Hambantota Port this week, diplomatic sources told The Morning on Sunday while the Chinese Embassy in Sri Lanka had requested an urgent meeting with senior Sri Lankan authorities over the matter.
The GoSL's efforts are aimed at ensuring that it antagonises neither China, which is crucial to its hopes of obtaining an International Monetary Fund (IMF) bailout, nor India, which has virtually bankrolled Sri Lanka amidst an unprecedented economic crisis.
The Foreign Affairs Ministry had initially provided permission to Yuan Wang 5 to dock at Hambantota Port. However, Sri Lanka's Defence Ministry denied the vessel's arrival to foreign media in July, even as India raised concerns about it. In the face of intense pressure from India, the GoSL had issued a "third-person note" from Sri Lanka's Foreign Ministry to the Chinese embassy in Colombo dated 5 August, which requested that the arrival of the vessel be deferred until further consultations are made on the matter. Chinese Ambassador to Sri Lanka Qi Zhenhong had met with President Ranil Wickremesinghe after the receipt of the note and expressed China's surprise at the sudden change of heart by Sri Lanka.
Last week, Indian External Affairs Ministry Spokesperson Arindam Bagchi told a media briefing that the Indian Government "carefully monitors any development having a bearing on India's security and economic interest and takes all necessary measures to safeguard them. I think that should be a clear message".
China plays an important role in Sri Lanka's economic recovery as the government seeks a financing loan from the IMF, as the U.S.-based fund said last week that Sri Lanka should kick off debt restructuring talks with its bilateral lender China. On the other hand, India has provided Sri Lanka with almost $4 billion in aid this year, as Sri Lanka grapples with its worst economic crisis since Independence.
(By arrangement with 'The Morning')