Chinese Foreign Minister Urges Sri Lanka To Resume FTA Talks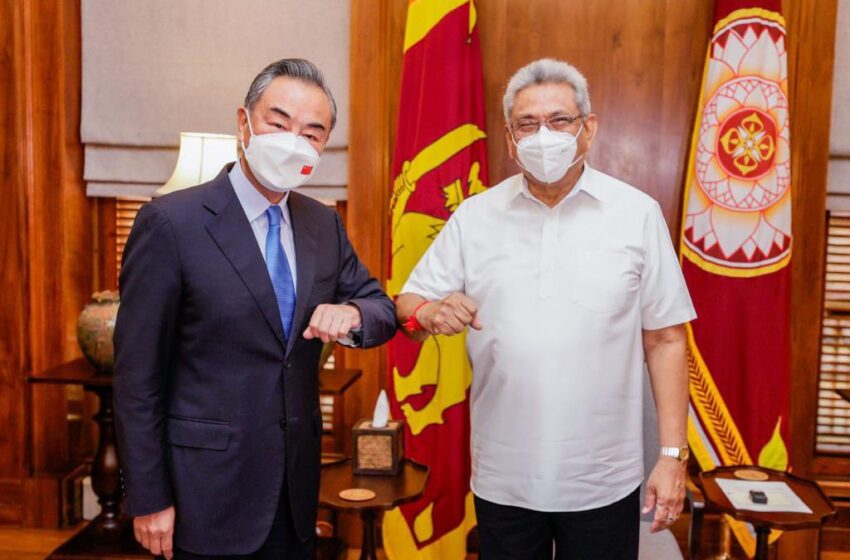 COLOMBO: During Chinese Foreign Minister Wang Yi's visit, Sri Lanka and China signed four agreements; namely an agreement on Economic and Technical Co-operation, the Letter of Exchange on the project of 2,000 subsidised housing units for the low-income category in Colombo, the Handover Certificate of the Technical Cooperation Project for the Bandaranaike Memorial International Conference Hall (BMICH) and the Handover Certificate of the Technical Cooperation Project for the Kidney Disease Mobile Screening Ambulance Vehicles. The financing for the agreement on Economic and Technical Cooperation is ¥ 800, which is equivalent to Rs 25 billion.
Wang Yi has urged the leadership of Sri Lanka to restart the stalled negotiations on the proposed Free Trade Agreement (FTA) between China and Sri Lanka, stating that smaller nations have benefitted immensely from similar FTAs with China.

This was communicated by Yi during his meetings with government leaders, Chinese Ambassador to Sri Lanka Qi Zhenhong revealed during a meeting with a select group of newspaper editors on Sunday evening.
Yi proposed to government leaders that experts and professionals study the FTA and resume discussions, and that China was open to discuss any concerns of Sri Lanka in order to facilitate resumption of negotiations.
Yi left Sri Lanka yesterday after an official two-day visit where he launched the celebrations marking the 65th anniversary of Sri Lanka-China bilateral relations and held meetings with both President Gotabaya Rajapaksa and Prime Minister Mahinda Rajapaksa.
Zhenhong explained that Yi discussed a comprehensive economic and technical co-operation framework with Sri Lanka leaders in addition to the discussion on the FTA.
"Free trade now is a global trend and Sri Lanka has a very unique, strategic advantage in geopolitics. I think if we reach a FTA, Sri Lanka can gain access to a market of 1.4 billion for its exports. Sri Lanka will also take advantage of China's development," the Chinese envoy noted.
The Ambassador further stated that Sri Lanka could become the distribution hub for products in the region.
Focusing on the concerns of Sri Lanka about entering a FTA with an economic giant such as China, he explained that it was understood that Sri Lanka had been taken advantage of by other nations through FTAs in the past, but assured that it would not be the case with the China FTA.
"I can say that other medium and small economies that have entered into FTAs with China have benefitted," he said.
When asked why negotiations on the FTA with China had come to a standstill after six rounds of negotiations, the envoy said even he could not understand why they had been halted. "The Government of Sri Lanka needs to say what happened," he commented.
Echoing the Foreign Minister's message, Zhenhong added that China was open to discussing concerns over the FTA and address them during negotiations.
An FTA between Sri Lanka and China was first proposed in 2014 under the Mahinda Rajapaksa Government, with three rounds of negotiations being held between September and December the same year. However, the negotiations stalled for nearly two years following the government change in Sri Lanka and resumed only in 2016 under the Yahapalana Government, but after three more rounds of negotiations between August 2016 and January 2017, the talks came to a virtual standstill. The main reasons are believed to be Sri Lanka's insistence on reviewing the agreement every 10 years, to which China was strongly opposed due to its willingness to have a longer term agreement, and a number of disagreements on trade liberalisation, especially when China requested 90 per cent of the goods to be tariff-free.
In August 2021, then State Minister of Foreign Affairs Tharaka Balasuriya was appointed as the Chief Negotiator for the China FTA. A year prior, in October 2020, Balasuriya said that Sri Lankan authorities are reviewing the provisions of the proposed FTA with China to ensure it would not turn out to be "another Singapore FTA".
Disregarding the opposition from professional associations and other entities, Sri Lanka entered into an FTA with Singapore in 2018 after holding negotiations over 18 months. Professionals and experts opposed this FTA, claiming that the agreement would endanger local jobs, as it would allow skilled labour and professionals from Singapore to enter while also opening the floodgates for the imports of nuclear waste and clinical waste, thereby converting Sri Lanka into a dumping ground for Singapore.
Meanwhile, when inquired as to any possibilities of China restructuring Sri Lanka's debt, the Ambassador was evasive, stating only that China would continuously support Sri Lanka's economy as it has in the past.
Amidst warnings of Sri Lanka being in danger of defaulting on its external debt obligations due to a severe foreign currency reserves shortage, Zhenhong offered a vote of confidence in the country's ability to service its debt on schedule as it has never suffered a debt default in its history. He also expressed optimism that Sri Lanka would be able to overcome the current economic problems it is facing.
The Sunday Morning reported yesterday that Cabinet paper number 49 that was presented by Finance Minister Basil Rajapaksa on 3 January has noted that the Government of Sri Lanka should look at seeking a financial package from China and Japan similar to that negotiated with India, since 20 per cent of Sri Lanka's foreign debt is to these two countries. The cabinet paper has noted that debt repayment for 2022 stands at $6.9 billion while $1,300 million is required for debt servicing in January 2022 and $3,100 million for the first quarter for this year.
(By arrangement with www.themorning.lk)