'China Not Okay With IMF's Debt Analysis Targets For Sri Lanka'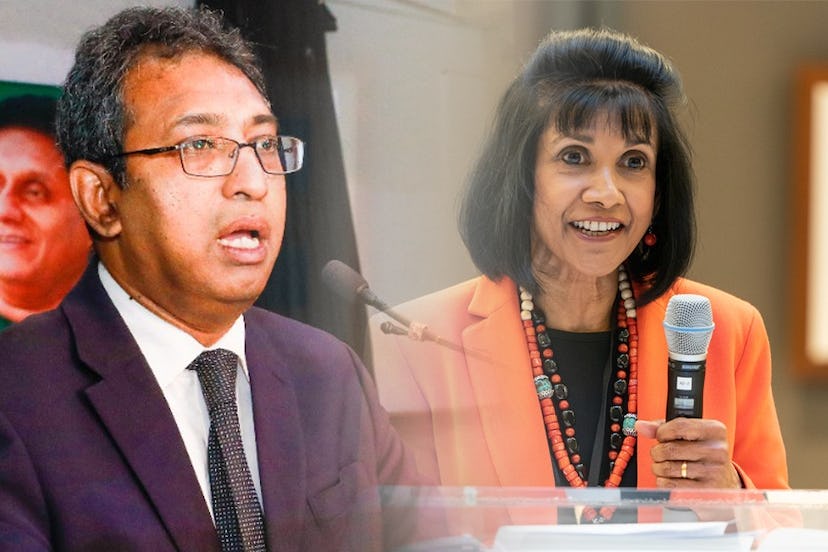 The Chinese government is unwilling to follow the Debt Sustainability Analysis (DSA) targets set by the International Monetary Fund (IMF) for Sri Lanka, former IMF Director Dr Sharmini Coorey and Samagi Jana Balawegaya (SJB) MP and economist Dr Harsha de Silva have revealed.
During a webinar conducted by Oxford Political Review, Coorey, who is a member of the Presidential Advisory Group on Multilateral Engagement and Debt Sustainability, said that China has refused to reduce the debt burden to the levels specified by the DSA, and added that the two-year debt moratorium offered by the EXIM Bank of China is not sufficient.

"China has refused to reduce the debt burden stipulated to levels mentioned in the DSA. It is the one outlier in the full system. They said they will give a moratorium for two years but it is simply not enough because the debt continues when you are in a moratorium," Coorey explained.
Participating in the webinar, de Silva said China feels providing financial assurances to the IMF over Sri Lanka is beyond a "Sri Lankan" issue and that the Chinese need to treat everyone equally.
"I had a discussion with Chinese officials. Their questions were: 'why do we need to listen to the IMF?', 'why should we follow the DSA targets that the IMF says should be the targets for the Government of Sri Lanka?', 'how come the IMF, World Bank and the ADB get paid and we need to cut the amount they owe to us?"
The letter to IMF by the Indian finance ministry showed the DSA targets set by the IMF to Sri Lanka, such as achieving a 95 per cent debt-to-GDP ratio by 2032 from 120 per cent in 2022, maintaining Gross Financing Needs at 13 per cent of GDP by 2027-2032 and foreign debt servicing at 4.5 per cent of GDP by 2027-2032.
Dr Coorey said the policy of Lending Into Official Arrears (LIOA) by the IMF allows a country to access IMF resources despite sovereign arrears to official bilateral creditors as long as it is below a threshold of 50 per cent of the debt stock. Technically, Sri Lanka can proceed with the programme without China because Sri Lanka comes within the boundaries of the policy.
The latest update on government debt showed that China's debt stock of 50 per cent of the total bilateral debt had been reduced to 40 per cent as close to $2.9 billion debt from China has been reclassified as commercial debt. However, she said it is difficult to go ahead because China has in other cases insisted on getting paid on more favourable terms than other creditors, which is the second part of what's needed in debt restructuring, inter-creditor comparable treatment.
(By arrangement with 'The Morning')