Basil Rajapaksa Discusses Economic Assistance With India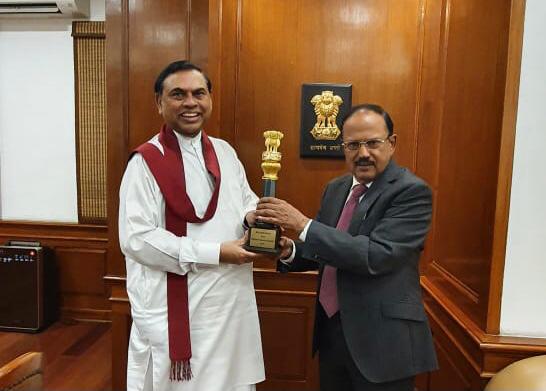 A meeting between Sri Lanka's Minister of Finance Basil Rajapaksa and Indian Prime Minister Narendra Modi, which was scheduled to be held on Thursday has failed to materialise for what government sources indicated were scheduling issues, The Morning has learnt.
However, the Minister of Finance did meet India's National Security Adviser Ajit Doval in New Delhi yesterday and discussed a range of issues pertaining to strategic interests of the two countries. Sri Lankan High Commissioner to India Milinda Moragoda and Ministry of Finance and Treasury Secretary S.R. Attygalle accompanied Rajapaksa to the meeting.
Last week, Sri Lankan Minister of Foreign Affairs Prof. G.L. Peiris told The Morning that Rajapaksa's discussions with Prime Minister Modi would be to procure foreign investment into the country.
"He will meet with Premier Modi, Indian External Affairs Minister S. Jaishankar, and other members of the Indian leadership. This visit is not merely to get loans. Our policy as a government is to not just get loans. But we are also focused on getting capital and foreign investments through other means—investments, business relationships, and the development of the tourism sector," said Prof. Peiris.
In Delhi, Rajapaksa had two rounds of joint discussions with his Finance and Corporate Affairs Minister Nirmala Sitharaman, and External Affairs Minister Dr S Jaishankar, pertaining to the bilateral relationship with particular focus on economic cooperation. Both sides discussed four pillars for short and medium-term cooperation in this regard:
Food and health security package on an urgent basis that would envisage an extension of a line of credit to cover the import of food, medicines and other essential items from India to Sri Lanka.
Energy security package that would include a line of credit to cover import of fuel from India and early modernisation of Trincomalee Tank Farm
Offer of a currency swap to help Sri Lanka address the current balance of payment issues.
Facilitating Indian investments in different sectors in Sri Lanka that would contribute to growth and expand employment. This will build on recent trends in that respect.
It was agreed that modalities to realise these objectives would be finalised early within a mutually agreed timeline. Rajapaksa also had direct bilateral discussions with Jaishankar and met Petroleum Minister Hardeep Singh Puri as well.
(By arrangement with themorning.lk)