Pakistan-Backed Crime Syndicates Create 'Hash Highways' Across The IOR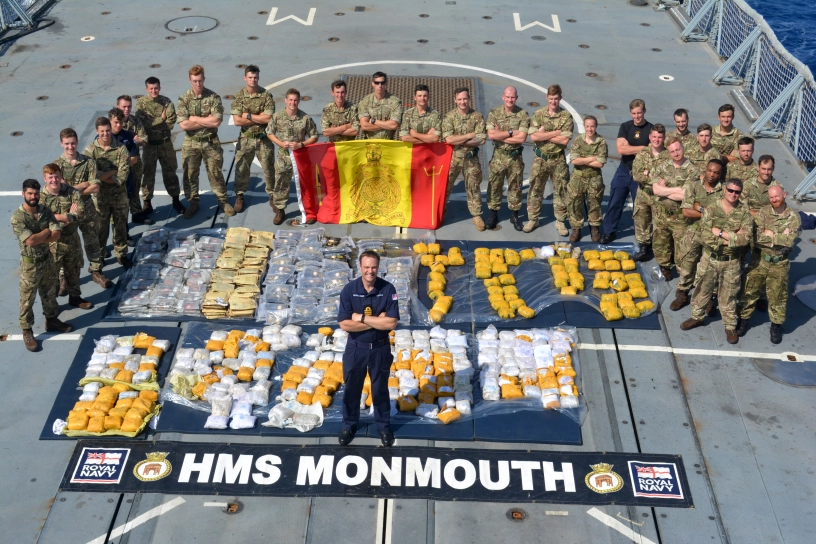 On November 22, 2022, USS Nitze, a United States Navy guided-missile destroyer seized an estimated US $20 million worth illegal drugs from a fishing vessel, while patrolling in the Gulf of Aden (Red Sea). Details about the nationality of the intercepted vessel and its crew are publicly unavailable, but it is well known that the interception was on the infamous "Southern Route" used by Pakistan and Iran-based drug cartels to transport large quantities of heroin, opium and other opioids from the Makran coast of Balochistan, to pre-determined landing points on the coast of the East Africa. Indeed, over the past two years, vessels of multinational navies operating under the aegis of the US-led Combined Maritime Forces (CMF) have seized approximately US $900 million worth of illicit narcotics, while patrolling the northern Indian Ocean, including the Persian Gulf and the Red Sea. Anecdotal inputs have repeatedly brought out the Pakistani (or occasionally Iranian) link to most vessels intercepted in this kind of illicit maritime activity in the region.
In spite of the incontrovertible evidence of extensive organised criminal activity manifesting from the Makran coast, the reluctance of the international community to openly identify Pakistan as the driving force behind the heroin trade in the Indian Ocean region is puzzling. However, many a tide that has risen and ebbed across the non-descript coves and harbours of Balochistan's craggy coast has witnessed the home truth concerning trafficking of Afghan origin heroin, facilitated by Pakistan and Iran-based cartels. Today, experts who better understand the world of organised crime acknowledge that Pakistan has emerged as the veritable "Narco State" of the region, working alongside collaborators in Iran and Afghanistan. Over the past three decades, Pakistan-backed crime syndicates spread across Asia, Africa and Europe have created a sophisticated network of drug businesses across continents, which meet the world's rising demand of heroin and derivates like methamphetamine (crystal meth), increasingly using the maritime routes – colloquially called the "hash highways". These highways also contribute to something more sinister than various derivates of opium – they buttress the unholy nexus of illicit narcotics trade and international terrorism.

There is mounting evidence pointing to undeniable links between the drug trade and terror-money that flows back to Pakistan and Afghanistan by 'hawala' routes for facilitating activities of terror groups. The irony is striking – Pakistan has been among the older participants of the US-led CMF, a coalition of "willing nations" formed in the early years of this century to ensure maritime security in the Persian Gulf, after the second Iraq War. Steadily, the mandate of CMF was increased to cover nearly the entire northern Indian Ocean, where ships of the Pakistan Navy operated under the coalition umbrella, ostensibly to prevent maritime crime like drug trafficking and arms smuggling. Pakistan was successful in presenting a façade of being a maritime security provider in the Gulf region, even as dozens of "dhows" and fishing vessels sailed unhindered from its coast, with drug cargoes destined for far-flung locations in the Indian Ocean.
Independent research by credible international organisations has revealed Pakistan's link with international heroin trafficking with greater clarity. A voluminous, copiously illustrated report of the United Nations Office of Drugs and Crime (UNODC), "Afghan opiate trafficking through the Southern Route (2015)" identifies Pakistan as the main geography of origin of the trafficking routes of Afghan heroin and opiates to Western and Central Europe, South Asia, Middle East and Persian Gulf region, Southeast Asia and Oceania. The report dedicates a chapter to Pakistan and estimates that nearly half of Afghan-origin heroin is trafficked through Pakistan. In another study published in 2021, "Changing Tides – The Evolving Illicit Drug trade in the Western Indian Ocean", Global Initiative against Transnational Organised Crime (GI-TOC), an independent civil-society organisation headquartered in Geneva, has detailed the pernicious impact of heroin trafficking over the "Southern Route" on the island nations in the Western Indian Ocean (Mauritius, Seychelles, Madagascar, Comoros, French territories of Mayotte and Reunion)
While the problem of trafficking of narcotics through Pakistan is well known, the narco-terror angle is lesser known, and its link with international terror financing much less understood. Praveen Swami highlights the legacy of organised drug trafficking supported by Pakistan's deep state in a story focussed on the highly controversial killing of Pakistani investigative journalist Arshad Sharif in Kenya. Swami's piece entitled "Behind killing of Arshad Sharif lies ISI's deepest secret—an empire of heroin in East Africa", details the web of illicit relationships fostered by Pakistan's Army Generals with Afghan and Pakistani drug cartels to raise funds for global jihadists. The article underscores the central role of Pakistan's notorious intelligence agency, Inter-Services Intelligence (ISI) in stitching together an intricate criminal network that stretched over many decades across the western Indian Ocean, running drugs from Pakistan through Kenya into Europe.
There are more pointers available in published academic literature. Dr Sanchita Bhattacharya, in her 2016 paper, "Terror Financing in Pakistan", has revealed the genesis and growth of factors supporting narco-terror in Pakistan. Highlighting the role of former military dictator General Muhammad Zia-ul-Haq in encouraging cultivation of poppy and cannabis to finance terrorist activities in India, the paper notes that in a short time since inception in the late seventies, drug traffickers in Pakistan organised themselves into syndicates along the lines of Latin American drug cartels.
The deep tentacles created by the ISI in sustaining the narco-trafficking businesses over many decades are prominently evident in eastern and southern Africa. Pakistani dhows with drug cargoes have been intercepted by law enforcement agencies as far south as on the Mozambican coast. A Pakistani national, Tanveer Ahmed "Galby", suspected of running a smuggling network in southern Africa, was extradited by Mozambique to the US, in 2020, to face charges of drug trafficking. Authors Simone Haysom, Peter Gastrow and Mark Shaw in their 2018 research paper "The Heroin Coast: A Political economy along the Eastern African Seaboard", have identified some Pakistani-origin drug cartels operating in the southern African region. The activities of Mohamed Bachir Suleman, Momade Rassul, Gulam Rassul Moti and Ayoob family (based in Mozambique) are detailed in the report. To sustain such large-scale illicit activity across continents would take a well-oiled and well-organised network of criminal entities, likely to be operating under tacit state patronage. This aspect of the military's links with drug trafficking has also been covered by Pakistani scholar Ayesha Siddiqua in her book Military Incorporated: Inside Pakistan's Military Economy.
In the past two decades, Pakistan's deep state has been evidently attempting to repeat the success story in Africa in South Asia and even beyond, in East Asian mafiosos. Recent investigations in India have revealed Pakistan based drug lord Haji Salim's sustained attempts to create an organised criminal network spread across Sri Lanka, Maldives and India.  Nine suspected Sri Lankan origin traffickers are under investigation by India's National Investigation Agency for carrying narcotics substances and illegal arms on a boat near Vizhinjam Port (Kerala) in the Arabian Sea in March 2021. Earlier, in November 2020, 100 kgs of heroin, 20 kgs of synthetic drugs, five pistols and a satellite phone were recovered from six crew members on a Sri Lankan fishing boat, Shenaya Duwa. The drugs were reportedly destined for Australia and Southeast Asia. There have been numerous interceptions of drug mules and drug boats linked to Pakistan in the Maldives too. Interceptions of Pakistani-origin drug boats have been made with alarming regularity off the west coast of India by security agencies, the most recent instance being on December 26, 2022, when Pakistani boat carrying arms and drugs worth Rs 300 crore was seized in a joint operation by Indian Coast Guard and Gujarat Anti-Terrorism Squad.
Clearly, as Islamabad struggles to salvage its crumbling economy, Pakistan's deep state is making desperate efforts to keep a parallel economy afloat by generating narco dollars through the drug trade. While a part of it is infamously used to subsidise the military's corporate businesses that sustain elitist lifestyles, discerning observers cannot miss the bigger challenge of terror financing that impacts upon the whole region, especially South Asia. Narcotics trafficking by Pakistan-based (and Pakistan-backed) organised criminal syndicates operating in the Indian Ocean region poses a global challenge that needs to be dealt with a firm hand by the international community, with greater scrutiny at global forums such as the Financial Action Task Force (FATF).  The P-5 at the United Nations Security Council need to work closer together to seek accountability from Islamabad on the undeniable scourge of narco-terrorism emanating from its boundaries.
Pakistan's "iron brother" China, too is negatively affected by the steady trickle of heroin trafficked into its territories, via Pakistan. Ironically, Beijing could possibly play a constructive role in persuading the General Headquarters at Rawalpindi to give up its double-dealing ways on narco-terrorism and take measures to contain the drug menace of epidemic proportions, in the interest of world peace. As things stand, 30 percent of Pakistan's total foreign debt is owed to China (roughly US $30 billion), and Beijing's influence over Pakistani civilian and military elites could be the world's best chance to persuade Pakistan to get its act together.
In the broader diplomatic space, the world needs to refocus its efforts to wean away Pakistan from its dangerous flirtation with narcotics and terrorism and concentrate on domestic developmental priorities.