'General Bajwa Wanted Peace With India; Imran Khan Sabotaged It'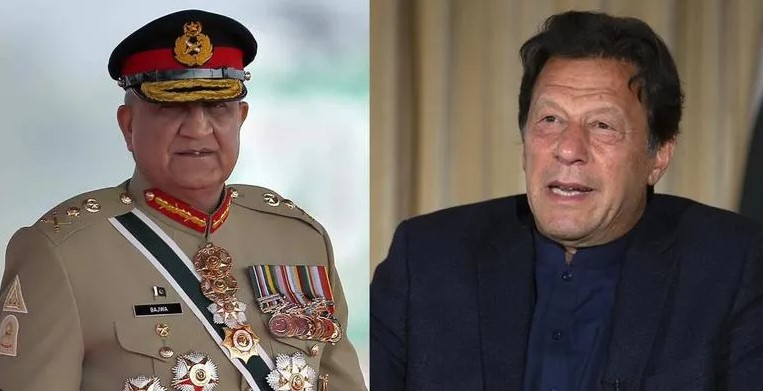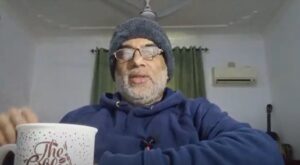 NEW DELHI: In an unusual reversal of roles, former Prime Minister of Pakistan Imran Khan sabotaged a peace move with India proposed by then Army Chief Gen. Qamar Bajwa, says Pakistani journalist Mohammad Shehzad.
In the second part of his interview with Ramananda Sengupta, he says Imran was advised by former foreign minister Shah Mahmood Qureshi that any peace move with India would alienate the voters.

Shezhad is also sceptical about the chances of former Prime Minister Nawaz Sharif, known for his peace moves with India which were sabotaged by the Army, returning to power in Pakistan, and explains why Pakistan has to go around with a begging bowl despite its rich natural resources.
The Islamabad-based journalist, who's been writing for various Pakistani and foreign publications since 1992, is also the author of The State of Islamic Radicalism in Pakistan, and Love and Fear: Poems Beyond Time. Apart from running his video channel on YouTube, he learns the tabla and classical vocal music, and enjoys cooking.
Excerpts:
Q: It is said that whenever a civilian government in Pakistan proposes peace with India, the army sabotages it.
A: I tell you that (former Army Chief) General Qamar Javed Bajwa wanted good ties with India. He wanted to do trade with India. He wanted to freeze the Kashmir issue for 20 years. But it was sabotaged by Shah Mahmood Qureshi. Qureshi, (a former Foreign Minister and Pakistan Tehreek-e-Insaf (PTI) party's Vice-President) told then Prime Minister Imran Khan that if you do that, it would antagonise the voters. So don't do that.
You know that previously, a civilian leader like Nawaz Sharif would take an initiative of peace with India, and that would be sabotaged by the army. That's what happened during the bus diplomacy. (Former Indian Prime Minister Atal Bihari Vajpayee travelled to Lahore by bus in February 1999 and signed the historic Lahore Declaration with Prime Minister Nawaz Sharif, in which both countries vowed to avoid conflict and pledged to implement the Simla Agreement of 1972, which says both sides shall respect the Line of Control in Jammu and Kashmir. In May that year, the Kargil war launched by Pakistan Army chief Pervez Musharraf killed that initiative.)
But this time, General Bajwa wanted to do trade and have good ties with India. And it was sabotaged by Imran Khan and Shah Mehmood Qureshi.
Q: Pakistan is a nuclear power and is said to have immense reserves of minerals and natural resources. So why is it still accused of going around with a begging bowl for aid on a regular basis?
A: For the last 75 years, we learned nothing that could have ensured us bread and butter, except that we were recognized as mercenaries. And our reputation was that we can easily become a tool in the hands of the superpowers. And that we can abruptly take a somersault and change loyalties. For example, during the first Afghan jihad, we created all these monsters that we know as jihadis, and after 9/11 we declared them as terrorists and fought against them, though rather half-heartedly. So this is the reason we are going around with a begging bowl. Because over the last 75 years, we did not set up industries, we did not give our people education, we did not provide them enlightenment, and we created jihadis. This is why we are forced to carry a begging bowl in our hand.
Q: Do you think former military chief and President Pervez Musharraf, who passed away in Dubai recently, could have worked out a peace plan with India with Indian Prime Minister Atal Bihari Vajpayee?
A: I remember we discussed this issue a lot during your visit to Pakistan for the SAARC summit with Prime Minister Vajpayee. Yes, Musharraf was a very powerful dictator and he could have done so many good things if he wanted to. But he became interested in politics and made tall claims. At that time, people welcomed him because Nawaz Sharif had become extremely unpopular, because he wanted to become Ameer-ul-Momineen, or supreme leader, and was trying his best to have a Shariat bill passed through the two houses and formally anoint himself.
Musharraf was above any kind of criticism, and for more than two years after deposing Nawaz Sharif and coming to power, he did not face any opposition from any party. Even senior leaders of Pakistan Muslim League (Nawaz) had supported Musharraf.
Yes, Musharraf could have done a lot but he too became unpopular because he could not deliver, and he started losing support from within the Army. Initially, he was known in India as the architect of the Kargil war and the person who sabotaged the bus diplomacy. But later he wanted to have good ties with India. And during the SAARC summit in January 2004, Vajpayee came here. At that time, there was a bus service between India and Pakistan, and it was slightly easy for me to get a visa and visit India. But now the situation is very bad. I don't know how the relations would improve between the two countries now.
Q: There are apparently attempts to bring back former Prime Minister Nawaz Sharif from London after the various cases against him are dropped. Given Nawaz's constant battle with the Army over his peace initiatives with India, how do you see that playing out?
A: Nawaz Sharif always had trouble with the Army; he never had pleasant ties with any army chief, although he appointed all of them, ignoring the most senior officers. So you are right, he would probably try some peace initiative with India, because he is a businessman. But the question is, can he really return to power? Very difficult. Because PML(N) has become extremely unpopular now. If you look at the current situation PML(N) has no government strength. It doesn't have a government in Balochistan, or before the assemblies were dissolved, in Punjab and Khyber Pakhtunkhwa. Imran Khan's PTI was in power in Punjab. Now the situation is against the PML(N). Also, Nawaz Sharif has transferred all the power to his daughter Maryam Nawaz, and the senior leadership is not ready to work under this lady. Shahid Khaqan Abbasi, a former PM and very senior leader of PML(N), has quit as party vice-president and he might join the PTI. Similarly, former finance minister Miftah Ismail too is likely to join the PTI. The PML(N) has become very unpopular. It is not the same PML(N) that had won a two third mandate in its second term.
Part I of the interview: Only The Jihadis Are Benefiting From The Current Crisis In Pakistan