Oli Gone But Can Deuba Remain In The Saddle?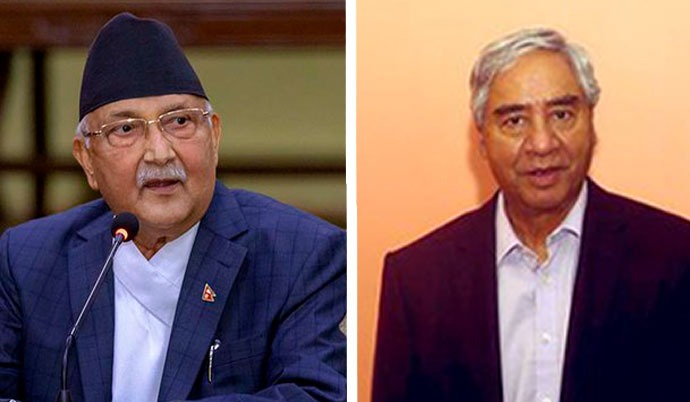 NEW DELHI: Earlier this week, Nepal's Supreme Court delivered an order like never before, one that left no room for political manoeuvre by caretaker Prime Minister KP Sharma Oli.
A five-member Constitution Bench headed by the Chief Justice reinstated the House of Representatives for the second time in five months and ordered that Nepali Congress chief Sher Bahadur Deuba be installed prime minister. It also declared as unconstitutional the dissolution of the House by President Bidya Devi Bhandari on May 22 upon the recommendation of then Prime Minister Oli.

The judgement is significant in more ways than one, says Ranjit Rae, former Indian Ambassador to Nepal. "This is for the first time that the prime minister has been directly appointed by the Supreme Court. This is for the first time the Supreme Court has said that the decisions of the President of Nepal are subject to judicial review. And if it finds that the decisions are not in conformity with the Constitution, the court will correct those decisions," Rae told StratNews Global.
In May, President Bhandari dissolved the House and allowed Oli to stay on as caretaker PM till fresh elections in November. Although Deuba staked claim to form the government and furnished a letter signed by 146 MPs backing him, Bhandari wouldn't accept it.
The court corrected the anomaly, saying constitutional provisions were not followed. Opposition leaders Prachanda and Upendra Yadav who had thrown their weight behind Deuba called the court verdict as historic. A rival faction of Oli's party CPN-UML led by Madhav Kumar Nepal said the verdict upheld the constitution and democracy.
In his farewell address to the nation, Oli blamed the court for his ouster, saying he was still the people's choice. He also termed the verdict a setback for the multi-party system as it upheld individual decisions of lawmakers while backing a prime ministerial candidate during a floor test, making party whips infructuous as per under Article 76(5) of the Constitution.
Deuba took charge on Tuesday; his oath-taking was delayed by several hours as he insisted that the presidential order appointing him specifically mentions Article 76(5). Maybe he apprehended that if the provision wasn't mentioned, President Bhandari may create difficulties by disallowing cross-voting or even misinterpret constitutional provisions to reappoint Oli, should Deuba lose the vote of confidence.
Deuba has 30 days to prove his majority on the floor of the House. He has a small cabinet in place, comprising two members of his party and two others from the Prachanda-led Communist Party of Nepal-Maoist Centre (CPN-MC). Other alliance partners, including Janata Samajbadi Party-Nepal (JSPN)–Upendra Yadav (UY) faction and Rashtriya Janmorcha have decided to wait.
Considering the support of 146 lawmakers who had signed the writ petition filed in Supreme Court in his support and the verdict declaring no use of whip under Article 76 (5), it was thought that Deuba may be able to reach the magic figure of 136. But with a 10-point agreement reached between the rival factions of CPN-UML, Madhav Kumar Nepal has pulled out of the opposition alliance. Although he has delivered on his promise of not withdrawing signatures of his lawmakers which eventually led to reinstatement of the House, he has said future decisions would be taken by the party.
The going won't be smooth though. Oli blames Madhav Nepal for Deuba becoming prime minister. He has said other dissident leaders would be allowed back into the party if they admit their mistake but not Nepal who is responsible for Oli's removal as prime minister by 'siding with the rival camp'. This may well lead to further trouble in the long run. Keeping Nepal in the party could leave Oli's stature diminished. Antagonising Nepal further could lead to a split in the party.
But what awaits Deuba? If the faction led by Nepal doesn't support him, he won't win the trust vote, which means snap polls. While that may suit Deuba to play the victim card, Prachanda and other opposition leaders may not be inclined to the idea. They may seek the support of 20 JSPN lawmakers belonging to Mahant Thakur (MT) faction who have so far remained aligned to Oli. But JSPN itself is fighting factionalism.
The reinstated House will have its first session beginning July 18. Deuba will keep his fingers crossed. Oli will weigh his options, including whether he still wants mid-term polls with Deuba as the caretaker PM. Deuba's prospective alliance partners will drive a hard bargain. And the people of Nepal will keep waiting for some semblance of political stability.