Kathmandu Feels The Heat As China Encroaches On Nepali Territory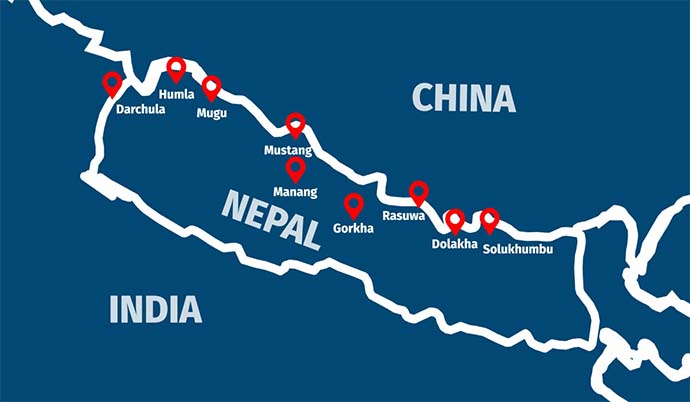 NEW DELHI: Take a look at the map of Nepal above. Beginning from the extreme northwest with the districts of Darchula, Humla and Mugu and stretching eastwards to the districts of Mustang, Manang, Gorkha, Rasuwa, Dolakha and Solukhumbu, Nepal is feeling the heat as China alters boundaries in these areas, knocking down border pillars and settling its own people.
A study by Nepal's ministry of agriculture in 2015, which was released only in 2019, noted that 36 hectares of land in four districts had been encroached upon by the Chinese.
In one such case in Gorkha district, the inhabitants of Rui village found themselves virtually overnight under China's de facto jurisdiction although they continued to pay taxes to Kathmandu. In another case, the Chinese reportedly altered the flow of a river in Rasuwa resulting in several acres of land ending up in Tibet. Something similar has been reported from Humla in the west.
An on ground investigation in Humla in October 2020 by Jeevan Bahadur Shahi of the ruling Nepali Congress found credence to the allegation that the Chinese were encroaching on Nepali territory. In a detailed report, Shahi noted that new Chinese buildings are in Nepali territory and local farmers were no longer able to graze their cattle due to Chinese fencing or even till lands registered in their names. An old Nepali border pillar had been dismantled and a Chinese pillar put in its place, which is a violation of the bilateral 1960 border management agreement. Chinese border guards had turned away Nepali security personnel who came to investigate. In another case, they had installed a gate on No Man's Land in the Hilsa border area of Humla.
When this report became public, the Chinese embassy in Kathmandu shot off a letter to the Nepali Congress accusing Shahi of "repeatedly spreading claims accusing China". Then communist government of prime minister K.P. Sharma Oli backed the embassy, issuing a statement that these claims had been looked into during a field investigation in 2016 and no encroachment had taken place. This now stands discredited with the current government of Sher Bahadur Deuba, setting up a panel last September to study the border dispute with China.
Shahi says the issue is not about right or wrong but to establish the truth, which is whether encroachment has taken place and ensure it does not happen in the future. In his view, if Nepal sits quiet on this issue it will become impossible to get back what the Chinese are holding on to.
The larger question is whether Nepal can defend its sovereignty from China's 'incremental nibbling'. This is something India has seen and continues to experience and is yet to develop an answer to. Negotiations are all very well but it takes two to clap and if China refuses to negotiate over land it has illegally occupied, there's little that can be done.