From Bhutan To Galwan, Chinese White Lies On Weibo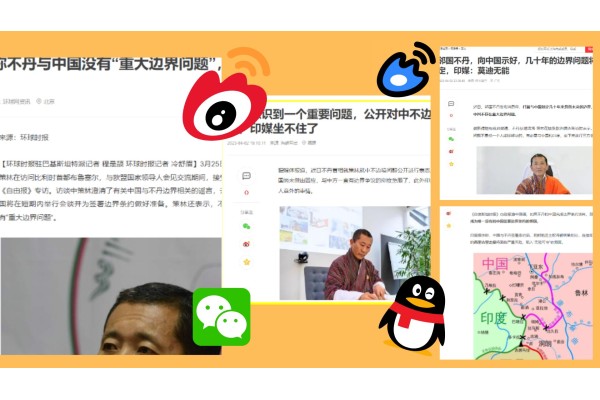 NEW DELHI: China is yet to comment on the visit of Bhutan's King Jigme Khesar Namgyel Wangchuk to Delhi. But Weibo, China's equivalent of Twitter, has been focused on Bhutan for some time. As the story below will reflect, Weibo is a tool of the Chinese Communist Party, to influence and shape public opinion and ensure the dominant narrative in China always reflects the official view.
An article posted on Weibo on April 4 was titled 'Bhutanese PM says Bhutan does not have major border issues with China, India media is furious'.

-It claims that "successful" bilateral relations between China and Bhutan are a sign that India's international political and diplomatic clout has failed and there would be new threats to India's defence and security.
-If Bhutan signs a border treaty with China, that would leave India as the only neighbour without a similar border treaty.
-It says India is "obstructing" the establishment of diplomatic ties between Thimphu and Beijing.
SNG's View:
India's ties with Bhutan are sensitive given the latter's strategic location: sandwiched between the states of Sikkim (where China had made some claims many years ago), and Arunachal Pradesh (which China claims as its own). Bhutan's southern border with India is about 160 km from the strategic Siliguri Corridor which links up the north-eastern states and Bengal. The security and sovereignty of Bhutan is therefore vital to India. It must not be in China's sphere of influence.
As for the China-Bhutan border treaty, this has been under negotiation for over two decades without any breakthrough so far. China is demanding the Doklam plateau from Bhutan in exchange for some territory elsewhere. Doklam overlooks the China-held Chumbi Valley and Beijing feels strategically vulnerable, more so since Sikkim also overlooks the Chumbi Valley. So China feels hemmed in from two sides.
Is India obstructing Bhutan's border negotiations with China? India is known to advise and counsel Bhutan on border issues given its long experience of dealing with China on its northern and eastern borders. But India cannot force Bhutan to take a particular stand. Rather it can only reiterate its security concerns if Bhutan concedes to China's demands. But there is no guarantee China will not demand more from Bhutan, which could compromise its sovereignty. India's support thus gives Bhutan some leverage in its negotiations with Beijing.
Weibo says: Bhutan has realised that the border with China has to be settled through diplomatic channels rather than through unilaterally inciting conflict along the Sino-Indian boundary as India did.
SNG's View:
As noted earlier, Bhutan, a small country, has no leverage in negotiating with China. The claim that "Bhutan has realised" speaks poorly of how China views Bhutan.
The latter part of the sentence that "India is unilaterally inciting conflict along the Sino-Indian boundary" is false. The Galwan Valley attack in eastern Ladakh which saw the death of 20 Indian soldiers in June 2020, was instigated by China. China has also blocked the movement of Indian troops in the Depsang Plains which India claims, and also prevented access to many other patrolling points. This even though India and China have signed no less than six agreements since 1993 on ensuring peace and tranquillity on the Line of Actual Control. China, by its actions, has virtually torn up those agreements.
Weibo says: Bhutan has realised that India's "hegemony and great powerism" in South Asia are not conducive to the development of Bhutan.
SNG's View:
Let's look at how China has behaved in the recent past.  In its South China Sea neighbourhood, Beijing has rewritten history to lay claim to the entire sea. It has physically occupied islands there including the Paracel and Spratly Islands belonging to Vietnam, Mischief Reef of the Philippines, sent fleets of so-called fishing vessels into the gas rich Natuna Sea belonging to Indonesia and also disputed Japan's ownership of the Senkaku Islands.
China has laid bare its ambition to displace the U.S. as the world's leading economic and military power and has tried to use the Belt & Road Initiative to get a stranglehold over natural resources as in Africa, or leveraged the debt owed by many small countries for strategic purposes, as in Sri Lanka where it controls an entire port.