Modi's Upcoming Dhaka Visit: Connectivity, Water-sharing And Push For Ties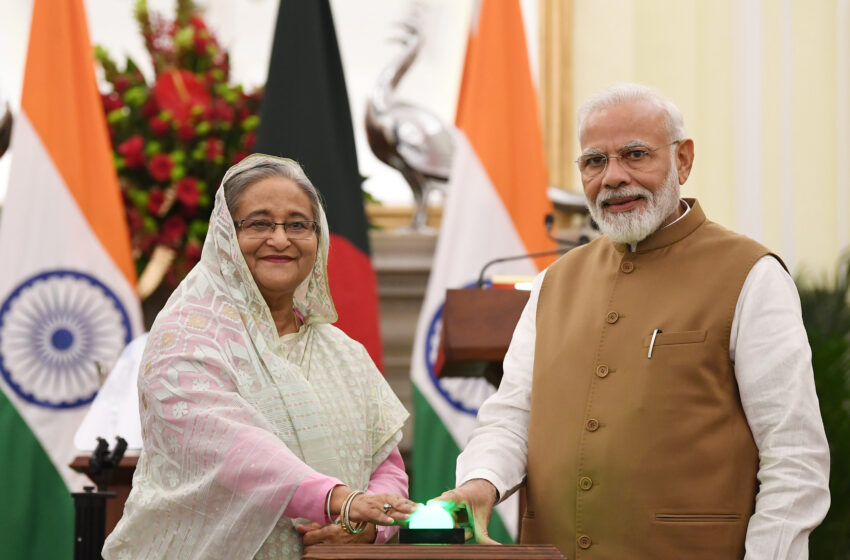 NEW DELHI: On Thursday, External Affairs Minister S. Jaishankar heads to Dhaka to finalise the agenda for Narendra Modi's summit with Sheikh Hasina later this month (March 26th). It will be the first physical summit for Modi post-Covid and will kick off celebrations marking 50 years since Bangladesh was liberated from Pakistan's yoke.
Jaishankar will therefore want to ensure every I is dotted, and every T crossed. So in addition to holding consultations with his counterpart Abdul Momen, he will also call on the Bangladeshi prime minister.
Ties with Dhaka are crucial at a time when India's relations with the rest of the neighbourhood are in flux (Nepal under a pro-China prime minister, Sri Lanka reneging on duly signed bilateral documents, Myanmar under military rule). This is not to deny undercurrents in the Bangladesh relationship, something which Vikram Doraiswami, high commissioner in Dhaka, alluded to in a rare moment of diplomatic candour.
"Sometimes there is a sense that there is a lot of mistrust about our [Indo-Bangla] relations. Let me say categorically that a strong, stable, prosperous, flourishing Bangladesh is in India's fundamental national interest. Your success is the best thing that can happen to us."
Those remarks were made a month ago but underscore the constant effort Delhi needs to make.
"We need to remember and carry forward the understanding that our relations are based on history. 1971 is the foundation stone of our relationship. It also means that we share so much more than what could divide us," Doraiswami said, adding: "Bangladesh is special as a friend and relations with Bangladesh is the cornerstone of India's foreign policy. "
A quick look at some of the high points of the Modi-Hasina summit. The two leaders will flag off a new cross-border passenger train between New Jalpaiguri in north Bengal and Dhaka. Another major people-to-people connect is the 12-km Agartala-Akhaura rail line to be completed this year. It will reduce travel time between Agartala and Kolkata by 21 hours since it will go through Dhaka instead of Guwahati.
Sharing of the Teesta river waters remains unresolved. According to Smruti Pattanaik, who tracks Bangladesh at the Institute of Defence Studies & Analysis in Delhi, "There is unlikely to be any announcement on the Teesta as the BJP is fighting the West Bengal elections." Announcement of a deal could adversely impact the BJP's electoral fortunes. There's also the fact that the Ganga waters sharing agreement of 1996 is seen as contributing to the slow death of Kolkata port since water is being diverted to Bangladesh. It makes the prospect of an agreement on the Teesta even more remote.
The two countries have 54 rivers in common but the treaty on water sharing covers only two rivers, the Ganga and the Feni, signed in 2019. But the two sides are now focusing on sharing waters of six small rivers, namely the Manu, Muhuri, Khowai, Gumti, Dharla and Dudhkumar. Both sides have already shared data on water flow in the six rivers during the two-day virtual Joint Rivers Commission in January this year.
There could also be some announcement on development of hospitals or medical infrastructure in Bangladesh. Hospitals in Bangladesh had a tough time coping during the Covid pandemic, said Pattanaik. Fortunately, India's Vaccine Maitri helped mitigate the situation with two million doses provided in January this year.
The Modi visit could see inauguration of the historic 'Swadhinata Sarak', connecting Mujibnagar in Bangladesh's Meherpur to Nadia in West Bengal. Dhaka had proposed construction of the road, as Mujibnagar is where the Bangladesh government-in-exile was formed in April 1971 by Sheikh Mujibur Rahman and other members of the Awami League.
India has also helped sort out some niggling issues that were impeding people-to-people contact, like ending rigorous and time-consuming immigration checks at the border points of Darshona (Bangladesh) and Gede (Indian side), during which passengers had to alight with their baggage. The checking is now done only at Dhaka Cantonment and Kolkata stations, the two end points of the train.
According to Pattanaik, China's participation in infra projects in Bangladesh is not something that India should worry about much, as in the event of a natural disaster, Bangladesh will always turn to Delhi for help. While China is the biggest arms supplier to Bangladesh, India has begun renewing its military cooperation with Dhaka with high level visits, including that of the air chief and the participation of the Bangladesh tri-services in the Republic Day parade.
"Hasina has balanced India-China relations very well. She knows the red lines. She has provided stakes to both and is engaging with both. She has done it very intelligently," said Pattanaik.
Clearly, there is much on the table that adds a strong foundation to the bilateral relationship. But it also underscores the point that both sides need to put in extra effort to ensure ties don't derail or are taken for granted.
(The author is a senior journalist on the foreign policy beat. Views expressed in this article are personal)