IMF Steps In To Help Bangladesh But Corruption May Play Spoilsport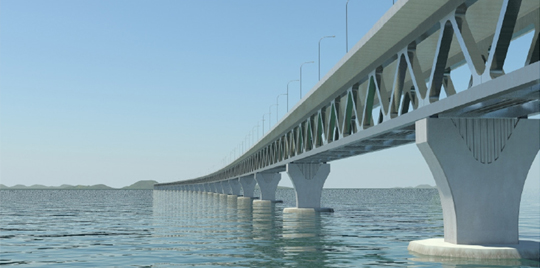 NEW DELHI: On January 31, the International Monetary Fund approved Bangladesh's request for about US $3.3 billion under the Extended Credit and Fund Facilities. Another US $1.4 billion was sanctioned under the new Resilience and Sustainability Facility (RSF), the first such payout for an Asian nation. Dhaka said that it plans to use this to prop up its foreign exchange reserves, which have plummeted from $46 billion to $34 billion over the past year.
A day later, Transparency International released its annual Corruption Perception Index (CPI) for 2022, where Bangladesh scored a meagre 25 out of 100 and ranked 147th out of 180 countries, making it the 12th most corrupt nation in the world. Among the south Asian nations only Afghanistan fared worse, with 24. A local television channel noted that Bangladesh's CPI score has hovered between the mid to high 20s since 2012, with its best score of 28 in 2017, and the lowest score of 25, which it achieved in 2014, 2015 and now in 2022.

According to Transparency International, the Asia Pacific region as a whole has continued to stagnate in the index, with an average score of 45 out of 100 for the fourth year in a row, with all South Asian nations bar Bhutan scoring below the global average. Asserting that democracy has been on the decline in the region, including in countries like India, the Philippines, and Bangladesh, it noted that the UN had sent an envoy to Bangladesh in 2022 to assess the 'deteriorating human rights situation'. Laws such as Bangladesh's Digital Security Act had led to hundreds of arrests for people exercising free speech and expressing dissent, it said.
"While the loan from the IMF is good news, it also comes with conditions to boost revenue, including raising taxes," Abdullah Al Zafori, a development practitioner with a major Bangladeshi think tank, told StratNews Global. "However, this may have a negative impact on the poor, already struggling to cope with the increased costs of basic necessities. The government is already facing criticism and protests over recent price hikes in fuel and essential goods, and the opposition and other political parties are putting pressure on the government. The upcoming national election (scheduled for January 2024 as announced by Prime Minister Sheikh Hasina Wajed in December last year) could make it tough for the country to meet the IMF's conditions," he said.
Also, "the loan from the IMF will be released in instalments, and the funds may not be available unless the country follows the conditions carefully," he said. "Allegations about rampant corruption, like the Padma bridge financing project, led to the World Bank and other financial organizations withdrawing their funding. If similar concerns arise, the IMF may also stop the funding, making it difficult for the economy to survive without support from other sources. Unless the government acts to curb corruption, it may face consequences."
Sheikh Hasina Wajed, the leader of the Awami League and the daughter of Bangladesh's founding father and the country's first president Sheikh Mujibur Rahman, is serving her fourth consecutive term as Prime Minister, (since 2009 till now and earlier from June 1996 to July 2001) making her the longest serving woman head of government in the world.
"The Awami League government is already extremely unpopular due major human rights violations, extra judicial killings, enforced disappearances and other things," said Shama Obaed Islam, the spokesperson for Bangladesh Nationalist Party, the main opposition party led by Khaleda Zia. "The lack of democracy and people not being able to vote in the 2018 election is another big reason for this," she added.
According to her, "the banking sector of Bangladesh has been subjected to major illegal and corrupt activities. Most of the banks are owned by people close to the Prime Minister. So it will be very difficult for the government to fix and regulate the banking sector as per the IMF conditions."
"Most the institutions are controlled by powerful people close to the government. There is corruption everywhere, be it the energy sector, water board, road and highways and mega projects. The price of electricity has been increased nine times, and the hike in gas prices and shortage of supply has forced several industries to shut down," she added. Noting that many senior bureaucrats and politicians indulged in money laundering and had illegal properties abroad, she said the latest Transparency International corruption index would also make it difficult for the government to get more funds from international institutional lenders.
"It is always difficult to hike taxes, particularly in an election year," agreed Barrister Sarwar Hossain, a former Major in the Bangladesh army who is now a Supreme Court Lawyer.
"Corruption has become a way of life in Bangladesh," he said, noting that his law firm handled many such cases. "I think Bangladeshi people understand that politicians have expenses, and would probably accept limited corruption provided it did not hit the common man too badly. But today, corruption has gone from the macro to the micro level, reaching unprecedented and totally unacceptable levels. For instance, there's this joke that even the individual bricks of the buildings built by the Rajdhani Unnayan Kartripakkha or Rajuk, which is tasked with coordinating urban development in Dhaka, take bribes," said Hossain, who also has a popular television talk show.
"In order to curb corruption, you need to have leadership qualities, and the ability to curb dynastic politics and crony capitalism," he said. However, if you lacked this, you needed internal support from institutional forces like the army, police, media corporates, and also depend on external friends. In this case, he said Prime Minister Hasina's remark at a rally that "whatever we have given to India it will remember forever" was significant.
Bangladesh was once lauded and hailed as an example of what inclusive development could achieve, and it was one of the fastest growing economies in the world. But its strong recovery from the Covid pandemic was hit by the events in Ukraine and the subsequent disruption in the global supply chains. The IMF support comes at a time when the country is facing a major economic crisis and rapidly dwindling foreign exchange reserves. It also comes just before the holy month of Ramadan, when economic activity traditionally picks up. But whether that will be enough to tide over the impending crisis, only time will tell.
IT'S ALL ABOUT MONEY
Home Truth:
In December 2019, an assistant engineer of Rooppur Nuclear Power Plant was arrested for irregularities involving Tk 26 crore in supplying furniture and household items to Russian engineers and other officials at the plant in Pabna. Reports said each pillow was bought for Tk 5,957 and the cost of carrying it to a flat was Tk 760. An electric stove cost Tk 7,747 and the cost of carrying it from the ground floor to the top floor was Tk 6,650. Similarly, the price of an electric iron was Tk 4,154 and the carrying cost was Tk 2,945.
A Bridge Too Far:
In June 2012, the World Bank cancelled its pledged $1.2 billion credit for the $2.9 billion Padma Multipurpose Bridge Project, citing credible reports that a Canadian company had paid a massive bribe to a government official to get the project.
Top Down:
The Prime Minister's Health and Family Welfare advisor, Syed Modasser Ali, was suspected of being involved in the illegal disbursement of a loan of Tk 3,547 crore to Hallmark Group and five other companies between 2010 and May 2012 by Sonali Bank.
May The Force Be With You:
In May 2022, a Dhaka court jailed former Army Chief Harun-Ar- Rashid and 46 officials of the Destiny-2000 company for embezzlement of Taka 1861 crore by the Destiny Tree Plantation Limited, which sold 50 million trees that did not exist, with investors being shown pictures of trees in the Sunderbans.