It's Official: In Kabul, India Holds Talks With Taliban Regime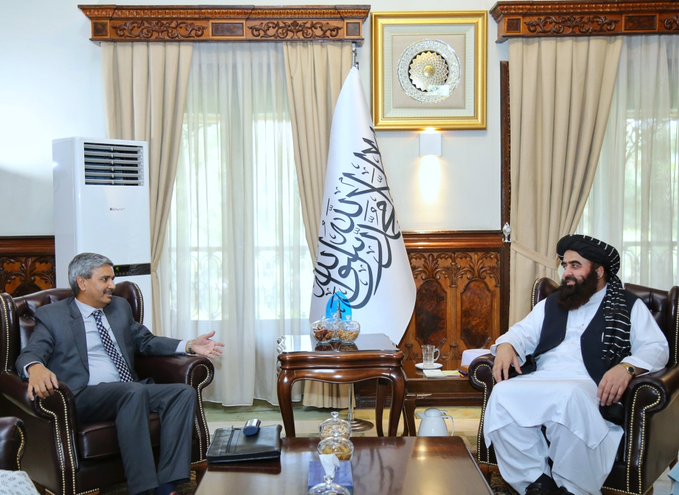 NEW DELHI: After months of secret, back-channel contacts both in Kabul and Doha, India on Thursday publicly acknowledged that it has sent a team of diplomats to Kabul to "oversee delivery operations of humanitarian assistance to Afghanistan" and "meet senior members of the Taliban". .
An official delegation led by Joint Secretary (in charge of the Pakistan-Afghanistan-Iran desk) JP Singh met the regime's acting foreign minister Amir Khan Muttaqi.
A Taliban spokesman tweeted that Singh's meeting focused on diplomatic relations, bilateral trade and humanitarian aid. Muttaqi described the first visit from the Indian side to Kabul as a "good beginning in ties between the two countries".
Much before Thursday's meeting, the Taliban had reached out to the Indian intelligence establishment and had even facilitated meetings with appropriate personalities in the Afghan government seeking to resume high-level contacts.
However, much before the MEA delegation's trip, India had started humanitarian aid to the people in Afghanistan. As MEA spokesperson Arindam Bagchi said in New Delhi on Thursday: "We have already dispatched several shipments of humanitarian assistance consisting of 20,000 MTs of wheat, 13 tons of medicines, 500,000 doses of COVID Vaccine and winter clothing. These consignments were handed over to the India Gandhi Children Hospital, Kabul and UN specialized agencies including WHO and WFP. Furthermore, India is in the process of shipping more medical assistance and foodgrains to Afghanistan."
India is yet to recognise the Taliban government and is unlikely to do so quickly although India's development and humanitarian assistance has received widespread appreciation across the entire spectrum of Afghan society. The MEA underlined that India has "historical and civilisational ties with the Afghan people" and "these longstanding linkages will continue to guide our approach".
National Security Adviser Ajit Doval, speaking at the meeting of the NSAs from Tajikistan, India, Russia, Kazakhstan, Uzbekistan, Iran, Kyrgyzstan and China at Dushanbe on May 27, had also spoken about India's age-old ties with Afghanistan. He had pointed out that India was and is an important player in Afghanistan.
The first official visit after the Taliban took over Afghanistan is in keeping with the overall policy that India has adopted. With time, India is also likely to partially open its diplomatic mission in Kabul to facilitate consular access to common Afghans.