The Quad In The Indian Ocean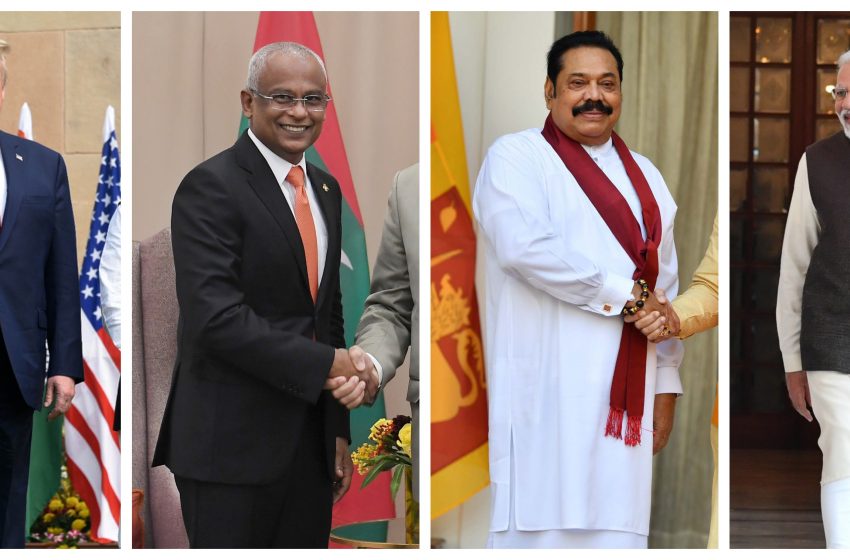 NEW DELHI: Keep your friends close but your enemies closer. That old dictum may have to be completely revisited by Prime Minister Narendra Modi after back to back visits of two world leaders to India this February.
The first being Mahinda Rajapaksa, the Prime Minister of Sri Lanka whom Delhi would like to qualify as a friend, although his strong ties to China saw him tagged as 'foe', notwithstanding his own preferred, new moniker of 'relative'!

Days later, the leader of the free world, U.S. President Donald Trump, and self-proclaimed 'friend' of the prime minister and India, did arrive on Indian shores. He flew home with a $3 bn defence deal that clearly locked India into the ambit of an emerging strategic alliance that could alienate India's chief arms supplier Russia while pitting it against China.
Trump's lavish praise for Pakistan Prime Minister Imran Khan and his offer, once again, to mediate on Kashmir, may have more to do with domestic electoral gains in an election year that will flow from a smooth withdrawal of U.S. troops from Afghanistan; Pakistan's cooperation here is integral. To Prime Minister Modi, as difficult as the Imran Khan reference must have been to digest, will the payoff of a greater Indian presence in the Indo-Pacific, make it worthwhile?
To most, the Rajapaksa and Trump visits seem unconnected. But look for a moment beyond the sound and fury of Trump raising India-U.S. ties to the level of a 'global strategic partnership' and at the acquisition of 24 MH-60 Romeo and six AH 64E Apache helicopters in the $3 bn deal by India. Defence analysts say it is tied into the fact that the Romeos that will roll off the Lockheed Martin assembly line and operate solely off aircraft carriers, seen as the best bet against attacking enemy submarines. Trump's comment "together, Prime Minister Narendra Modi and I, are revitalizing the Quad initiative," dovetails the 'Asia Pacific Quad' neatly into a re-minted U.S.-Delhi-Malé-Colombo Indian Ocean Quad.
The Quad, which groups the United States, Japan, India and Australia, is aimed at keeping the Indo-Pacific region free and open, expanding cooperation on counter-terrorism, cyber and maritime security. Simply put, it targets a rising China that sees the Asia-Pacific as its area of influence. India's robust participation in the recently concluded Malabar maritime exercises, with only Australia dragging its feet, is a signal that Delhi is more than willing to play the role of counterweight to Beijing.
And this is where Sri Lanka comes in. China's countervailing influence not only in the Pacific but also in the Indian Ocean is a direct threat to India's hold over its smaller neighbours such as Sri Lanka, Bangladesh, the Maldives and even Myanmar. Therefore, while the Sri Lankan prime minister may not have gone home with much—no joint statement, no formal announcement on the much touted $400 million line of credit or on the infrastructure projects that had been in the works under former prime minister Ranil Wickremesinghe—Mahinda's meeting with PM Modi in New Delhi could be pivotal. That is, if he's been able to put his China-Pakistan link behind him.
The Delhi visit comes close on the heels of back-to-back visits to Sri Lanka by chiefs from the Pakistan Navy and the Air Force. With not one but two elephants in the room, China and Pakistan undoubtedly working much more in tandem than before, Mahinda is embarking on a delicate two-step that the China-Pakistan foreign policy mandarins could find easy to trip up.
India, it is believed, has won a largely unsolicited promise from the Rajapaksa clan that this time around, there will be no tilt to China. An avowed friend of India when he first embarked on decimating the Tamil Tigers, Mahinda's inexplicable turn to China when he reached out to Beijing to develop Hambantota port, is still looked at askance, with India, unlikely to ever match the largesse that comes with any deal on any infra project funded by the Chinese.
India believed the red line was crossed when just ahead of the Chinese president Xi Jinping's visit to Sri Lanka, a Chinese submarine surfaced in Colombo port, ostensibly for refuelling. Rajapaksa would later openly accuse Indian intelligence—with good reason—of destabilizing his government. Indian agencies reportedly helped cobble together the alliance that saw the little known Maithripala Sirisena take office in 2015. Sirisena was backed by Mahinda's arch-enemy, former president Chandrika Kumaratunga from within his own Sri Lanka Freedom Party who made common cause with Ranil Wickremesinghe from the opposition United National Party.
This time, Mahinda has cut through the middlemen. He's reached out directly to Prime Minister Modi. His top priority is to keep India on the right side and completely recast his relationship with the Modi dispensation. It's not completely clear why. Or whether he has allayed Indian concerns over the Lotus Tower (that now dominates the Colombo skyline and where all telecom companies are headquartered) over talk in the Sri Lankan capital that this is where 'big brother' (read Beijing) will be listening in.
The Rajapaksas' ties with China are not the only tricky element to the new relationship. Unresolved is India's ingrained tilt towards Lanka's Tamil minority over that of the Sinhala majority that will remain part of Delhi's calculus, whichever government is in power. Modi, prudently, only threw in one verbal caveat during the talks, stressing the tired old cliché that Sri Lankan Tamils be given equal rights and justice as enshrined in the 13th amendment. Whether Modi ups the ante in the future, given that winning the Indian state of Tamil Nadu, as part of his own greater electoral game plan, is another matter.
Mahinda's reluctance to be tied down to any promised greater devolution saw him demur from offering a promise in public. In private, he reportedly told Modi that with parliamentary polls in April and provincial council elections to follow, he cannot afford to alienate his core Sinhala majority vote. It will be left to Sri Lankan Tamils to work that much harder to make their voices heard post-April, be it on devolution or Indian fishing trawlers straying into Sri Lankan waters.
Delhi's domestic compulsions aside, it is locking Sri Lanka into a broader Indian Ocean alliance, ensuring Colombo no longer warms to Beijing to revitalize its economy and prise Pakistan out of the Colombo calculus. As Sri Lanka takes charge of SAARC from Pakistan and wants to play a more prominent role, it hasn't really warmed to India's push for the alternative group of BIMSTEC (Bay of Bengal Initiative for Multi-Sectoral Technical and Economic Co-operation) that includes Bangladesh, India, Myanmar, Sri Lanka, Thailand, Nepal and Bhutan.)
Delhi's counter-terrorism strategy, the sole announcement by the two leaders after the talks that ties Sri Lanka and the friendly Ibrahim Solih government in the Maldives into a more formal maritime alliance with India using a promised $50 million Line of Credit is the first step. It's aimed at thwarting China from using its aggressive investment in infrastructure projects to lure nations like Sri Lanka, the Maldives and others in the neighbourhood out of Delhi's orbit.
Maldives, Seychelles and Mauritius alongside Sri Lanka are India's putative, protective ring of fire around its vulnerable, southern and western maritime flanks, as Pakistan terror outfits shift their area of operations out of Jammu and Kashmir, and into coastal Gujarat, Karnataka, Tamil Nadu and Kerala.
India must pre-empt Pakistan from regaining a foothold in Sri Lanka. The return of the Rajapaksas gave the Pakistan military new hope that it could reset ties to 2009, when the Pakistan Air Force flew active sorties alongside the Sri Lankan air force in the embattled north in the last days of Prabhakaran's writ, while India's navy and air force watched from the sidelines.
In dispatching not just the Pakistan naval chief to Colombo but the Pakistan Air Force chief as well, with offers to rebuild ageing Chinese origin Sri Lankan aircraft, days before the landmark Rajapaksa visit to India, a China entry through the Pakistan backdoor is all too possible. Beijing is putting the finishing touches to a refitted naval aircraft carrier that will be delivered to Pakistan in May 2020, and will dock in Gwadar, a port developed by China. And that is not the only threat to India's current dominance of the Arabian Sea. The other, sources in Pakistan's navy posit, is the hard to police waters off the Rann of Kutch where Pakistan's terror network has long had a free run.
India, as always, was not alert enough to react in time to the visit by the Pakistan top brass. It had hoped that its timely warnings, ahead of the Easter Day bombings, and as the horror unfolded, should have opened the eyes of the Sri Lankan establishment that India was willing to stand by Colombo in its hour of need and that Pakistan can be no friend to Colombo. Home to hundreds of madrassas that expound a language of hate and spawn an army of home-grown terrorists who routinely prey on India, Pakistan's jihadis now pose as much of a threat to Sri Lanka as they do to India, they warned, and that the return of terror in whatever form would spell the end of a turnaround for Sri Lanka's ailing economy. This genus of terror owes its genesis to indoctrination of Sri Lankan Muslims from unsupervised Pakistan preachers and influencers in Gulf countries, in the Maldives and Malaysia where Sri Lankans are employed.
Despite a past history of close cooperation when Sri Lanka opened up its ports and airports to refueling for Pakistan's lone submarine, the PNS Ghazi—which India destroyed just outside Vishakapatnam in 1971—and the Pakistan Air Force during the Bangladesh war, Mahinda has so far, steered clear of any professions of support to Pakistan. Despite working closely with Malaysia in cutting off smuggling routes for military supplies to the Tamil Tigers in the north, 11 years later, Mahinda has stressed that Lankan objectives are now far more in sync with Indian interests on ridding the region of Islamic terror cells.
President Gotabaya Rajapaksa's government has told Delhi that Colombo believes it will be India, not Pakistan, that is vital to bringing the country back on track, with the war-battered north and Muslim-dominated east crying out for investment, but without the debilitating price tag that comes with developmental loans from China.
This is the challenge that forced Prime Minister Rajapaksa's hand, to push to regain India's trust. He has concluded that upsetting Delhi by turning to China as he did when he had been president earlier is a no go. Seeking common ground with the Modi government on their shared concerns over terror, with a related plea to help keep Sri Lanka from falling into the China debt trap (the debt to China now stands at $8 billion) by asking that India offer his country more lenient terms on repayment of loans, is the way forward.
Sources close to the Rajapaksas say that Sri Lanka's residual suspicion of Indian intent after its covert training of thousands of Lankan Tamils on Indian soil at the height of the Tamil separatist movement continues to colour their judgement, even though it no longer poses a threat.
How India resolves the contradictions posed by its domestic policy continually trumping over national interest and the potential for China and Pakistan to play spoiler despite Mahinda Rajapaksa's pronounced, newfound pro-India tilt, are the new fault lines as both sides attempt to forge a fresh compact. But it will be the United States' new force multiplier, the Quad in the Indo-Pacific and India's ability to influence its neighbours in keeping the Chinese naval presence at bay while policing the shared waters of the Indian and Pacific Oceans and the new battleground—its 7,500-km of vulnerable coastline—that is going to be infinitely more tricky.
(Neena Gopal is a journalist and author. Views expressed in this article are personal.)