Reliance Industries Unveils ₹75,000-Crore Green Energy Plan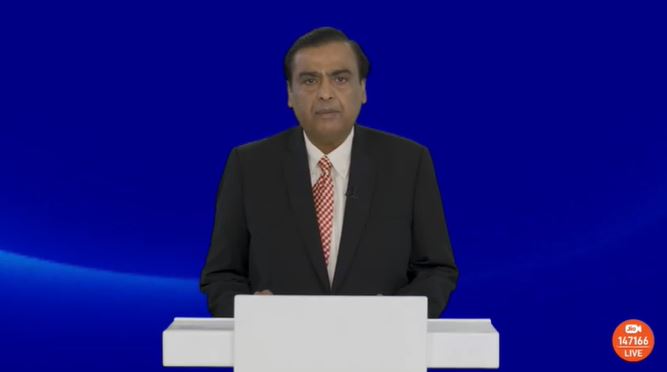 NEW DELHI: Reliance Chairman Mukesh Ambani has unveiled an ambitious ₹75,000-crore plan to transform his company's core energy business with the focus on green and renewable energy. At the company's annual general meeting, he announced that work is underway on developing the Dhirubhai Green Energy Giga Complex on 5000 acres in Jamnagar.
"We plan to build four giga factories to manufacture and integrate all critical components of New Energy Ecosystem, a solar photovoltaic module factory, energy storage battery factory, electrolyser factory and fuel cell factory," Ambani said.

Breaking down the numbers, he said the company will invest ₹60,000 crore to create and offer a fully integrated, end-to-end energy ecosystem. Another ₹15,000 crore will be invested in value chain, partnerships and future technologies, all this over the next three years.
He also announced the entry of Yasir al-Rumayyan, head of Saudi Aramco and governor of the Saudi sovereign wealth fund, onto the board of Reliance Industries. This is the "beginning of the internationalisation of Reliance," Ambani said.
On 5G he confirmed that Reliance Jio has taken tremendous strides in state of the art 5G technology. "Our made in India solution is comprehensive, complete and globally competitive," adding that "we will be the first to launch 5G services. We will seamlessly upgrade from 4G to 5G and are working with leading global partners to develop a full range of 5G capable devices."
The 5G initiative includes a partnership between Google Cloud and Jio which will help Indians connect to a faster internet.
There was also an announcement about the much awaited affordable smartphone developed jointly by Reliance and Google engineers. To be marketed from September10th, the phone is powered by an optimised version of the Android OS. Described as "ultra affordable" (although no price was cited), the smartphone will pack cutting edge features.
Ambani also confirmed that "with Facebook we have launched an initial set of integrations between Whatsapp and JioMart on a trial basis and the response from Whatsapp and Jio customers is encouraging."