Many Doubts About India's FTA With The UAE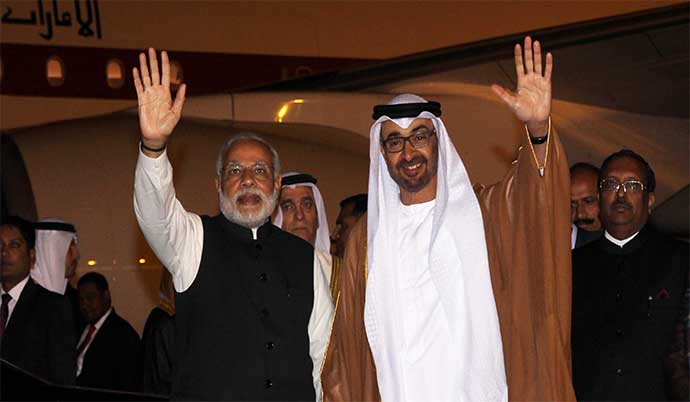 NEW DELHI: When Prime Minister Narendra Modi and the UAE's Sheikh Mohamed bin Zayed al Nahyan formalise the Comprehensive Economic Partnership Agreement (CEPA) on Friday, it may well go down as one of the fastest negotiated trade agreements: all of four months!
According to India's Ministry of External Affairs, the CEPA will take the India-UAE "economic and commercial engagement to the next level. UAE is India's third largest trade partner, and bilateral trade and investment ties are expected to see significant enhancements."

Currently, India-UAE trade is around $60 billion and Dubai is India's second largest export destination after the US. The deal is expected to see a UAE investment of $100 billion in India's National Infrastructure Pipeline.
But there is also some skepticism as to why India is signing such an agreement with a country that is an entrepot for the world with all manner of businesses including goods and services being exported and re-exported. Taxes are non-existent (the government's first ever corporate tax is expected to be implemented only from next year). This makes it very cheap to do buiness from there. Little wonder Indian businesses have invested $50 billion in the city state. The danger is Indian industry may prefer to invest in the UAE rather than India where they have to contend with Central and State laws, import duties, labour regulations, environment compliances and so on.
There's another danger: India's direct goods exports of basmati rice, automobiles, pharma products and textiles could end up competing with the same goods being re-exported from the UAE. Dubai traders are known to buy cheap and sell dear. So they buy basmati rice in bulk from India thereby paying less, store in warehouses there and re-export smaller consignments at a significant mark up to regional markets including Saudi Arabia. This is where India loses out.
Indian truck makers may not export their vehicles to Chad in Africa given the lack of facilities where spare parts can be stocked and where these vehicles can be maintained. This is crucial for the manufacturer given his investment in the quality of his trucks and the support service he is able to provide. But a UAE trader may not be bothered with these issues, seeing an opporrtunity to sell and make a profit. Again India loses out.
There is also the danger of India becoming a dumping ground for every manner of products being grown or sold in the region. So Iranian apples could enter India through Dubai (they already are and hitting Indian growers); Cheap Chinese products could find another route into India and so on.
So it would appear the driver for the trade deal is political. UAE Ambassador Ahmed Abdulrahman AlBanna hinted as such when he said that "the signing of the Abraham Accords (between Israel and the UAE in Sept 2020) holds key strategic opportunities for India … this will be enhanced by the West Asian Quad."
Interesting also to note that the UAE has been in a rush to sign free trade agreements. This flows from Saudi Arabia putting pressure on business houses currently based in Dubai, to shift to the kingdom. Saudi Arabia is not only bigger in land area it has an attractive domestic market of nearly 35 million people. It's not clear if India has proposed a free trade deal with Riyadh.
The India-UAE deal may send a strong political signal to the world that this country is open and ready to engage, but one needs to carefully monitor how the domestic market reacts.