Ladakh Standoff: Breakthrough In India-China Talks Imminent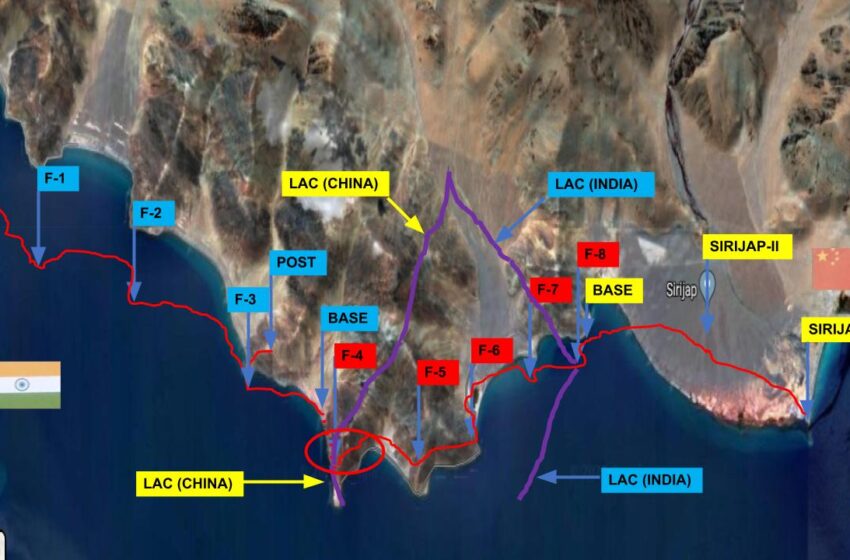 NEW DELHI: Indian and Chinese military commanders in Ladakh have agreed to restoring status quo ante along the Line of Actual Control (LAC), especially on the north bank of Pangong Tso as it existed before May 2020. All that remains is for both sides to formalise the sequencing of steps required to achieve the objective, sources have told StratNews Global.
In the eighth round of talks between Corps Commanders on November 6, the Chinese side has apparently agreed to go back to Finger 8 and remove all temporary structures and deployments the PLA had put up between Finger 4 and Finger 8 since May. Once that is done, both sides are likely to agree to keep the area between Finger 4 and 8 as a 'no-patrolling' zone for the foreseeable future. In effect, it would mean neither PLA troops can come up to Finger 4 nor would Indian soldiers go patrolling to Finger 8 as was the practice before May 2020.

The next step, sources say, would be to pull back heavy armour and artillery platforms, currently facing off along the LACs, and withdraw them to depth areas to reduce chances of miscalculation on either side. As we reported a fortnight ago, at some heights on the Kailash range of mountains in the Chushul sectors, Indian T-72 and Chinese Type-99 tanks are deployed barely a few hundred metres apart, albeit with their barrels pointed backwards. This unprecedented faceoff of tanks is considered too risky by both sides. Similarly artillery guns are currently deployed not too far away from the LAC on either side.
The Corps Commanders are likely to meet soon to work out the modalities and agree on a mechanism to verify each of these steps, sources said. If an agreement is reached, the first two steps are likely to be accomplished before the end of the month, the sources added. As for Indian infantry deployment on heights such as Rezang La, Rechin La and Mukhpari—which actually turned the tide at the end of August and has given India the much-needed leverage in the negotiations—more discussions on this aspect are likely to take place subsequently, sources added.
Incidentally, the eighth round of talks was perhaps the shortest discussion between the two sides, attempting to find common ground to resolve the six-month-long military standoff. The parleys in the previous seven rounds went on for more than 12 hours but the talks held last Friday ended in less than 10 hours with a decision to hold another round of meeting soon. Moreover, the Chinese have now shown willingness to discuss a comprehensive package on de-escalation, disengagement and de-induction, in contrast to their earlier stalling tactics.
There is a reason for shorter duration of discussions. Since September, Indian interlocutors have managed to narrow the focus of talks to specific issues of restoring status quo rather than allowing the Chinese to meander along vague demands.
Bold military actions by India on both north and south banks of Pangong Tso at the end of August has brought about this change in the Chinese attitude, those in the know reveal. As reported here (….) Indian Army troops occupied tactically crucial heights on the ridge line of Finger 4 and the Kailash range of mountains on the south bank of Pangong Tso, taking the Chinese by surprise since occupation of passes such as Rezang La and Rechin La besides other peaks has given the Indian Army an advantage it did not possess in the first three months of the standoff.
However, Indian decision-makers have decided to take up the matter of another friction point—the Depsang plains—separately after putting in place a timetable to resolve the standoff along the north and south banks of Pangong Tso.
The story of standoffs at Depsang plains—located in north-east Ladakh, close to Daulat Beg Oldi (DBO) airfield—is almost a decade old, much before the current crisis began in May. The Chinese, having built roads and military infrastructure in their own areas of Depsang plains, had an inherent advantage for a long time. The PLA had intruded in the same area in April-May 2013 and pitched tents there for over three weeks before going back. Because of the topography and better infrastructure, the PLA can watch Indian troops the moment they leave their base to travel to an area called Y junction or bottleneck, since the massive plateau has no vegetation or rocky cover to hide.
Indian vehicle-based patrols have to cross the Y junction to go up to Patrol Points 10, 11 and 12. Since May, like some earlier occasions in the past, the Chinese move to the Y junction the moment they see Indian vehicles approaching the area, block their movement. A faceoff occurs. Both sides stand facing each other and return after three-four hours to their respective bases nearby, those involved in the routine point out. This is repeated every three-four days, they added.
"Reports that India has lost vast territory in Depsang needs to be put in perspective here," an officer closely involved in monitoring the situation said. "Territory is lost when the adversary occupies land, builds permanent infrastructure and posts troops to hold the ground. In Depsang, nothing of the kind has happened. They Chinese have no presence there; they come temporarily as we go. This has been going on since 2013 and will be taken up separately," he said.
Through all these developments, commanders on ground as well the leadership in Delhi are working on one basic premise: The Chinese cannot be trusted and each of their actions needs to be verified at every step. However, there is cautious optimism about a breakthrough in the next few weeks. As Army Chief Gen MM Naravane told BharatShakti.in—our sister concern—on Tuesday: "Senior military commanders of India & China are ironing out modalities… we are very hopeful that we will be able to reach an agreement which is mutually acceptable and beneficial…The process is on and we are very hopeful that we will be able to reach an agreement in keeping with overarching policy guideline passed down to both sides from their respective hierarchy."
Meanwhile, temperatures in the high-altitude desert that is Ladakh have already dipped to minus 20 degree Celsius and likely to go down further as over 30,000 soldiers from either side remain deployed face to face along the LAC. For the sake of those on guard at the border in such adverse weather conditions, both sides must be hoping for an immediate breakthrough in the talks.