Global Food Crisis, Inflation Sparks Famine Fears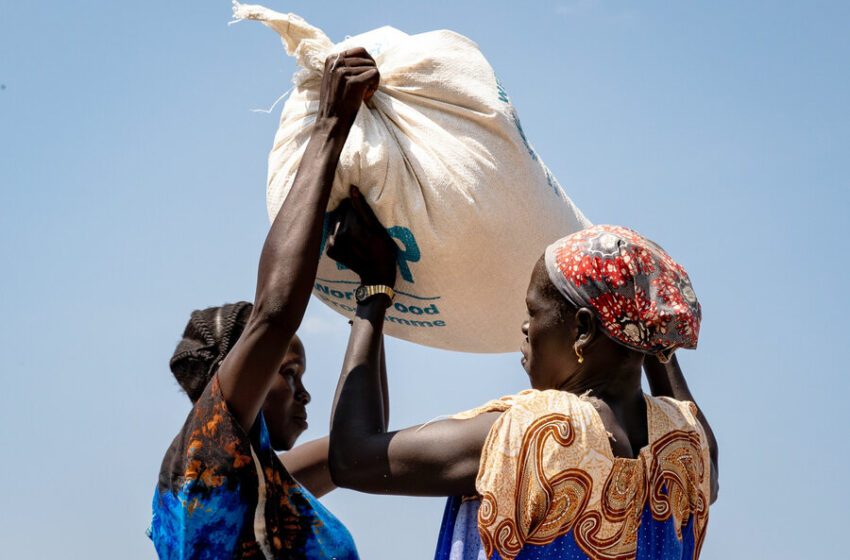 NEW DELHI: President Putin's blockade of Ukraine's sea ports has sparked off fears of a global food crisis. In a phone call last week with French President Emmanuel Macron and German Chancellor Olaf Scholz, the Russian president made it clear that while Moscow was "ready to help find options for the unimpeded export of grain, including the export of Ukrainian grain from the Black Sea ports," this would "require the lifting of the relevant sanctions restrictions." And with Europe and the US having stated that they are in no mood to comply, economists warn that a global food shortage may be on the cards.
Already Brussels has taken note. Speaking at an address at the World Economic Forum in Davos, European Commission president Ursula von der Leyen accused Russia of "blackmail" and warned that Putin's actions of both holding back its own grain supplies while preventing Ukraine from exporting to the world would cause global wheat to "skyrocket" which would ensure that "fragile countries and vulnerable populations suffer most."
While this is true what the EC president did not mention was the continent's own concern. Ukraine and Russia account for a third of global wheat and barley exports and Ukraine is also known as Europe's "breadbasket." According to EU Commissioner for Agriculture Janusz Wojciechowski, "Ukraine is the European Union's 4th largest external food supplier, providing 52% of our maize imports, 19% of our soft wheat, and 23% of our vegetable oils."
The result is that EU farmers already feeling the effect of energy prices and Covid-related inflation will see supply for raw ingredients go up. Prices for fertilisers have already gone up by 142% from over last year which will eventually hit the cost of finished products hard.
Russia's invasion of Ukraine will exacerbate global food insecurity resulting in a catastrophe "beyond anything that we have seen since WWII," warned David Beasley, Executive Director of the United Nations World Food Program (WFP).
The reason for this is simple. According to a report by the UN Food and Agriculture Organisation (UNFAO) nearly 50 countries depend on Russia and Ukraine for at least 30% of their wheat import and, of these, 36 countries source over 50% of their wheat from the two countries. Due to (anticipated) shortages in supply following Russia's invasion, global wheat and maize prices skyrocketed and are respectively at 48 and 28% higher than in early February (before the outbreak of the war), and 79 and 37% higher than the year before. Higher global food prices will directly translate to domestic food price inflation, especially in food import dependent countries, limiting the ability of people to afford their food.
Countries in the Middle East and Africa who feed millions of people on subsidized bread are particularly affected. Chief among them is Egypt which relies on 70% of imported wheat from Russia and Ukraine and Lebanon with 60% dependency on wheat imports from Ukraine. Africa is severely compromised. A UN report shows that between 2018-20 the continent imported US $3.7 billion in wheat (32% of the continent's total wheat imports) from Russia and another US$1.4 billion from Ukraine (12% of the continent's wheat imports). Development economists state that wheat constitutes a major part of the average African meal. Not having enough of it could cause political and economic instability.
The picture is made more gloomy by the fact that there seem to be few alternatives. China, the world's largest producer and consumer of wheat, has had a horrible year with the country's agriculture minister stating that the country's wheat crop conditions could be the "worst in history" after heavy rainfall delayed planting last fall. India has imposed a wheat ban which according to a recent study, would hurt several countries. Bangladesh would be the most affected country as it accounts for 55.9 percent of India's total wheat exports, followed by Sri Lanka (7.9 percent), UAE (6.9 percent), Indonesia (5.9 percent), Yemen (5.3 percent) and Philippines (5.1 percent). Among the other countries that would see the impact of the ban are Nepal, Korea, Qatar, Oman and Malaysia.
Pressure was on at the recent G7 meeting for India to reconsider its decision though surprisingly China has come to India's defence here. An editorial in China's state-run Global Times newspaper stated that instead of urging India not to ban wheat exports, "why don't G7 nations themselves move to stabilise food market supply by hiking their exports?"
"Although India is the second-largest wheat producer in the world, it accounts for only a small part of global wheat exports. By contrast, some developed economies, including the US, Canada, the EU and Australia, are among major exporters of wheat," it added.
While the jury is out on why China has stepped in to defend India, analysts believe that an Indian wheat ban further strengthens Putin's hand. Considering Moscow and Beijing enjoy a "friendship with no limits" a stronger Russian hand is no bad thing for China. What was also interesting to note was that Beijing relaxed its wheat restrictions regarding imports from Moscow just prior to the Russian invasion of Ukraine. China thus safeguarded its food security by ensuring a sanction-hit Russia will now be increasingly dependent on selling wheat and grain to Beijing and ensured that the West's food supplies continue to face uncertainty. Such thinking ensures that food will truly be the new weapon in the geo-political tussle going forward.