Our Partner In Asia Is India, Not China: Portuguese Foreign Minister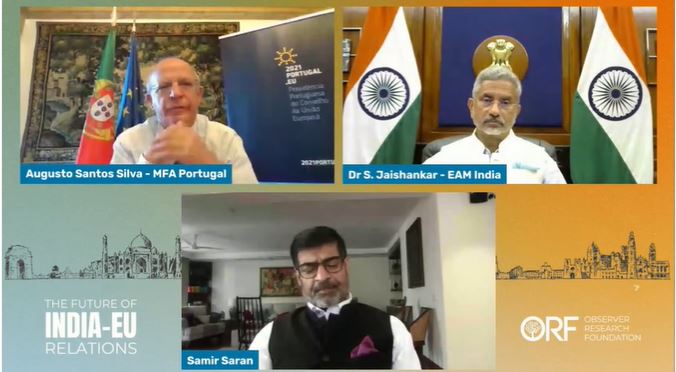 NEW DELHI: "The European Union has paid less attention to India than it should have." With that Portugal's foreign minister Augusto Santos Silva pointed out how the EU's Indo-Pacific strategy and the outreach to Delhi drew from Washington's Indo-Pacific strategy and the national strategies of Holland, the UK and Germany.
"So we needed to focus on this issue at the European level and that was the reason for the virtual India-EU summit last month with the resumption of the political dialogue between the two largest democracies in the world," he said during the interaction with his Indian counterpart S. Jaishankar, organised by Observer Research Foundation (ORF).

He said the focus on politics was because "we needed to pay more attention to the Indo-Pacific in terms of security, freedom of navigation and economic ties. We consider India as one of our closest partners".
Dr Jaishankar confirmed that "we have reached a stage where we can go ahead with the India-EU Trade and Investment Partnership. Both sides are looking for a new compact with reference to the multipolar world. The world today is not what it was in 2016, neither Europe nor Asia. Today is a more rebalanced world and the relative weight of regions has shifted. The EU has multiple engagements with Asia, and we look at how this can help our national development, so a greener agenda, data focused, more tech driven, that is what has changed."
We have just launched a physical connectivity project with Europe, he said, also digital connectivity and energy and human connectivity. India has laid out its views when it comes to the global debate on connectivity, that it should be transparent, sustainable, viable and not a debt burden. The EU is pretty much in agreement, he said.
"Human connectivity is based on the assumption that the knowledge economy will require flow of talent and the more seamless, the more it helps ease of business, growth of creativity, and migration and mobility partnership. We have done some deals with France, the UK, and are looking at similar deals with others including Portugal."
In terms of digital connectivity, Jaishankar said India and the EU were looking at an investment forum, a task force on artificial Intelligence, convergences on data and cyber security and data privacy. "We are watching a lot of the interaction between the EU and Big Tech since these debates are ongoing in our country. When it comes to 5G or post 5G, it's a natural coming together. So I see digital connectivity as a fertile area to explore and am confident it will happen."
Jaishankar made a strong case for the West to deliver on its promise of funding for green technologies to combat climate change. "I hear sweeping prescriptions from parts of the world but we can't take a policy which is reflective of a EU level of development and mechanically apply it to India. We need to talk about it and it should not be an ideological conversation. Climate change is existential but it is about programming and resources."
Both sides acknowledged concerns about China. "I come from a country with a border with China where our military is deployed up there with the Chinese military, so my situation is different from Europe," Jaishankar noted.
"We have three redlines in our relations with China," Silva said, pointing out that "we cannot be silenced when there are violations of human rights in Xinjiang which we will denounce. We cannot accept the squeezing of the democratic space in Hong Kong and we cannot accept any change in the current status of the South China Sea and in relations with Taiwan."
The rise of China poses opportunities but also security challenges that have to be addressed," he warned, underscoring that "China is not a threat but its rise is a security challenge. We need to look carefully but address this new reality. We have defined ties with China as complex and multi-faced in certain areas. It is a close partner of the EU on climate action and we cannot achieve global targets without China."
There is cooperation with win-win for both sides, he said, indicating that in certain technical areas like renewable energy, China and Europe will cooperate. "But then we are competitors in Latin America, in Africa. Our trade is unbalanced and we have to redo that. Also we are systemic rivals because of the way we see political institutions, human rights, the role of civil society. So our partner in Asia is India, not China."