Made In India Weaponised Drones, Loitering Munitions From Next Year: Solar Industries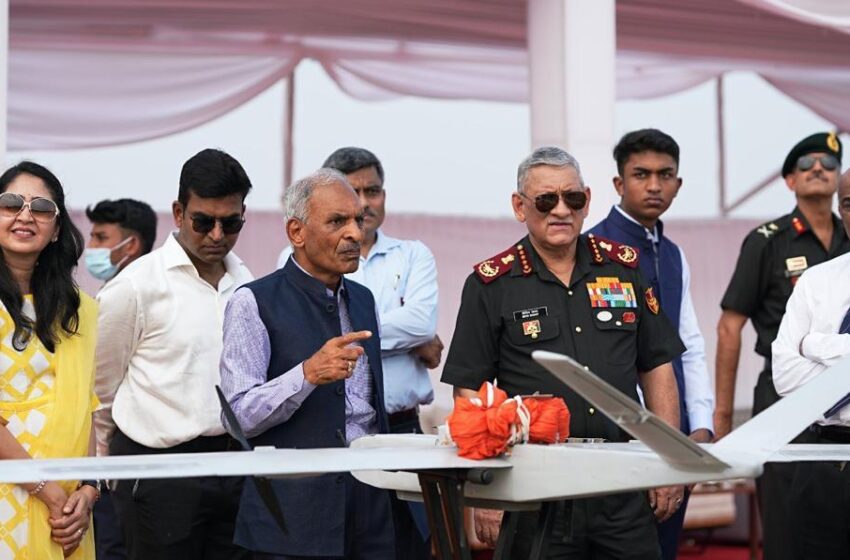 NEW DELHI: Solar Industries Ltd, a Nagpur-based explosives and ammunition company, has announced that it has become the first Indian firm to successfully demonstrate prototypes of weaponised drones (Hexacopter) and loitering munitions.
The company, already a world leader in packaged explosives and accessories, said in a press release that it is developing an array of drones for ammunition delivery to bring a new capability to Indian armed forces. The drones can be used in both offensive and defensive roles, it claimed. Chief of Defence Staff (CDS) Gen. Bipin Rawat was present at the first demonstration carried out at the company's Nagpur-based facility, the note added. Gen. Rawat was on an official visit to Nagpur.
While the offensive drones will be capable of dropping specially designed warheads on specified targets and returning to base. They can be used to target enemy troops, bunkers, vehicles and tanks. Solar Industries and its fully-owned subsidiary Economic Explosives Ltd) (EEL) aim to start production of these drones as early as January next year. EEL warheads can also be integrated with drones of other manufacturers. In a parallel development, Solar Industry's drones in a defensive role (an anti-drone system) will be capable of 'soft kill' using RF and GNSS jamming systems and a 'hard kill' option using micro-missiles. Micro Missile System is the most reliable hard kill System, which has been developed in-house by EEL. So far, EEL is the sole developer of such a capability in India.
The company has also embarked on manufacturing loitering munitions for use by the Indian armed forces. A loitering munition (also known as a suicide drone or kamikaze drone) is a weapon system category in which the munition loiters around the target area for some time, searches for targets and attacks once a target is located. Loitering munitions enable faster reaction times against concealed or hidden targets that emerge for short periods without risking high-value platforms like aircraft close to the target area and also allow more selective targeting.
Loitering weapons worldwide have been developed for roles ranging from relatively long-range strikes and fire support down to tactical, very short range battlefield systems that fit in a backpack. India imports this specialized munition.
Solar Industries will be the first Indian company to fully indigenize and develop loitering munitions in-house. It is making several versions of the munition primarily LM-0 (1.5 kg, 15 km), LM-1 (4 kg, 25 km) and LM-2 (10 kg, 100 km). These munitions will not only be superior than the imported ones in technical features and specifications but will also be almost 40 per cent cheaper. The timeline set by Solar Industries to complete this challenging task is February 2022. Large infrastructure for production, testing and evaluation of these systems is being set up at the company's Nagpur facility.
It has one of the largest production facilities for high melting explosive (HMX) & its compositions in the world. These items are now being exported to many countries including the U.S., Europe & Israel. In 2010, the company became the first private player in India to produce a complete ammunition range. It also entered the field of testing and developed a world class facility in the country to determine the shelf life of ammunition and energy materials, saving crores of money and helping prevent ammunition-related accidents.