Plugging Space Defence Gaps: 'Cut Down Red Tape, Can't Work In Silos'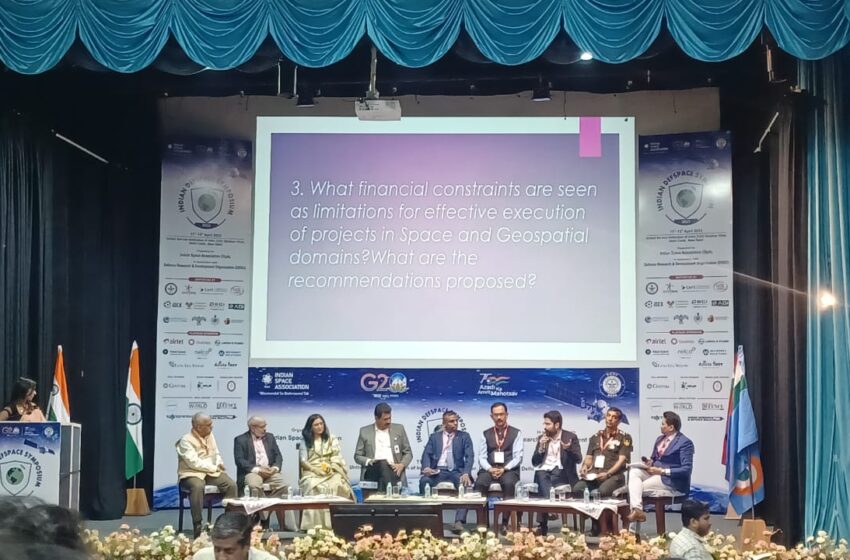 NEW DELHI: Day Two of DefSpace, the three-day symposium which brought all stakeholders—public and private—interested in India's military space capability under one roof, was clearly a tentative yet serious attempt to undertake a need gap analysis.
Organised by the Indian Space Association (ISpA), which represents the private space industry, and the Defence Research and Development Organisation (DRDO), the symposium aims at bringing about synergy between the armed forces and government institutions with the private players to indigenously develop, promote, protect and defend India's space assets, without compromising on security or violating any international laws or protocols on the militarisation of space.

The urgent need for this collaboration was underlined on Day One, with speaker after speaker from both sides of the spectrum pointing out China's overwhelming superiority in terms of the number of satellite launches, payloads, to provide not just better Intelligence, Surveillance and Reconnaissance (ISR) communication and navigation, but also the ability to take down hostile or enemy satellites. In his inaugural address, India's Chief of Defence Staff General Anil Chauhan noted the clear threat posed by the rapid weaponisation and militarisation of space by hostile nations.
The subject of the panels and the panelists listed for Day Two were a clear indication of the complexity of just defining the scope and contours of the proposed collaboration between the military, private enterprise, academia, research institutions, legal luminaries, policy makers and venture capitalists.
The first panel was on the role of various government institutions like ISRO, IN-SPACe, MoD, DRDO, HQ IDS, DSA, iDEX, as well as industry and academia in the research and development sector of space defence.
Lt Gen. VG Khandare (Retd), Principal Adviser, MoD, who chaired this panel, began by noting that the country had changed dramatically and there had been isolated attempts like the Indian Navy's drastic pruning of processes to improve speed and efficiency in operations and acquisitions but "our defence services are still stuck on archaic processes and systems," and worked mostly in silos. In today's world, ranks, awards and seniority were becoming increasingly irrelevant and all that mattered was delivery, he said. He also spoke of the urgent need to develop synergy between the defence and external affairs ministries to cut down bureaucratic red tape and processes.
"Earth is the cradle of humanity, but we cannot stay in the cradle forever," said Brig. G Manoj of the Defence Space quoting Elon Musk, before pointing out that there was a serious lack of human resources for space or people in space studies, and the urgent need for colleges to offer courses focused on space studies.
Dr N. Ranjana, Director DSTA, DRDO, concurred, noting that no college offered a master's degree in space engineering yet and there was no trained faculty for even setting up such courses. "We are yet to see a national cyber security policy for defence or policy guidelines adapting data sharing for integration with defence needs," she added.
Noting that the "IITs, IIMs, etc are working in silos," Dr Sudheer Kumar N, Director, Capacity Building & Public Outreach, ISRO, said that "knowledge needs to percolate down and be shared".
"Legacy systems and processes are delaying interoperability," said Shashank Saxena, Deputy Director, IN-SPACe, while Rajesh Muneshwar, Co-Founder & CTO, Vihaan Spacetech, spoke about the need to develop space investment culture to promote space startups. Other panelists included Vinod Chippalkatti, President SEBU, Centum Group, who reiterated the need to speed up decision making processes, but also warned private players not to "promise without being able to deliver".
Defence Space Procurement Mechanisms for Industry: Need For Innovation, was the title of the second panel, chaired by Air Chief Marshal RKS Bhadauria (Retd), former Air Chief, who began by declaring that "outer space is all about defence."
The moderator, Laxmesh BH, Vice President & Head – Missiles and Aerospace Business Head – Precision Manufacturing & Systems Complex of L&T, sought clear policy guidelines and less paperwork to ensure that things moved fast.
Major General AK Channan (Retd), after noting that space needed a special procurement policy, declared that the government and administration need to realise that people involved in this domain are competent enough, and drop arduous oversight.
After endorsing the call for a separate space university, Air Vice Marshal Rajiva Ranjan, VM, ACAS Ops (Space), spoke of the need to adopt global standards and adopt open architecture.
Amit Cowshish, Fin Adv (Acq), MoD & Partner, Dua Associates, noted that the Indian Navy "has been smart, it announced its own procedure for shipbuilding." However, there was an urgent need for a composite acquisitions plan for not just the forces, but allied services and institutes, he said.
Similarly, subsequent sessions had speakers from various domains expressing their needs and suggesting ways to streamline systems and processes.
The ISpA leadership said that it was assiduously noting all these suggestions and proposals, and planned to compile them all at the end of the symposium for action.
But perhaps an apt reflection of the main problem was nailed by Lt Gen. Anil Kapoor (Retd), former DG EME, DGID, IIT Tirupati, who after noting that students at IIT Tirupati had come up with several useful innovations which would benefit the forces but these never went beyond the walls of the institute, said "capabilities built into the system are not known to system."