India Israel To Broaden Defence Cooperation, Focus On 'Make In India'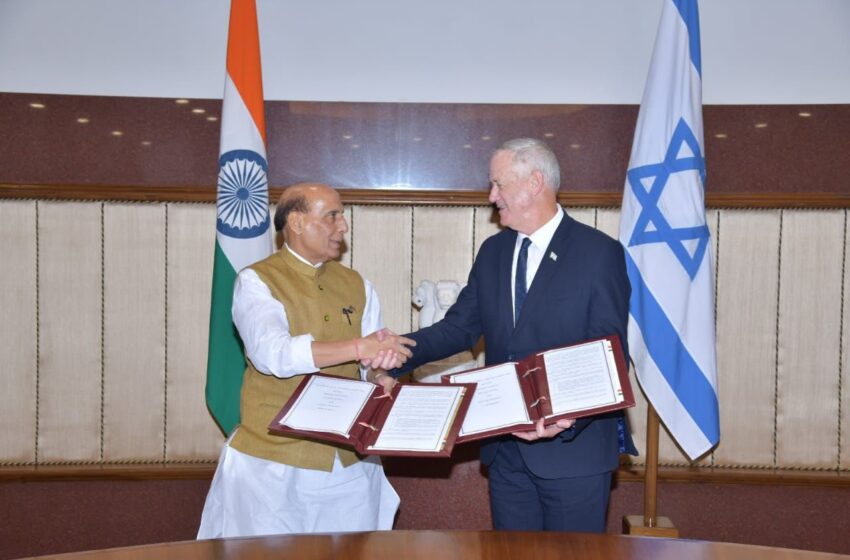 NEW DELHI: The Ukraine issue hung over both New Delhi and Tel Aviv, as Israeli Defence Minister Benny Gantz visited India to celebrate 30 years of diplomatic relations between the two countries.
Gantz first met with Defence Minister Rajnath Singh after which a "Vision Statement", charting out the future strategic and defence cooperation between the two nations was signed.

During the bilateral discussion, they declared their intention to further develop defense cooperation in a manner that harnesses Israel's technological advance and operational experience, together with India's extraordinary development and production capabilities. Cooperation between the countries would be in line with Prime Minister Modi's "Make in India" vision. Lastly, the ministers discussed partnerships within the Government-to-Government framework, military training, and technological cooperation with a focus on UAVs and defensive capabilities.
Gantz met with NSA Ajit Doval where discussions also covered Ukraine. Tweeting post the meeting he said, "I concluded an excellent and important meeting with Ajit Doval. We discussed the global challenges posed by the war in Ukraine and other issues related to security cooperation between the two countries. Faced with the various happenings in the world, strengthening the relationship between the two security systems is gaining in importance."
India and Israel have good reasons to discuss Ukraine. Both nations have come under fire from Washington which has continued to express its disappointment that both nations have not done more to speak out against Russia. The most serious criticism has come from Senator Mark Warner. Warner is Chairman of the powerful Senate Select Committee on Intelligence and is also a co-chair of the Senate India Caucus, the only country specific caucus in the US Senate.
He said that despite being a friend to both nations and a long-time supporter to Israel he was "disappointed that countries like Israel and India, both great democracies, are sitting on the sidelines and not weighing in."
Washington's disappointment aside, the talks come at an opportune moment for New Delhi to expedite its effort to become self-reliant should the Ukraine crisis impact Moscow's ability to deliver arms supplies in the future. Israel is seen as the best candidate since it is already involved in defence co-production projects with India. Gantz indicated that Tel Aviv was willing to do more stating that India and Israel "share similar and common challenges, including border security and fighting terrorism. By working together, we may increase our capabilities and ensure the security and economic interests of both countries."
The Israeli defence minister's visit is expected to be followed by the visit of Prime Minister Naftali Bennett in July. Bennett's visit to India in April was called off at the last minute as he had got Covid. Israeli media reports are suggesting that he will plan an India visit as the Knesset session gets over then.