Will Comoros Be China's Next 'Djibouti' In Indian Ocean Region?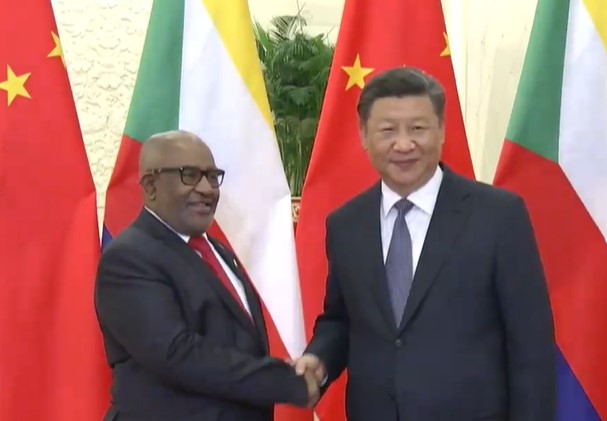 NEW DELHI: In the past seven years, China created and developed its first overseas military base for the People's Liberation Army (PLA) at Djibouti. Djibouti is strategically situated astride the Bab-el-Mandeb Strait in the northern Indian Ocean, which separates the Gulf of Aden from the Red Sea, and functions as a "choke point" for maritime traffic flowing to the Suez Canal. After Xi Jinping's elevation as Chairman of the Central Military Commission, and later as President of PRC in 2013, Beijing steadily negotiated with the Djiboutian administration, capitalising upon its investments in Djibouti's commercial port at Doraleh, to clinch a deal in 2016, for the creation of an exclusive military facility. China claimed that the facility will primarily serve to support military logistics for Chinese naval and military assets deployed in the Gulf of Aden for counter-piracy operations, and also other activities including peacekeeping, humanitarian and disaster relief operations in Africa, and West Asia.
The base is described by China as a "logistics support facility" and consists of a large, fortified space of about 0.5 square kilometres, enclosing a military heliport, storage facilities, training area, barracks for troops and a military hospital. An extended pier has been constructed in the exclusive military port adjacent and connected to the base, which is capable of docking the largest of the PLA Navy's ships and submarines.
In April 2021, General Stephen Townsend, Commander of US Africa Command (AFRICOM), in his testimony before the US House Armed Services Committee (HASC) highlighted China's ambitions of expanding its military presence in Africa. "Their first overseas military base, their only one, is in Africa, and they have just expanded that by adding a significant pier that can even support their aircraft carriers in the future, … around the continent they are looking for other basing opportunities," he was quoted saying.
Early this year, in March, in his statement to the US Senate Armed Forces Committee, Townsend brought out that China had advanced plans to establish a second location along West Africa's Atlantic coast. By Townsend's estimate, Chinese military facilities and technical collection sites in Africa will allow Beijing to project power eastward into the Middle East and Indo-Pacific Theaters and west into the Atlantic by 2030.
Steadily, China has diversified the use of the facility at Djibouti, using it for docking large amphibious troop carrier vessels, replenishment ships and similar naval platforms capable of supporting naval task forces for the expeditionary role. Beijing's successful military basing venture at Djibouti, beginning with innocuous commercial engagement for developmental purposes, provides a flavour of more such arrangements that could possibly emerge in other parts of the world.
Interestingly, a story similar to Djibouti appears to be playing out in the island nation of Comoros in the Southern Indian Ocean, located close to the strategic Mozambique Channel—a critical waterway which carries about 30 per cent of global tanker traffic.
The Union of Comoros comprises an archipelago of three islands—Grand Comore, Anjouan and Moheli. Comoros and France have a sovereignty dispute over the islands of Mayotte (also known as Maore), and Glorioso Islands, all of which are claimed and controlled by France. Comoros is one of the least developed nations in Africa, and with an estimated gross domestic product (GDP) per capita income of about US $700, is among the world's poorest nations.
Moroni (in Grand Comore), Mutsamudu (in Anjouan) and Boigoma (in Moheli) are the three chief ports in Comoros. The port of Moroni is located on the west side of Grand Comore, approximately 300 kilometres from the African mainland. The port has a shallow depth of water due to which, merchant vessels with larger draught must anchor outside the port and cargo is transported through barges.
To overcome these limitations, in March 2018, the government of Comoros signed a commercial contract with China Road and Bridge Corporation for the construction of a deep-water port by dredging and redevelopment of the existing port of Moroni. The work for dredging and expansion of the Port of Moroni is reportedly yet to begin. The estimated cost of the project is US $165 million.
On the island of Moheli, in March 2015, the China Communication Construction Company was awarded the contract to build the Port of Moheli. The work took two years to complete at a cost of US $149 million. In addition, a greenfield deep-water port is reportedly planned for development in Sereheni, a location 3 kilometres south of Moroni. This is expected to cater to vessels of up to 30,000 gross tonnes. Given China's overwhelming involvement in infrastructure projects in Comoros, there are strong grounds to believe that China could be Moroni's preferred partner for this strategic port development in future.
In fact, China has been Comoros's largest developmental partner for many years, steadily replacing France, which enjoys pre-eminent economic and military influence in the southwestern Indian Ocean region. China has undertaken key infrastructure projects in Comoros like the rehabilitation of the International Airport at Moroni, construction of highways and roads in the three islands of the archipelago, renovation of the Peoples Palace in Moroni, construction of a large stadium at Moroni, installation of undersea fibre optic network cable between Comoros and East Africa and multiple housing projects.
China has also consistently helped Comoros in combating malaria in a major way. Seen together, Chinese assistance has gone a long way in creating a positive impact in a country with a population of less than 900,000. Further, many infrastructure projects of potential interest to China feature in the Comorian government's priority action plan, including the expansion of ports of Mutsamudu, Moheli, and Moroni, as also the expansion of airports in Anjouan and Moroni.
Early this year, in keeping with the long-standing tradition of Chinese foreign ministers visiting countries in Africa in the early days of the new year, Chinese Foreign Minister Wang Yi visited Comoros on January 6, 2022. During his engagements, Wang Yi described Comoros as the "Country of the Moon" in the Indian Ocean and recalled that China was the first country to recognise the independence of Comoros and establish diplomatic relations with it.
References to cooperation initiatives with Africa announced at the Eighth Ministerial Conference of the Forum on China-Africa Cooperation (FOCAC), and their synergy with the "Emerging Comoros Plan for 2030" were repeatedly made by the Chinese side. China is among the few countries which maintain a resident Ambassador with a permanent diplomatic mission in Comoros. The two sides also enjoy healthy defence ties, with China regularly offering training courses to Comorian military personnel.
On its part, Comoros cherishes its close ties with Beijing and staunchly adheres to the "One China" policy. It was among the 53 nations that backed China's controversial Hong Kong national security law at the United Nations in June 2020.
From China's perspective, the similarity in political conditions and the geostrategic situation between Djibouti and Comoros is striking. Like Djibouti, Comoros is a small coastal state in need of significant developmental assistance and particularly in need of maritime development for boosting its own economy.
Both Djibouti and Comoros are ruled by political leaders who are strong and experienced political personalities in their respective countries. Azali Assoumani of Comoros, a former Chief of Staff of the National Development Army, is currently undertaking a fourth term as the President of Comoros. Like the long-serving President Ismaïl Omar Guelleh of Djibouti, he first assumed office of the President in 1999.
China, which is on the lookout for suitable geography to create a new "support facility" for its military in the Southern Indian Ocean, would find it hard to miss the opportunity to work closely with a strong leader like Assoumani. The yet-to-be-implemented redevelopment and expansion plan for the Port of Moroni could well be a test case to assess Chinese strategic motivations in Comoros.
In comparison to China, India's engagement with Comoros offers a contrast of sorts, despite the island nation being situated in India's extended neighbourhood. While India has extended its Indian Ocean outreach to Comoros in recent years through generous donations of food aid and medical support by naval ships during the COVID-19 pandemic, its developmental footprint in Comoros remains very modest.
Unlike China, there are no infrastructure projects to write home about for the Indian embassy to Comoros, located in distant Antananarivo, in Madagascar. In October 2019, Vice President M. Venkaiah Naidu became the highest-ranking Indian dignitary to ever visit Comoros. In an extraordinary gesture, the Union of Comoros conferred the 'Order of the Green Crescent', its highest civilian honour on the Indian Vice President.
During the visit, the two countries signed six Memoranda of Understanding (MoUs) for cooperation in various fields including defence, health and medicine, arts and culture and tele-education (e-Vidya Bharati) and tele-medicine (e-Arogya Bharati). Seen in conjunction with India's vision of "SAGAR– Security and Growth for All in the Region" for the Indian Ocean Region (IOR), there is no dearth of conceptual foundation to develop India-Comoros ties to the next level. Nevertheless, low prioritisation of ties with Moroni in its regional diplomacy and absence of a permanent diplomatic mission in Comoros are inter-linked factors, which South Block would do well to take note of.
In the backdrop of the expression of interest by Chinese Foreign Minister Wang Yi early this year in creating a "council of Indian Ocean Island nations" and the more recent articulation of the idea of the "Global Security Initiative" by the Chinese leadership, prescient observers would not be remiss in noting the very real possibility of Comoros emerging as the next "Djibouti" in the Indian Ocean.
In Beijing's calculus of revisionism and expediency, impoverished but geographically blessed Comoros fits the bill as a valuable strategic partner. It could well be a matter of time before China's innocuous-looking developmental agenda in Comoros steadily metamorphoses into a strategic footprint in the form of a quasi-military real estate, leading to a permanent military presence.
(The article first appeared in our sister concern www.bharatshakti.in)