Speculation About A Tough, Common Quad Line On China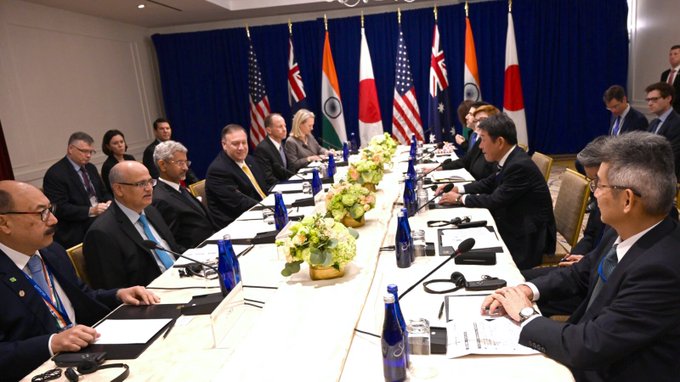 NEW DELHI: Tuesday's meeting of Quad foreign ministers in Tokyo could be a game changer. The speculation is a distinct hardening of India's stand on the security challenges in the Indo-Pacific (meaning China), which could see a consensus emerge, resulting in a Quad joint statement, the first of its kind.
Some would say the signs are all there. US Secretary of State Mike Pompeo has cancelled the Mongolia and South Korea legs of his Asia visit to ensure he spends three days in Tokyo. The State Department threw a broad hint as to his agenda: "Planned meetings with the Quad foreign ministers in Tokyo will focus on pressing issues of the Indo Pacific region."

Pompeo himself has been clear and consistent about China. Last week he warned the Vatican that "the CCP's abuse of the faithful has only gotten worse. The Vatican endangers its moral authority should it renew the deal" (on the appointment of bishops). Earlier he warned Brazil about the dangers posed to its communication networks by China, and counselled Israel's Prime Minister Netanyahu "about the challenge the Chinese Communist Party presents to the entire world."
Japan's newly minted Prime Minister Yoshihide Suga had a telephonic chat with China's President Xi Jinping within days of taking over, and said "I told him that stability of Japan China relations is crucial not only for the two countries but for the region and international society," pointedly adding "we did not discuss Xi's possible visit to Japan."
A visit has been pending since April when Xi's visit was cancelled owing to China's tightening control over Hong Kong, its obfuscation over the pandemic and aggressive claims to the Senkaku islands, which many believe, could even result in China's "administrative control" over them.
Australia's Foreign Minister Marise Payne, while announcing her travel plans for Tokyo and the Quad meeting, said "our shared interests are under unprecedented pressure … we are committed to working together with all countries in the region to chart a road to recovery in a way that helps all countries reinforce their sovereignty and resilience."
She did not name China although the implication was clear. Incidentally, the Quad meeting could see India extend a formal invitation to Australia to participate in the forthcoming Malabar naval exercises.
There are reports the Quad meeting will discuss shifting supply chains, a euphemism for reducing dependence on China's factories, and of course 5G where a concerted effort is visible worldwide to keep out China's tech players like Huawei.