Repression Of Uyghurs And Chinese Doublespeak
NEW DELHI: The irony is stark, the doublespeak deafening. The foreign minister of China that has been called out globally for state-sponsored repression against Uyghurs, a Muslim minority in Xinjiang, attends a conference of the biggest bloc of Muslim majority countries as the chief guest. The invite meant that the Muslim world is happy to overlook crimes against its own in China in lieu of financial aid and investment. No wonder Wang Yi played to the gallery, preaching lofty morals that flew on the face of the ground realities in Xinjiang. At the foreign ministers' meeting of the Organization of Islamic Cooperation in Islamabad last week, Wang Yi reminded the participants that China is investing over $400 billion in nearly 600 projects across the Muslim world under its Belt and Road Initiative (BRI). He also said China is ready to work with Islamic countries to promote a "multi-polar world, democracy in international relations and diversity of human civilizations". Barring Turkey, other countries seemed to have selective amnesia about the plight of Uyghurs. The rest of the world, however, has no such pretention. Here's why: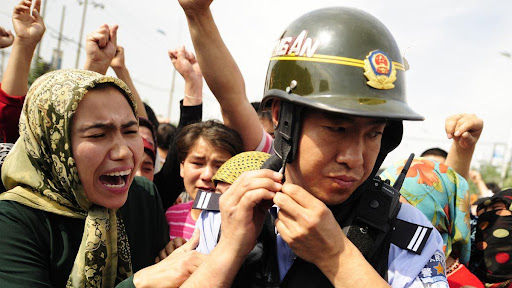 Since 2017, the Chinese government has detained about 1.8 million Uyghurs and other Turkic minorities in hundreds of "re-education camps" in Xinjiang to apparently prevent religious extremism and terrorism. The system put in place justifies oppression by branding Uyghurs a security threat to generate state investment in policing and surveillance technologies. The rise of an economic formation of a kind of security-industrial complex where the state has hired over 1,000 contractors—private companies—to build forms of surveillance that will sort through Uyghur and Kazakh behaviour and diagnose a potential criminal. They use Chinese counter-terrorism laws, which are very broad and equate terrorism with activities such as having WhatsApp on your phone, using a VPN and having relatives abroad, who send money. Witness testimonies and investigative reports have alleged that the Chinese government has tortured detainees, sterilized Uyghur women and conscripted Uyghurs for work in factories.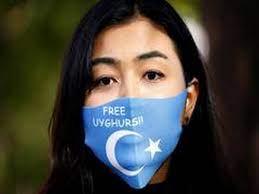 Uyghur Teachers, Intellectuals Targeted
A Uyghur educator and principal of a high school in Korla in Xinjiang is serving 18 years in jail for having organised cultural events to which he invited well-known Uyghur intellectuals Yalqun Rozi and Abduqadir Jalalidin to give lectures. The two intellectuals have been in prison since 2017, the year Chinese authorities began detaining Uyghurs and other Turkic-speaking Muslims in re-education camps. Authorities have targeted teachers and intellectuals in Xinjiang because they are the most significant means of passing on Uyghur culture and identity.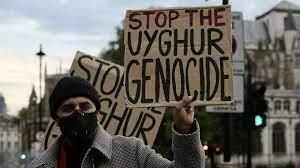 Discriminatory Labour Practices
China continues to carry out discriminatory work policies, such as forced labor, steep production targets and long working hours against Uyghurs in Xinjiang, a United Nations committee said last month. The International Labour Organization stressed that China has violated provisions of the Employment Policy Convention of 1964, which Beijing ratified in 1997. The 870-page report titled 'Application of International Labour Standards' stated that China continues to engage in widespread and systematic "programs" involving extensive use of forced labour of Uyghurs and other Turkic and Muslim minorities in Xinjiang. Some 13 million religious minorities in Xinjiang are targeted and Beijing justifies its methods in the garb of "poverty alleviation", "vocational training", "re-education through labour" and "de-extremification".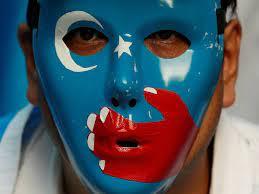 Curbs On Religious Practices
Ba'imhan Mamut, a retired Uygur postal worker in China's Xinjiang region who was released from an internment camp because of health problems, was rearrested and sentenced to another 10 years in prison for participating in "illegal religious activities". The former postal worker in Hotan prefecture, was first detained in 2017 and spent two years in a camp before her release.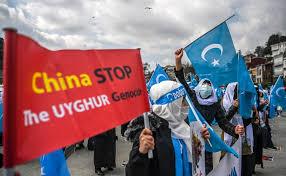 Bid To Wipe Out Uyghur Culture, Language
The Chinese government's move to shut down more than 160 Uyghur cultural research and language organisations is another indicator of the cultural purge of the community. On February 22, the Civil Affairs Bureau of the Xinjiang Uyghur Autonomous Region (XUAR) issued a "notice of revocation of registration certificates and seals of the legal representatives of social organizations". The list includes organisations researching traditional Uyghur culture and teaching of foreign languages, including the Uyghur Classical Literature and Muqam Research Association, Dolan Farmer Painters' Association, Atlan Vocational Training School, Intil Language School and Miraj Vocational Training School. The inclusion of Uyghur Classical Literature and Muqam Research Society on the list of deregistered organisations caught the attention of Uyghur musicians living in exile. The European Uyghur Ensemble has performed Uyghur muqam, a musical mode and set of melodic formulas that guide improvisation and composition in Uyghur music and other repertoires, in countries across Europe to project forced labour, forced displacement and cultural obliteration. Authorities have purged Uyghur society of intellectuals, prominent businessmen, cultural and religious figures, imprisoning many of them in a vast network of internment camps, as part of a campaign, purportedly, to prevent religious extremism and terrorist activities.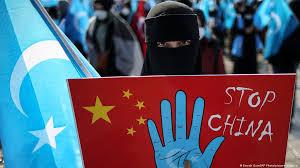 Crackdown On Philanthropists
Authorities have jailed Uyghur philanthropists who have made significant contributions to education in Xinjiang. Nurtay Hajim, a respected businessman who made a fortune through an international tourism and a shipping firm, financed the establishment and operations of Nurtay Iskender School for Orphans in Ghulja. The school offers free accommodation, food and education for Uyghur children who have been orphaned or whose parents are in jail. Hajim received a lengthy prison sentence in 2018. Another Uyghur philanthropist, Ablimit Hoshur Halis Haji, was taken into custody in Xinjiang's capital Urumqi (Wulumuqi) in 2018 by a unit of the State Security forces known as the Guobao. His detention was directly linked to his establishment of Halis Foundation, a charitable organisation set up in 1994 to help elite Uyghur students with higher education and financial aid for study abroad.
Olympics Torchbearers Now In Jail
A Uyghur doctor who served as a torchbearer in the 2008 Summer Olympics in Beijing is serving an 18-year jail sentence. Abduqeyum Semet, who was Director of Health Department of Kashgar, is serving his term at a detention centre administered by the Xinjiang Production and Construction Corps (XPCC). The XPCC, also known as Bingtuan, is a state-owned economic and paramilitary organisation sanctioned by the U.S. for its alleged involved in human rights violations against Uyghurs. At least eight Uyghur torchbearers from the 2008 Beijing Olympics are in prison in Xinjiang, including Abduqeyum and Adil Abdurehim, a former Chinese government official handed down who is serving a 14-year sentence for watching counter-revolutionary videos.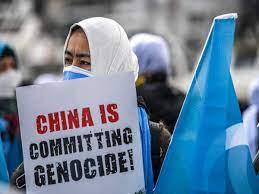 Tight Control Of Birth Rates
The Uyghur genocide in China is the characterization of the series of ongoing human rights abuses against other ethnic and religious minorities in Xinjiang by the Chinese government, resulting in the severe birth drop in the region.  Birth rates in Xinjiang fell 24 per cent in 2019, compared to a nationwide decrease of 4.2 per cent. Chinese government statistics reported that from 2015 to 2018, birth rates in the mostly Uyghur regions of Hotan and Kashgar fell by more than 60 per cent. In the same period, the birth rate of the whole country decreased by 9.69 per cent. However, the authorities acknowledged that birth rates dropped by almost a third in 2018 in Xinjiang. Government policies have included the arbitrary detention of Uyghurs in state-sponsored internment camps, forced labour, suppression of Uyghur religious practices, political indoctrination, severe ill-treatment, forced sterilization, forced contraception and forced abortion. This is the largest-scale detention of ethnic and religious minorities. Thousands of mosques have been destroyed or damaged and thousands of children have been forcibly separated from their parents and sent to boarding schools.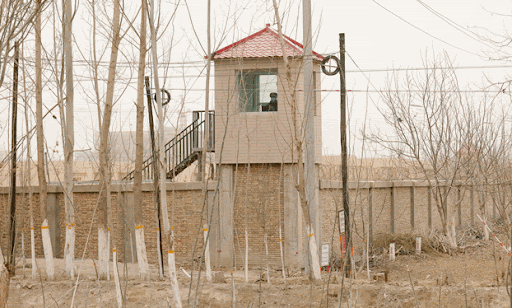 Nearly 800 Uyghurs are being held in a detention camp in Manas County in northwestern China's Xinjiang. The camp is divided into two sections, one housing about 500 men and the other 270 women. All of them arrested for committing "serious crimes" such as praying. At the facility they are forced to learn Mandarin Chinese, "the national language". Chinese authorities have arrested Uyghur businessmen, intellectuals, cultural and religious figures in Xinjiang for years as part of a campaign to monitor, control and assimilate members of the minority group.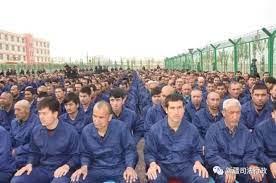 From 'Re-education Camps' To Prison
Two reports released by officials in Xinjiang—one by the region's highest court, the other by a group of prosecutors—show that the strategy for constraining the Uyghur population is shifting from "re-education camps" to prison. The reports published on March 3 on Tengritagh (Tianshan), the official website of the Xinjiang Uyghur Autonomous Region (XUAR) government, largely consist of judicial statistics for the year. But scholars and analysts say the numbers represent a shift in strategy to use more official but still illegal means to prosecute Uyghurs and other ethnic minorities. Public prosecutors, collectively are known as the Procuratorate, detained and convicted more than 44,600 people in 28,490 cases involving about 12,900 different crimes, according to a work report prepared by Li Yongjun, who is the head of the XUAR People's Procuratorate, at the fifth session of the 13th People's Congress of the XUAR on January 24. In a read-out of the 2021 work report, Chief Justice Bahargul Semet said that the region's courts handled 668,900 cases. Of those, 606,200 were closed to public review. The Supreme Court, meanwhile, took up 5,820 cases, 5271 of which were closed. Uyghurs are not released from camps, instead shifted to prisons. China continues to hide the number of 'criminals' sentenced each year. Ilshat Hassan, Vice Chair of the World Uyghur Congress's Executive Committee, said he was shocked by the number of cases mentioned in the two court reports. Hassan suggested that the figures are a testament to the increased repression of Uyghurs and other Turkic minorities in Xinjiang in 2021, nothing that many of the cases were related to "counter-terrorism" and "stability maintenance". "We cannot see any clear details about these cases because China is keeping them secret. What we do know is that many Uyghurs have disappeared or gone into concentration camps without having gone to trial, without anything from the courts". Courts operated by the Xinjiang Production and Construction Corps (XPCC), a state-owned economic and paramilitary organisation, handled 80,800 cases, 71,000 of which are now closed. The corps, which also is known as Bingtuan, tried a high number of cases on behalf of XUAR's Supreme Court.
'Cultural Nourishment'
The promotion of Chinese leader Xi Jinping's theory of "cultural nourishment" points to new efforts to supplant the culture of the Uyghurs with Chinese customs and traditions. The government's emphasis on this concept and that of the "unity of the Chinese nation" are aimed at eradicating ethnic identities of non-Chinese groups, including Uyghurs and Tibetans, and forcing them to adopt Han Chinese cultural identity with the end goal of eliminating "threats to stability,". The Chinese government is using Uyghur-speaking government officials and other individuals to promote the idea of cultural nourishment.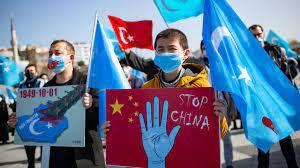 In December last year, the U.S. Senate unanimously voted to ban virtually all imports from Xinjiang region over concerns of forced labour. The U.S. government stated that more than one million Uyghurs and other Turkic-speaking Muslims are incarcerated in camps in an effort to root out their Islamic cultural traditions and forcibly assimilate them into China's Han majority. The United States has described the campaign as genocide. Along with Australia, Britain and Canada, it had announced a diplomatic boycott of the Beijing Winter Games over the issue. The Biden administration also sanctioned Chinese firm SZ DJI Technology, the world's largest producer of consumer drones used in filmmaking and aerial photography, over surveillance in Xinjiang, where China has been honing new technologies in artificial intelligence and DNA tracking to keep track of Uyghurs. Other companies targeted included Ziamen Meiya Pico Information, which has developed a mobile application to track files on individuals' phones, and Cloud walk Technology, which was developed to recognize faces of Uyghurs and Tibetans. Separately, the Commerce Department restricted sensitive exports to the Academy of Military Medical Sciences and 11 of its research institutes over biotechnology work including purported brain-control weaponry.
In the United Kingdom, the House of Lords passed an amendment earlier this month to ensure the National Health Service banned purchase of goods or services from a region where there is a serious risk of genocide. Last year, the British Parliament designated those abuses against Uyghurs and other Turkic Muslims in Xinjiang constituted a genocide.
Earlier this month, U.N. Secretary-General Antonio Guterres repeated a call for China to allow outside officials to visit Xinjiang. Last year, Michelle Bachelet, the United Nations High Commissioner for Human Rights (UHCHR), committed to issuing a report on rights violations in Xinjiang. About 200 human rights groups appealed to her on March 9 this year, a day after she announced she would visit Xinjiang in May, to release her report prior to her proposed trip. "Any interference in the work of Bachelet's team would support 'propaganda' that denies alleged rights abuses against members of the Muslim Uyghur minority in the region and others," said Ambassador Sheba Crocker, the U.S. Permanent Representative to the United Nations in Geneva. If the visit goes through, it will be the first to China by a UN High Commissioner for Human Rights since 2005.