'Ladakh Standoff Serious Challenge, But Dialogue Best Option'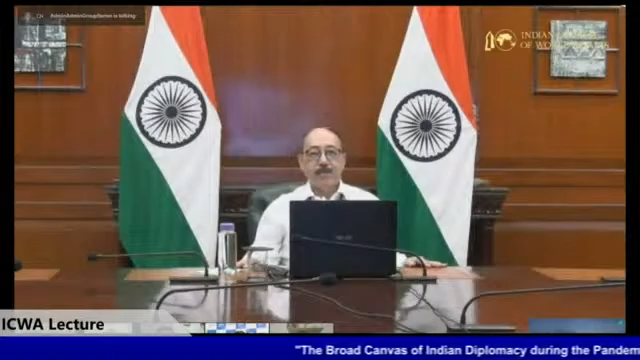 NEW DELHI: Defusing of tensions between India and China remains New Delhi's main priority but not at the cost of India losing its territorial integrity. As Defence Minister Rajnath Singh held a meeting with his Chinese counterpart General Wei Fenghe in Moscow on Friday, foreign secretary Harsh Shringla emphasised that while New Delhi continuously remained and remains open to dialogue, one could not deny that India was facing one of its most 'serious challenges'.
Speaking at a webinar, the foreign secretary said, 'This is one of the most serious challenges we have faced in many decades. We haven't seen such an amassing of forces on the border since 1962. This is something that we have to take stock off,' he said.

'But what is important is that even during the difficult moments of the crisis we have been engaged both militarily and diplomatically with China. The pandemic has not stopped us from engaging. We have used digital means, we have used the telephone, we have used direct diplomatic contacts in New Delhi and Beijing. We remain firmly committed to making sure we preserve our territorial integrity and we will not yield on that ground. At the same time, we are committed to resolving issues through dialogue.'
While the China question remains to be resolved the foreign secretary pointed out that India had taken great strides in confronting one of the greatest challenges the world was facing today – the global pandemic. In fact, he added, India had taken a lead role in helping other countries deal with the pandemic helping to create what he called a 'people-centric international order.'
'India has played a constructive role in the shaping of a people-centric international order. We have shared our development experience with partner countries in the global south. We have shared humanitarian experience and disaster relief operations well beyond our immediate neighbourhood in diverse countries such as Indonesia, Yemen and Mozambique,' he said.
Apart from aid to fellow nations, Shringla also added that during the pandemic the government had been proactive in being part of the global voice in helping to shape 'global thinking' during this time
'Our effort to shape global thinking has continued through the pandemic. Apart from the G20 and NAM virtual summit. It must also be pointed out here that the PM took the initiative to conduct a virtual meeting of South Asian leaders under the rubric of Saarc, something that was much appreciated,' he said.
Asked however whether Saarc however was remaining relevant to India, the foreign secretary indirectly referred to Pakistan as being a stumbling block. He stated that while India was not giving up on any grouping it was looking at alternatives such as Bimstec.'
'Both Saarc and Bimstec have served to provide regional cooperation and both these groupings, by and large, have a common membership. As mentioned earlier, the PM's use of the Saarc mechanism to reach out to leaders during the initial phase of the pandemic was useful as it facilitated cooperation that did not exist earlier. We created the Saarc emergency response fund to which India gave 10 billion dollars. Other countries also responded. We are also in constant touch with each other regarding research on vaccines.'
'However, Saarc needs consensus and political will, not all of us have displayed that. One of our neighbours has constantly been involved in blocking constructive efforts within Saarc. Bimstec is a vital mechanism between south and south-east Asia with Myanmar and Thailand  as part of this grouping. In fact, Bimstec leaders were invited to join the BRICS summit in Goa. We haven't given up on any grouping but as of now Bimstec is certainly is an initiative that is going places.'