Eastern Ladakh Disengagement: Military Talks On Course, So Is Vigil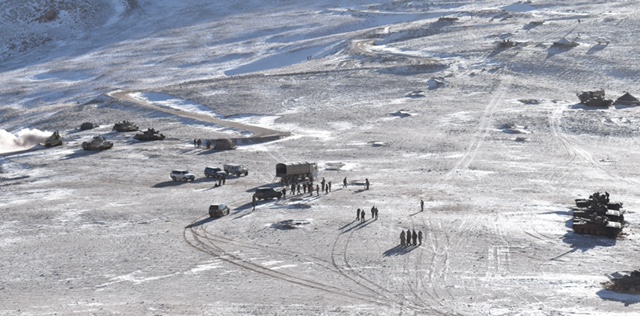 NEW DELHI: The next round of corps commander-level talks between India and China on resolving remaining friction points in Eastern Ladakh is likely to take place on Friday, sources say even as Chinese PLA ground forces are once again seen to be preparing to move into the plains of Aksai Chin for what currently appears to be part of their annual summer exercises, Indian intelligence sources have reported.
So far, the formations based in Tibet have not moved to the exercise area except for some reconnaissance troops. However, bitten by last summer's experience, when Chinese troops on their routine annual exercise in Aksai Chin swiftly moved towards the Line of Actual Control (LAC) with India, leading to a nine-month-long standoff, the Indian security establishment is taking no chances, maintaining highest vigil on the Chinese troop movement.
A comprehensive Intelligence, surveillance and reconnaissance (ISR) mechanism is in place now in Eastern Ladakh to keep 24×7 watch on any threatening move by Chinese troops: satellite imagery, round-the-clock coverage by large and smaller UAVs and RPAs, ELINT and HUMINT, all form part of the network that feeds real time information. The authorities are keeping a close watch on how many fresh Chinese troops arrive in Aksai Chin in the coming weeks. Majority of forces that moved back about 100-150 km from the LAC after the first phase of disengagement continue to remain in bases around the G-219 highway that cuts through Aksai Chin.
Bulk of the additional Indian troops that had moved into the Ladakh theatre after May 2020 also remains deployed in rear areas as a matter of abundant precaution, although plans for a fresh ORBAT (Order of Battle) are now being finalised for permanent deployment of additional army formations in Ladakh. The Indian Air Force (IAF) too has not scaled down its presence since the Chinese air force continues to be forward deployed in Tibet.
Friday's talks will focus on further negotiations for disengagement at the remaining friction points such as Gogra, Hot Springs, Depsang and Demchock. After the first stage of disengagement from the north and south banks of Pangong Tso in mid-February, both sides had decided to hold these talks. One round of corps commander-level talks on these specific points took place on February 20, followed by the meeting of the Working Mechanism on Consultation and Coordination on India-China border affairs on March 12. It was decided that the agreement reached between the two foreign ministers in Moscow in September last year as also their phone conversation last month should continue to guide the work of the two sides.
"To reach a mutually acceptable solution for complete disengagement from all friction points at the earliest, India and China have agreed to continue their dialogue. This would enable two sides to look at broader de-escalation of troops in the area and work towards the restoration of peace and tranquility in the border areas. They also agreed that in the interim two sides should continue to maintain stability at ground level and prevent any untoward incident," the MEA had said after the WMCC meeting.
Sources point out that it took nine rounds of negotiations to step back from the eyeball-to-eyeball deployment on the both banks of Pangong Tso. Similarly, the remaining friction points might take more than two rounds of talks to arrive at a mutually acceptable formula since both sides are well-entrenched at these locations. While solution to the faceoff at Gogra and Hot Springs is seen as a 'low hanging' fruit, Depsang may prove to be a harder nut to crack.
At Depsang, troops from both sides have prevented rival patrolling parties from accessing their traditional patrolling points. So, while Indian troops are stopped at the so-called Y junction by the Chinese troops, denying India access to Patrolling Points 10, 11 and 12, Indian troops disallow Chinese patrols from coming up to Burtse—their traditional claim line—resulting in the current stalemate in the Depsang plains. At Gogra and Hot Springs on the other hand, about 50-60 troops from either side are stationed about a kilometre or two apart. Friday's talks may focus on arriving at a time frame to further disengage at Gogra and Hot Springs, keeping the discussion about Depsang and Demchock (a much older dispute) to a later round.