Analysing China's Intentions, Vulnerabilities And India's Response
NEW DELHI: On June 22, StratNews Global featured a discussion titled 'Decoding the Chinese Military Build-Up' anchored by Nitin Gokhale with former RAW hand Jayadeva Ranade and Lt. Gen. Rakesh Sharma, former 14 Corps commander. Here is a summary of what they discussed.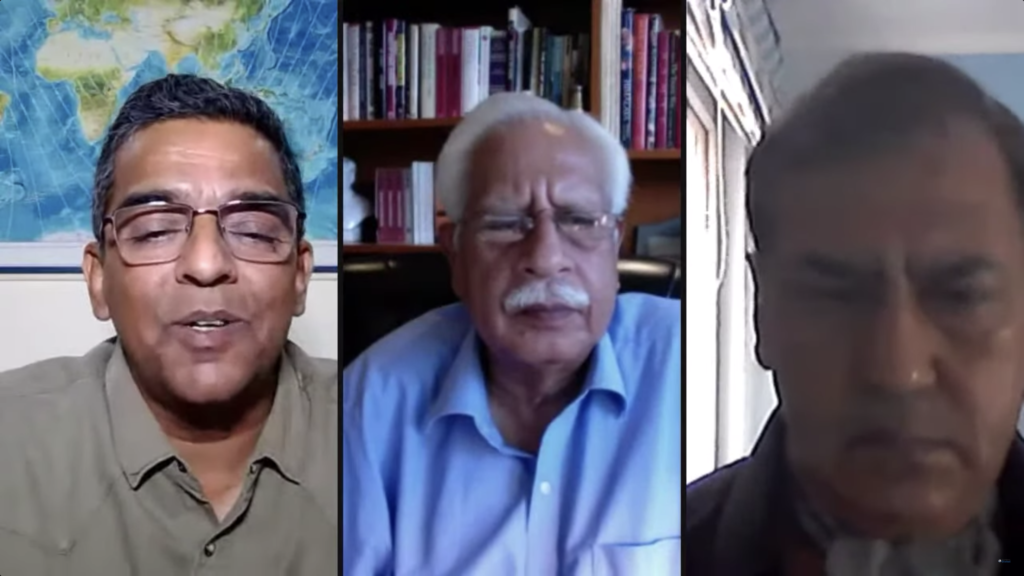 "Xi is looking to send an 'expensive signal' to India, through the concentration of Chinese forces on the LAC," says Jayadeva Ranade who believes that the message was intended to convey to both India and the Chinese population at home, of the 'preparedness of the PLA' and its increased willingness to counter India especially after the Doklam standoff.

Making Up For Vietnam
"We must bear in mind that not only does Xi have hands on control over the PLA but also that he has been chief of staff to the then Chinese defence minister, when China attacked Vietnam in 1979. The end result was the failure of China, a failure that Xi has been determined to ensure will never happen again."
The result has been the quiet and efficient build-up of Chinese troops, helicopters, tanks and fighter aircraft across the LAC. Military experts say the build-up began after Doklam but became more noticeable over a year ago with the increase in ground and air exercises on the Tibetan plateau. More significant are the type of exercises the Chinese forces are undergoing.
Clearly Targeting India
"We are seeing photos of Chinese forces climbing a high-altitude pass and dragging guns up snow-clad mountain. Such an exercise is clearly targeted at India. China does not have such a high-altitude border with any other country," said Lt. Gen. (retd) Rakesh Sharma.
Xi may also be looking to test new PLA innovations such as the push towards combined arms battalion. The Global Times reported that this "combined arms battalion could have more than a dozen different units at its disposal, including infantry units and tank units, artillery, aviation, light armoured vehicles and amphibious assault units."
It has also been reported that China's new light tanks and howitzers have been deployed in Tibet in what is seen as a 'show of force.'
India Is More Than Ready
Does India need to worry and is it prepared? There is cause for concern. The fact that Chinese exercises which earlier took place north of the Kunlun mountains in Hotan have now dropped down to G219 – the Chinese national highway linking Xinjiang with Tibet – bringing it face-to-face with Indian forces, suggests that China is now going further than it normally would have.
Is India prepared? In airpower, the IAF's Mirage 2000 and Su-30 jets are more than a match for China's J-10, J-11 and Su-27 aircraft. Experts also claim that Indian forces are more used to fighting in mountainous terrain and preparations have been made in this regard.
'Him Vijay'
In October last year, the forces launched 'Him Vijay' the Indian army's biggest mountain combat exercise where three Integrated Battle Groups each comprising 4,000 soldiers conducted ground and air assault exercises. Air Force and army helicopters transferred troops and equipment at an altitude of 15,000 feet, ensuring that troops can defend and possibly even be used for an offensive thrust into Tibet, if required.
"China currently has two divisions here, it does not have enough troops to move further into this area. They wanted to send us a message when they moved across the Kun Lun that we can do this. On the other hand, given our superiority in mountain warfare and in the skies, there are only a select number of areas in which they can go. We know these areas and are prepared for them there," said Lt. Gen. Sharma.
China's Vulnerability
The two lessons that India should take away from this is that China is not and perhaps never will be interested in demarcating the LAC and that the 'trust deficit' will be new normal. Since 1981, the Special Representatives have met 22 times on this issue with little result.
On the other hand, Ranade says, that since February 5 this year, China has made two clear statements claiming the Galwan Valley as its own. But China has its vulnerabilities which Indians should take note of, the main one being the lack of troops. There are indications that Beijing is relaxing physical and medical standards to draw more recruits into the army.
A concerted effort has also been made to woo more educated Chinese studying in universities, by increasing quotas for them in the army. Intelligence reports have suggested that the PLA forces are reluctant to serve in Tibet and allowances to the tune of $1,000 being offered as incentive.
Psychological Warfare
India must also be prepared for the psy-ops that China is likely to carry out. China watchers say that Beijing has a set battle strategy when it comes to psychological warfare. They first loudly proclaim themselves as the wounded party while their cyber battalions, trained by Chinese IT companies, mount massive cyber offensives to bring down enemy information networks.
"China will use social media to spread discontent among the local population. India should be prepared for this and react accordingly," said Ranade.
What Lies Ahead
"Xi is under huge pressure in China with veterans feeling slighted, and his handling of COVID-19. More recently, social media in China is also asking about their soldiers (killed in Ladakh) about which the Party has maintained total silence," said Ranade, adding that "The thinking in China has also been that they are a mighty power, bigger than the U.S., so why can't the PLA sort us out. Xi must think of a face-saving measure to assuage his domestic public. If not, I forsee another skirmish in the not too distant future."