A Guide To Contemporary China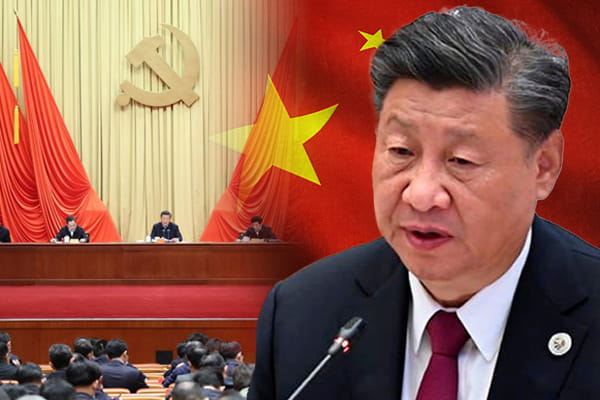 PLA Expels US Destroyer Trespassing In Chinese Territorial Waters, Says Spokesperson
The Chinese People's Liberation Army (PLA) expelled a U.S. destroyer when the latter trespassed into Chinese territorial waters off the Xisha Islands in the South China Sea on Thursday amid continued U.S. attempts to destabilize the region, said a senior Chinese army official. Without authorization from the Chinese government, guided missile destroyer the USS Milius on Thursday made an illegal intrusion into Chinese territorial waters off the Xisha Islands, sabotaging the peace and stability in the South China Sea, Senior Colonel Tian Junli, a spokesperson at the PLA Southern Theater Command, said in a press release on the day. The PLA Southern Theater Command organized naval and air forces, tracked, monitored and warned away the U.S. warship in accordance with the law, Tian added. Command troops will stay on high vigilance at all times and take all necessary measures to resolutely safeguard national sovereignty, security as well as peace and stability in the South China Sea, the spokesperson said.

Source: ECNS
Netizens Highlight Contrast Between Apple CEO's Treatment In China And Tiktok CEO In US
Apple CEO Tim Cook was met with rounds of cheers and applause when he showed up at an Apple store in Beijing on Friday. Cook's appearance at the store became a trending topic on Weibo, with more than 91 million views as of 10 pm on Friday. However, the buzz also prompted many Chinese netizens to draw a stark contrast between the warm welcome Cook received in China and the disrespect and disdain US lawmakers showed TikTok CEO Shou Zi Chew, at a hearing of the US Congress a day earlier. They said that in stark contrast to the US crackdown on Chinese firms, the Chinese government is moving to expand market access for US and other foreign companies.
Source: Global Times
Yuan's Global Status Continues To Rise
The renminbi remained the world's fifth most active transactional currency in February with a growing share in global payments, a sign that its status as an emerging international currency is steadily rising, Chinese currency experts have said. Payments in renminbi, also known as the yuan, accounted for 2.19 percent of global payments by value last month, up from 1.91 percent in January, ranking fifth among major currencies for the 13th month in a row, according to financial messaging services provider SWIFT. Zhou Maohua, a macroeconomic analyst at China Everbright Bank, said the renminbi's rising share of global payments shows that foreign trade activities may have regained some momentum after the Spring Festival holiday ended in late January. More fundamentally, Zhou said the renminbi's stable rank as the fifth most active payment currency reflects the long-term trend for it to function increasingly as an international currency as China improves its cross-border renminbi payment and settlement infrastructure.
Source: China Daily
China Kicks Off Anti-Graft Operation To Pursue Fugitives
China has kicked off a comprehensive anti-corruption operation codenamed 'Sky Net' for 2023 and will further build its integrated mechanism for pursuing fugitives, preventing escape, and retrieving stolen assets. The decision was announced at a meeting of the fugitive repatriation and asset recovery office of the Central Anti-Corruption Coordination Group. As part of the anti-graft effort, the National Commission of Supervision will spearhead a targeted campaign to combat duty-related crimes, hunt down corrupt officials who fled overseas, and retrieve stolen assets; the Ministry of Public Security (MPS) will launch the 'Fox Hunt' campaign to repatriate economic fugitives who have fled abroad; the People's Bank of China will team up with the MPS to tackle disguised transfer of misappropriated assets overseas; the Supreme People's Court and the Supreme People's Procuratorate will jointly wage a campaign to restore stolen assets involved in cases whose criminal suspects or defendants escaped or died; the Organization Department of the Communist Party of China Central Committee will partner with other authorities to address unregulated issuance and possession of relevant documents, according to the meeting.
Source: Xinhua
Chinese Cities Vigilant Over Tourist Traps as Tourism Picks Up
Chinese authorities have stepped up efforts to regulate the local tourism market as malpractices involving travel agencies and related services resurface along with the country's tourism revival. Local police and market regulators in multiple tourist cities, including the southern resort town of Sanya and the mountainous Zhangjiajie, recently opened investigations or punished tourism businesses for offenses ranging from forced shopping to the overcharging of visitors. Travel-related consumer complaints have sprung up on Chinese social media over the past month as tourism bounced back after the country scrapped COVID prevention measures late last year. As tourism picks up again, China's regional travel authorities are trying to capitalize on the renewed travel interest through various promotions.
Source: Sixth Tone
China Tops Ipsos Global Happiness Ranking, but Some Citizens Disagree
According to a new global happiness survey released by Paris-headquartered multinational market research and consulting firm Ipsos, the Chinese mainland boasts the highest proportion of happy citizens among the 32 surveyed markets. The company published the new study on March 14, a few days prior to the International Day of Happiness on March 20. The survey found that 91% of Chinese participants described themselves as happy, with respondents from Saudi Arabia (86%) and the Netherlands (85%) coming in second and third place. The survey results soon went viral on Chinese social media, with one hashtag on the microblogging platform Weibo receiving 190 million views. However, many netizens questioned the legitimacy of the results and expressed their unhappiness.
Source: Radii China