A Guide To Contemporary China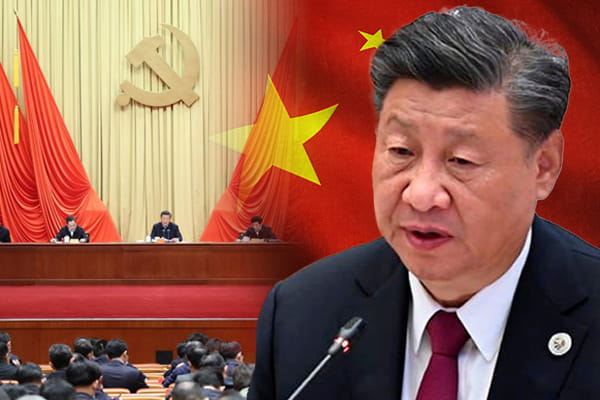 As Couriers Fall Sick, Chinese Cities Ask Residents to Fill In
Chinese cities are rallying local residents to temporarily join the delivery workforce, as mass COVID-19 infections cripple the sector that's crucial in ferrying essential goods and services to millions every day. Shanghai on Tuesday became the latest to launch the initiative, as the city's e-commerce chamber encouraged individuals currently not working or those with spare time to take up delivery jobs — but with regular pay and no additional incentives. In the past few days, Chongqing, Kaifeng, and Yangzhou, as well as many districts in Beijing, have used similar tactics to tackle the shortage of delivery workers amid the current wave of infection, according to media reports. "We encourage you to join the workforce and bring warmth to households in this special time," the notice from the Shanghai E-Purchasing Chamber of Commerce said, while asking consumers to be more considerate of delayed deliveries and avoid direct contact during deliveries.
Source: Sixth Tone
Chinese Vendors Go Global on Instagram
Despite the pandemic, cross-border trade remains robust in China. From 2020 to 2021, the trade volume of China's cross-border ecommerce increased from 12.5 to 14.2 trillion RMB (about 1.7 to 1.9 trillion USD). Amid the era of the social media milieu, young Chinese entrepreneurs began infiltrating the overseas market via Instagram. They use the platform as a marketing tool to generate traffic to their independent shopping websites, selling products with substantial profit margins. The hashtag #INS创业 ('IG Entrepreneurship' in English) has reached 3 million views on Xiaohongshu, and this style of entrepreneurship has become a new business model for Chinese youths to take a slice of the cross-border ecommerce pie. Jewellery — lightweight and easy to ship, is the most popular. Keru Zheng is one of the most successful in this regard To better serve global shoppers, she dug into similar Instagram shops run by Western sellers, absorbing everything from visuals to captions, including their language style, layout, and hashtags, then tailored her brand called 'Cherrybomb Jewellery' to Western aesthetics.
Source: Radii China
Chinese Ancient Football Shines At FIFA World Cup
During the FIFA World Cup Qatar 2022, Cuju, the ancient Chinese prototype of modern football, was introduced to the whole world. Li Weipeng, a seventh-generation inheritor of Cuju culture from Zibo, east China's Shandong Province, was one of the performers who demonstrated the tricks and skills of the ancient sport during the World Cup in Qatar. The performers also invited young Qatari players to play Cuju with their Chinese counterparts. All of them wore traditional clothing to experience the similarities and differences between Cuju and modern football. "When I performed Cuju abroad, I always won big applause and cheers from football fans. I did not understand their language, but I could feel their strong interest in our traditional Chinese culture through their excited faces," said Li, who has been playing Cuju for 18 years and has showcased his skills overseas many times in recent years. Cuju can be traced back to the Spring and Autumn Period (770-476 BC) and Warring States Period (475-221BC). It spread to East Asia and Europe during the Tang Dynasty (618-907) and later developed into modern football in the UK.
Source: People's Daily
White Paper Explores New Trends In China's 'Smell Economy'
On December 14, the Chinese Perfume Industry Research White Paper 3.0 was published in Shanghai during an online press conference jointly organized by Eternal Group and Kantar China. The white paper seeks to provide a valuable reference for the industry to explore new trends in the "smell economy." Lin Jing, senior vice-president of Eternal Group, said that although a certain degree of economic downturn has had a certain impact on the cosmetics and perfume markets, compared with the 50 percent penetration rate of cosmetics, the current penetration rate of perfumes in the Chinese market is only 10 percent. There is still a wide space in the market waiting to be developed. Wang Wei, chief operating officer of Eternal Group pointed to the home fragrance sector as the growth driver of the industry — consumers' use of various aromatherapy categories increased significantly in 2022. It is an area worthy of in-depth exploration and research by industry practitioners.
Source: China Daily
'Wild Bloom': TV Series Shows Female Entrepreneur During Reform And Opening-Up
A new TV series Wild Bloom is taking audiences gives audiences by storm. The series is about a young woman who breaks out from a siege and grows into a well-known entrepreneur of a steel company in the 1990s during China's reform and opening-up.Released on November 27, the drama has become the highest-rated work among all the domestic dramas that have been aired on China's streaming platform iQiyi and various TV stations, in the second half of 2022. With its fascinating story, realistic depiction of the times and compact plot, it has gained a high score of 8.4/10 on Chinese media review platform Douban. The main character Xu Banxia, played by popular Chinese actress Zhao Liying, shows her becoming a pioneer in China's iron and steel industry, is a depiction of the overall fast development of Chinese private enterprises in the 1990s boosted by the country's reform and opening-up policy. The storyline speaks about the reform of state-owned enterprises, the layoff of workers and the drama that comes with running a business.
Source: Global Times
China Announces Winners of Sci-fi Awards
The winners of the 13th Xingyun (Nebula) Awards for Chinese Science Fiction were announced on Saturday in southwest China's Sichuan Province. "The New New Newspaper Press: Shadow of the Enchanted Metropolis," written by Liang Qingsan, won best novel; "The Eye of Saishiteng" by Wanxiang Fengnian won best novella; and Liang Ling's "Lunar Bank" won best short story. A new award, "The Star Bridge Award," was established this year in a bid to encourage those who have made contributions to the international promotion of Chinese science fiction literature. The inaugural award was given to the Chinese and foreign team of publishers and translators who helped promote renowned science fiction writer Liu Cixin's Hugo Award-winning sci-fi novel "The Three-Body Problem" across the globe, particularly for their promotion of the Japanese edition. More than 200 famous science fiction writers, academics and representatives from related industry associations and media companies took part in the awards ceremony online or offline. The Xingyun Awards were established in 2010 and have now become widely recognized high-level industry awards for global Chinese science fiction, and an important window to showcase Chinese science fiction literature and the development of the industry.
Source: Xinhua