A Guide To Contemporary China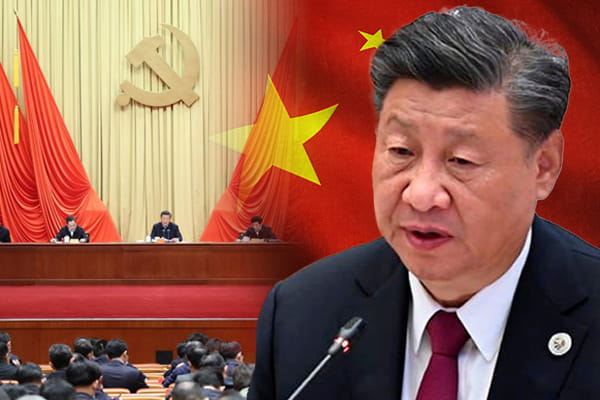 Taiwan's First Homegrown Submarine Can't Stop Reunification: China's Defence Spokesperson
Taiwan's first homegrown submarine is nothing but "a broom attempting to hold hack the tide" and would ultimately walk into a blind alley, a Chinese defence spokesman said in a press conference. Senior Colonel Wu Qian, spokesman for the Ministry of National Defence, made the remarks in a news conference in response to the launch of Taiwan's submarine. On Thursday, Taiwan unveiled what it called its "first homegrown submarine" where President Tsai Ing-wen said the submarine would play an important role in strengthening the island navy's "asymmetric warfare" capabilities. In response, Wu said that no matter how many weapons Taiwan's Democratic Progressive Party authorities would build or buy, they would not be able to stop the general trend of national reunification or shake the staunch determination, strong will and strong capabilities of People's Liberation Army to defend national sovereignty and territorial integrity.

Source: China Military
Xi Says Confidence 'More Valuable Than Gold' In March Toward Rejuvenation
Chinese President Xi Jinping on Thursday called on the nation to firm up confidence and strive for unity in the relentless endeavour toward building a strong China and realizing national rejuvenation. "Our strength comes from unity, and confidence is more valuable than gold," said Xi, also general secretary of the Communist Party of China Central Committee and chairman of the Central Military Commission, at a grand reception held in Beijing to celebrate the 74th anniversary of the founding of the People's Republic of China. Xi and other Chinese leaders attended the event together with around 800 Chinese and foreign guests, where the Chinese president told attendees that the future is bright and the nation should continue to surmount difficulties and march forward. Xi also conveyed his high regard and warm greetings to people from all walks of life across the nation and heartfelt appreciation to friendly countries and international friends supporting China's modernisation drive.
Source: CGTN
China's Political Bureau Holds Meeting To Deliberate First Round Of Disciplinary Inspections
The Political Bureau of the Communist Party of China Central Committee convened a meeting on Wednesday to deliberate a report on the first round of disciplinary inspections launched at the end of March by the 20th CPC Central Committee. Xi Jinping, general secretary of the CPC Central Committee, presided over the meeting. The meeting's participants pointed out that the first round of disciplinary inspections had advanced political oversight in a "concrete, targeted and regular manner," sending a clear signal that adhering to strict governance of the Party and the Party's self-reform is an ongoing process. The disciplinary inspections involved leading Party organizations in 30 centrally administered State-owned enterprises, five major financial agencies and the General Administration of Sport of China. Between September 20 and 22, a total of 15 central inspection teams delivered their feedback and specified problems involving the inspected organizations. The problems include shortcomings in ensuring coordination between development and security, self-governance of the Party and the Party's frugality rules.
Source: China Daily
China's Negative Lists For Foreign Investment Shrink 80% Over A Decade
China's negative lists for foreign investment have been reduced by more than 80 percent since 2013, when the negative list approach was first adopted in China's inaugural pilot free trade zone (FTZ) in Shanghai, according to an official from the Ministry of Commerce. The shrinking negative lists mirror the progress of China's opening-up in various sectors, said Yang Zhengwei, head of the ministry's department of pilot FTZs and free trade ports. In agriculture, for example, restrictions remain only in the seed sector. Negative lists related to manufacturing in FTZs have been cleared, and the services sector is encouraging more foreign-controlled or wholly foreign-owned businesses, he said. Today, foreign enterprises have become accustomed to checking negative lists when they first come to China. But 10 years ago, the negative list approach was quite new for China, and a key reason that pilot FTZs were established was to trial such an approach, he said.
Source: China.org.cn
China, Japan, South Korea Discuss Restarting Meetings At Head-Of-State Level
China, Japan and South Korea are in communication on restarting a meeting among their leaders at the earliest convenient time, China's Foreign Ministry said on Tuesday. China's Assistant Foreign Minister Nong Rong, Japan's Senior Deputy Foreign Minister Takehiro Funakoshi and South Korea's Deputy Foreign Minister Chung Byung-won met in Seoul on Tuesday to discuss the resumption of trilateral cooperation. The trilateral leaders' meeting was first held in 2008. Along with the high-level officials' meeting, which was first held in 2007, and the foreign ministers' meeting, they have become part of the cooperation mechanism among the nations. However, the meetings have been put on hold since 2019 due to the COVID-19 pandemic and strained relations between South Korea and Japan over a wartime labour dispute. Foreign Ministry spokesman Wang Wenbin said at the daily briefing that the three neighbours agreed at the high-level officials' meeting to hold the foreign ministers' meeting "in the following several months." He said the three countries also agreed to strengthen pragmatic cooperation in areas including cultural exchanges, trade, scientific innovation and sustainable development.
Source: Ecns.cn
Experts Predict 'Low-Level Outbreak' During Upcoming Eight-Day Holidays In China
With the recent rise in the number of pharyngitis patients and fever clinic visits, experts noted that the public should take precautions, as the large increase in holiday travel may lead to a low-level outbreak during the upcoming eight-day Mid-Autumn Festival and National Day holidays. Several infectious disease and pediatric doctors from multiple hospitals have stated that there has been an upward trend in the number of patients seeking treatment at fever clinics recently. The topic of infectious pharyngitis has also become a hot search term on social media platforms, attracting a lot of attention and discussion. According to the Center for Disease Control And Prevention in Suzhou, East China's Jiangsu Province, patients seeking treatment at fever clinics mainly have respiratory tract infections, as there has been a simultaneous outbreak of viral and bacterial infections, said Peng Jie, director of the diagnostic and treatment centre for difficult infections at Nanfang Hospital, Southern Medical University. Peng added that the majority of patients are infected with either the novel coronavirus or the influenza virus, primarily the influenza A (H1N1) virus.
Source: Global Times