A Guide To Contemporary China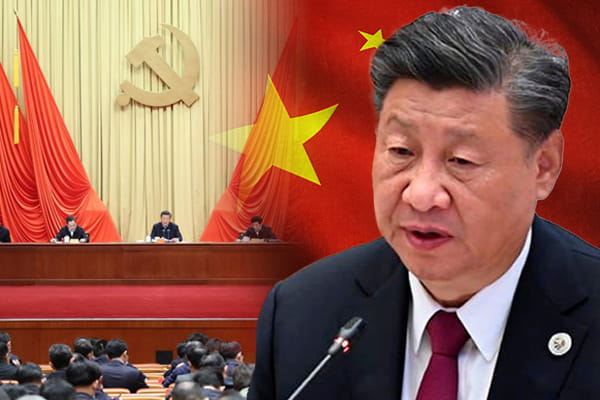 China Calls On US To Stop Sale Of F-16s To Taiwan
China has urged the United States to immediately revoke an arms sale to the Taiwan region, saying the sale constitutes a serious violation of the one-China principle. Foreign Ministry spokesman Wang Wenbin expressed China's strong dissatisfaction and firm opposition to the possible $500 million sale by the US to Taiwan of F-16 infrared search and track systems and related equipment. The US State Department has approved the sale, the US Defense Security Cooperation Agency announced on Wednesday. The announcement came after Taiwan's deputy leader Lai Chingte's "transit" through the US earlier this month. Slamming the sale, Wang said on Thursday it seriously breaches the three China-US joint communiques, especially the one the two countries issued on August 17, 1982.
Source: China Daily
Chinese Ambassador To US Meets US Commerce Secretary On Economic Ties
Chinese Ambassador to the United States Xie Feng met with U.S. Secretary of Commerce Gina Raimondo on Tuesday, exchanging views on China-U.S. economic and trade ties and Raimondo's upcoming visit to China. Xie said that China's policy toward the United States is consistent. "Our fundamental guidance are the three principles outlined by President Xi Jinping: mutual respect, peaceful coexistence and win-win cooperation," Xie said. Xie also stated China's position on economic and trade issues of concern to China, requiring the U.S. side to attach great importance to them and take action to resolve them. He called on the US to work in the same direction as China, lengthen the list of cooperation and shorten the negative list, so as to make joint efforts to stabilize China-US relations.
Source: Xinhua
China, India Should Maintain Tranquillity In Border Areas Before Border Issue Is Resolved: Chinese FM
A Chinese foreign ministry spokesperson reiterated on Friday that China's position on the boundary issue between China and India is clear and consistent. It is left over from history and does not represent the entirety of China-India relations, while calling on the two countries to consider the overall situation of bilateral relations, properly handle the border issue, and jointly maintain peace and tranquility in the border areas. Chinese Foreign Ministry spokesperson Wang Wenbin made the remarks at Friday's regular press briefing after Chinese President Xi Jinping talked with Indian Prime Minister Narendra Modi on the sidelines of the BRICS Summit at the latter's request on Wednesday.
Analysts said that the talk between leaders from China and India on the sidelines of the BRICS summit has laid a cornerstone for stabilizing bilateral relations.
Source: Global Times
China Protests Japan's Discharge Of Nuclear Contaminated Water
Chinese Ambassador to Japan Wu Jianghao lodged a strong protest on Thursday with Masataka Okano, Japan's vice-minister for foreign affairs, regarding Japan's discharge of nuclear-contaminated water into the ocean. Disregarding strong opposition from both domestic and international sources, Japan officially initiated the discharge of nuclear-contaminated water from the Fukushima Daiichi nuclear power plant on Thursday, shifting nuclear contamination risk to neighbouring countries and the international community, Wu said, adding the nation is prioritizing its interests above the long-term well-being of the people in the region and around the world. Japan has forcefully proceeded with the discharge without fully demonstrating long-term safety and reliability, obtaining broad understanding from relevant stakeholders or establishing a comprehensive international supervision and accountability mechanism. This approach carries significant risks and unpredictable harm, he said.
Source: Ecns.cn
Chinese Premier Stresses Faster Development Of Digital Economy
Chinese Premier Li Qiang on Monday stressed strengthening and expanding the country's digital economy to bolster economic recovery and empower high-quality development. China's digital economy enjoys broad development space thanks to the country's massive market, abundant data resources, and rich application scenarios, Li said at a State Council study session held Monday afternoon on facilitating the deep integration of digital technologies and the real economy. Li said concerted efforts should be made to promote independent innovation to seek breakthroughs in key core technologies, while core industries in the digital economy should improve. He also called for comprehensive and an across-industrial-chain transformation of traditional sectors like manufacturing, services, and agriculture, and construction of more digital infrastructure in advance.
Source: People's Daily
Xi Urges China, Africa To Join Hands For Modernization
Chinese President Xi Jinping delivered a keynote speech at the China-Africa Leaders' Dialogue and urged China and Africa to join hands for modernization. China is willing to launch the Initiative on Supporting Africa's Industrialization, which will support Africa in growing its manufacturing sector and realizing industrialization and economic diversification, Xi said. The initiative stressed that through the nine programs under the Forum on China-Africa Cooperation, Belt and Road cooperation and the Global Development Initiative, China will channel more resources of assistance, investment and financing toward programs for industrialisation. China will launch the Plan for China Supporting Africa's Agricultural Modernization, Xi said, adding that China will help Africa expand grain plantation and encourage Chinese companies to increase agricultural investment in Africa. The plan aims at helping Africa achieve food self-sufficiency.
Source: China Military