A Guide To Contemporary China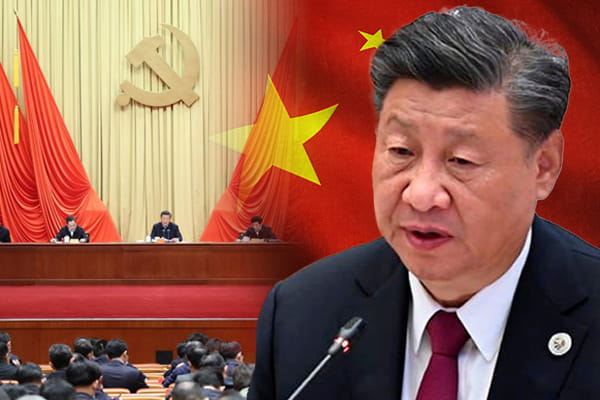 China Attacks G7's Plans To Counter 'Economic Coercion'
China has pushed back against the Group of Seven (G7)'s plans to "counter China's economic coercion" and push for "de-risking" of their economic relations with China at the summit in Japan. The Chinese Foreign Ministry on Thursday also reposted a lengthy report in the Xinhua News Agency about the US' coercive diplomacy and the harm it has done, pointing out that it is also ruthless toward its allies. Companies such as Japan's Toshiba, Germany's Siemens, and France's Alstom have all been victims of US "coercive diplomacy." According to reports, G7 leaders are expected to issue a joint statement that includes "a section specific to China", listing issues that include "economic coercion and other behaviour."

Source: Global Times
We Will Oppose External Forces Instigating 'Colour Revolutions' In Central Asia: FM
Chinese State Councillor and Foreign Minister Qin Gang on Friday said the China-Central Asia Summit is a new milestone in China-Central Asia relations. He said that during the summit, China and five Central Asian countries signed seven bilateral and multilateral documents as well as over 100 cooperation agreements in various fields. He said China will implement the Global Security Initiative with Central Asian countries. China will resolutely oppose external forces undermining the legitimate governments of Central Asian countries and instigating a new round of "colour revolutions" according to the foreign minister.
Source: China Daily
China's State Broadcasting Gets A New Woman Chief
The State Council, China's cabinet, on Monday, announced that Cao Shumin became the head of the National Radio and Television Administration. She will no longer serve as deputy director of the Cyberspace Administration of China. The appointment makes Cao, 57, the youngest female senior official at the full ministerial level. She is now directly in charge of regulating the nation's radio, television and film enterprises. Cao Shumin has long been recognized in China as a leading expert on technology and innovation, often appearing since the early 2000s as a leading researcher. She is also ideologically committed. In an address opening the 2021 fall term at Beihang University, Cao told students that "the school's primary responsibility is to cultivate the future generation of red engineers." She also said that the university's mission was to "serve the major strategic needs of the country."
Source: China Media Project
Museums Reviving China's Military History Among Gen Z
Earlier this month, some 100 high school students walked on a trail in the Liupanshan Mountain in northwest China's Ningxia Hui Autonomous Region. Eighteen significant historical scenarios of the epic Long March were re-enacted on the 2.5-km-long "Red Army Path," where visitors can retrace the history of the Long March and better understand the Long March spirit. The Long March was a military maneuver carried out by the Chinese Workers' and Peasants' Red Army from 1934 to 1936. During this period, the army left their bases and marched through raging rivers, frigid mountains, and arid grasslands to break the siege of Kuomintang forces and continued to fight Japanese aggressors. The students were trying to have a real-life experience of the Red Army soldiers when passing through the mountain in southern Ningxia. They finally reached the top of a hill where a large museum complex stood in memory of the Long March.
Source: China Military
China's Food Security Faces a Hidden Threat: An Aging Countryside
A survey published by the All-China Federation of Trade Unions in February suggests that the labor pool — once one of the country's greatest strengths — is no longer growing, leading some policymakers to once again raise policy solutions like delaying the retirement age. But there's another vital industry quietly bearing the brunt of a shrinking labor pool: agriculture. The percentage of rural residents over the age of 65 tripled between 1990 and 2020, with seniors now accounting for 18% of the total rural population. Researchers around the world have found that older rural residents often have difficulty adapting to new developments in agriculture and prefer to cultivate smaller plots of land to reduce their investment. This can impact food security as the government wants more land to be cultivated. Food security is arguably the Chinese government's top priority: it is a fixture in government speeches and the motivation for the gargantuan1.8 billion mu red line target aimed at restricting the loss of cultivated land. (There are about 15 mu in a hectare.)
Source: Sixth Tone
In China's Hyper-Competitive Job Market, Advanced Degrees Are the New Normal
A record number of university grads are delaying their entry into the workforce, choosing instead to continue their academic studies in graduate school. Today, greater numbers of job postings require advanced degrees, and previously unpopular programs — like psychology, communications, and journalism — have become highly competitive in recent years. Others are using graduate schools as a way to delay entering the workforce. Mingrui, a Chinese national and senior at New York University (NYU) Shanghai, says many of his friends are "postponing finding a job because they believe the job market and economy will be better in the future."
Source: Radii China