A Guide To Contemporary China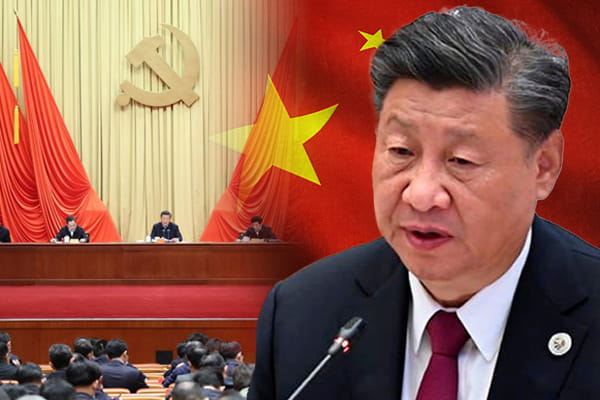 Hospital Fire Kills 29 In Beijing, Residents Kept In The Dark For Hours
The deadliest fire to hit Beijing in two decades killed 29 people in a hospital but most people didn't hear about it until several hours later. Flames tore through the Changfeng Hospital in Fengtai district from around 1 p.m. Tuesday, but according to CNN state media kept silent and censors appeared to scrub the internet of any mentions. Chinese media have not commented on this but only stated that 12 people including the dean were detained. A preliminary investigation into the cause of the fire identified that sparks from construction operations ignited paint volatiles. The twelve people detained include the hospital president, vice president, and the person in charge of the construction company, are suspected of major liability accidents and are currently under criminal detention. Based on reports from CCTV News and People's Daily, at noon on Wednesday (April 19), Beijing held a briefing on the fire accident at Changfeng Hospital. The briefing ended at 9:00 am on the same day, and 29 people were unfortunately killed after being transferred to another hospital for treatment. According to reports, the victims included 26 inpatients at Changfeng Hospital, one patient family member, one nursing worker and one nurse each.

Source: Zaobao
CPC Central Leadership Reveals Five-Year Plan To Refine Party Regulations
The Central Committee of the Communist Party of China (CPC) has revealed an outline for its plan to issue and revise Party regulations from 2023 to 2027. According to the outline, one priority of the plan is to improve the systems that uphold Comrade Xi Jinping's core position on the CPC Central Committee and in the Party as a whole, and uphold the Central Committee's authority and its centralized, unified leadership. The mechanisms to ensure the CPC Central Committee's leadership over major initiatives will be perfected. Systems will be installed to ensure only the CPC Central Committee is entitled to decide and explain major principles and policies that concern the whole Party and country. A set of regulations will also be issued on the implementation of the CPC Central Committee's major decisions and plans, regulating every link from the division of work to the assessment of the results and supervision.
Source: China Daily
China Claims Post-Pandemic Economic Recovery
The Beijing Municipal Government Information Office held a press conference on April 20 where they unveiled some statistics. According to these statistics, 10 provinces in China published economic data for the first quarter of 2023 and revealed some interesting trends about China's domestic economy. As per the available data, all 10 provinces showed positive economic growth compared to last year, ranging between 4-6%. Amongst these provinces, Jilin has registered the highest year-on-year GDP growth of 8.2%, which is 3.7% higher than the national average. Other than Jilin, 7 other provinces – Tianjin, Chongqing, Liaoning, Qinghai, Zhejiang, Hainan and Inner Mongolia – have registered growth rate higher than national average of 4.5%. Amongst these provinces, Zhejiang has the highest GDP of 1.8 trillion Yuan, showing a Y-O-Y growth of 4.9%. The remaining two provinces are Beijing and Hunan, which grew at 3.1% and 4.1% respectively, which were not far away from the national average. These figures have shown signs of post-pandemic economic recovery in China and the picture will get clearer when other remaining provinces will release data in the next few days.
Source: The Paper
China Adds Future Robots As Undergraduate Major To Serve National Development Strategies
China has added the subjects of future robots and rural governance as new undergraduate majors, which experts said could reserve talent to boost China's artificial intelligence (AI) development and better serve the country's national strategies such as rural vitalization and common prosperity. The Ministry of Education (MOE) has added 21 new types of subjects to the list of undergraduate majors to guide universities to open access to relevant majors that are urgently needed by national strategies and regional development, such as the future robots course under the cross-engineering category, which was set up for the first time under the engineering subject to cultivate top interdisciplinary talent. Experts highlighted the majors of future robots and rural governance and the emphasis on major adjustment on engineering subjects, as the cultivation of human resources in these areas is extremely important to boost China's social and economic development.
Source: Global Times
Women Harassed at Yunnan Dai Ethnic Group's Water-Sprinkling Festival
Multiple women have reportedly complained of being harassed at this year's water-sprinkling festival in Southwest China's Yunnan province, where groups of festivalgoers targeted female attendees with water guns, and one even ripped a woman's raincoat. The incident quickly went viral online, with one hashtag on the Chinese microblogging platform Weibo garnering 440 million views at the time of writing. The water-sprinkling festival is a traditional celebration of the Dai ethnic group welcoming the start of their New Year. Usually held from April 13 to 15 in Xishuangbanna Dai autonomous prefecture and Dehong Dai and Jingpo autonomous prefecture in southern Yunnan — the primary residences of the Dai people in China, this event is an opportunity to splash water and share best wishes with each other. It was listed as an intangible cultural heritage item in 2006.
Source: Radii China
Hangzhou Publicises Names of Metro Sexual Harassers
The Hangzhou city government's decision to release the names of sexual harassers to the public has received widespread support online, with many netizens calling for other cities to follow suit. The move is the latest push by city governments to crack down on sexual harassment on public transport, a problem that many Chinese women have complained about for years. In recent days, Chinese netizens discovered that the Hangzhou Public Security Bureau has been publicizing the names of people handed administrative punishments for indecent assault and other misdemeanors on an official government database. Of the more than 200 cases shown on the site where people were fined or detained, many of them were carried out in the Hangzhou metro system and included taking upskirt photos and improper physical contact.
Source: Sixth Tone