Rajnath In Maldives, IAF Chief In Sri Lanka Lead India's Fresh Outreach In Indian Ocean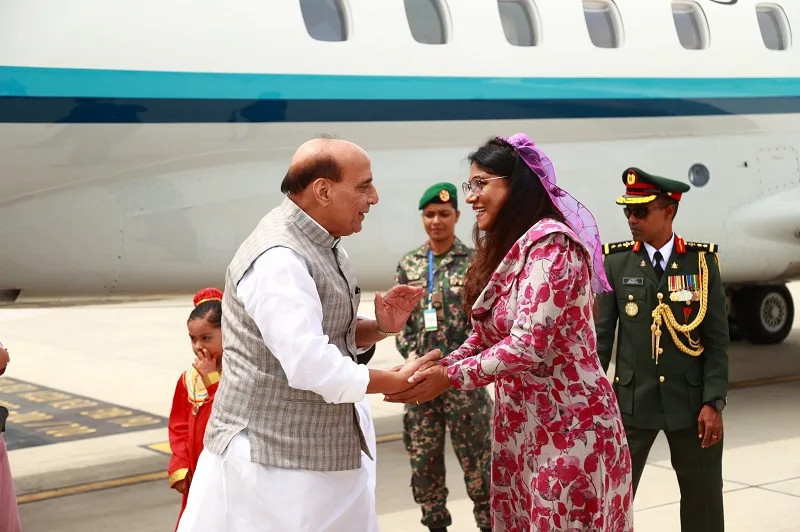 NEW DELHI: In keeping with Prime Minister Narendra Modi's strategic vision for the Indian Ocean—Security and Growth for All in the Region (SAGAR) and 'Neighbourhood First' policy—India on Monday kicked off another major engagement exercise with two of its key maritime neighbours in the Indian Ocean Region (IOR).
While Rajnath Singh landed in the Maldives—the first visit by an Indian Defence Minister to the island nation in 11 years—Chief of the Air Staff (CAS) Air Chief Marshal VR Chaudhari also embarked on a four-day official visit to Sri Lanka.
Singh's three-day trip to geostrategically important Maldives has been described by New Delhi as an "important landmark" in building the strong bonds of friendship between the two countries.
On the other hand, the visit of the Chief of Air Staff—who is scheduled to meet the Lankan President, Prime Minister, Defence Minister, the country's Chief of the Defence Staff and the Commanders of Sri Lankan Air Force, Army and Navy—is expected to "enhance the existing professional ties and bonds of mutual cooperation" between both the nations.
New Delhi is not only assisting the development of several infrastructure projects in the Maldives through grants-in-aid and Lines of Credit but is also deeply involved in enhancing the military heft of the Maldivian defence forces.
Minister of Defence inspects the vehicles donated by the Government of India to the Maldives National Defence Force pic.twitter.com/CMLVzX6trN

— Maldives National Defence Force (@MNDF_Official) April 18, 2023
The country, located in the hub of commercial sea lanes running through the Indian Ocean, is just 70 nautical miles away from Minicoy and 300 nautical miles from India's west coast and remains of significant strategic importance to India.
Malé has admitted that the defence and security partnership between the two countries is at its pinnacle, thanking the Modi government for providing swift, unconditional support to the Maldives at all times.
India is also deeply involved in developing the coast guard harbour and dockyard for the Maldivian National Defence Force (MNDF) besides equipping it with indigenous vessels for harbour defence, patrolling of territorial waters and coastal surveillance.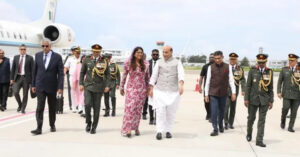 In April 2006, Indian Navy Fast Attack Craft INS Tillanchang was transferred to Maldives Coast Guard and renamed MCGS Huravee.
During his visit, Defence Minister Singh will gift another Fast Patrol Vessel and a Landing Craft to the MNDF – one of which is Indian Navy's highly manoeuvrable Fast Attack Craft INS Tarmugli which will be recommissioned as CGS Huravee.
As it dons a new role, 'Made in India' INS Tarmugli is capable of operating in shallow waters at high speeds and is equipped with enhanced firepower.
"I'm thoroughly impressed by the vessel's equipment and capacity. This OPV will undoubtedly help President Ibu Solih achieve his goal of strengthening the Armed Forces' capabilities," tweeted Maldives Defence Minister Mariya Didi after boarding the ship last Thursday.
Thank you for inviting me onboard the ship, set to be recommissioned as CGS Huravee soon. I'm thoroughly impressed by the vessel's equipment and capacity. This OPV will undoubtedly help HEP @ibusolih achieve his goal of strengthening the Armed Forces' capabilities @MNDF_Official. https://t.co/k1sbHBYd5J

— Mariya Didi 🎈 (@MariyaDidi) April 27, 2023
Didi personally received the Indian Defence Minister Monday afternoon as he began his trip to the archipelago.
Singh will hold meetings with his Maldivian counterpart and also with Foreign Minister Abdulla Shahid besides calling on Solih as both India and the Maldives work closely to effectively address shared challenges, including maritime security, terrorism, radicalisation, piracy, trafficking, organised crime and natural disasters in the region.
(This article appeared first on indianarrative.com)