Limelight On Nobody: Qin Gang's Removal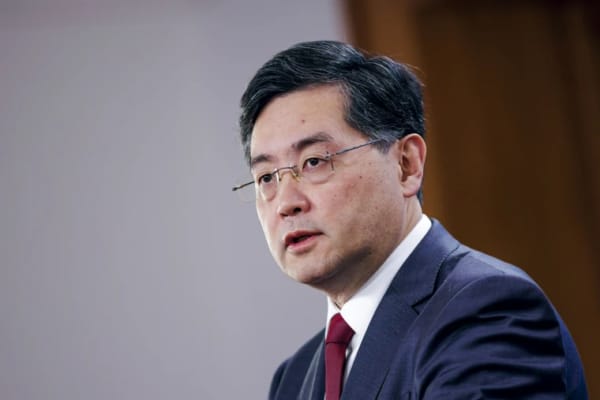 BENGALURU: On July 25, at the fourth session of the 14th Standing Committee of the National People's Congress (China's top legislature), a major portfolio shuffle was announced in the Chinese Ministry of Foreign Affairs (MFA)—Qin Gang, who was promoted to the post of Foreign Affairs Minister as recently as December 2022 was 'removed' from the post. In his place, Wang Yi, the Director of the Chinese Communist Party's Central Foreign Affairs Commission and former Foreign Affairs minister, was re-appointed.
Qin Gang, who was catapulted to the top post in the MFA for being in Chinese President Xi Jinping's good books and having made significant contributions to China-U.S. relations as former Ambassador to the U.S., has been absent from the public eye since June 25. Now, even as his removal as Foreign Affairs Minister has been announced, he is nowhere to be found, even though he was not dismissed from his position as one of the five State Councillors (with him being responsible for the foreign policy portfolio).

Four interesting things can be observed from his removal. Firstly, there was clear urgency to resume normalcy in foreign policy activity, since in his absence, Qin's scheduled engagements from the past month were being looked after by Wang. And some engagements were postponed. For example, the meeting that was supposed to take place between Qin and European Union Foreign Policy Chief Joseph Borrell on July 5. Hence, the removal of Qin and appointment of Wang took place at a special or 'emergency' session convened by the NPCSC by exercising the power vested in them under Article 6 of the NPCSC Rules of Procedure. The announcement for this session was also made abruptly; just a day prior to its commencement.
Secondly, this was not a typical dismissal of a high-ranking official. As per Article 32 of the NPC Organic Law, the NPCSC has the power to 'dismiss' officials (as punishment or disciplinary action) from their State Council posts in accordance with a recommendation put forth by the Council of Chairpersons of the NPC or the Premier of the State Council.
The decision on Qin's removal from the post of Foreign Affairs Minister at the NPCSC was moved by neither, and does not fall under the ambit of Article 32. 'Removal', as opposed to dismissal, is exercised in a situation when the tenure is nearing expiry, or is conducted as some routine process.
For example, at the same emergency session, Yi Gang was removed from the position of Governor of the People's Bank of China, and Pan Gongsheng was appointed in his place. Yi Gang is 65 years old, and previously too, PBoC governors have retired between the ages of 60 and 70. This was obviously not the case with Qin Gang.
Thirdly, why was a senior official like Wang selected to step down to the post he has already been promoted from? It is likely that the foreign policy portfolio required a seasoned hand, especially because China is readying to face a slew of major diplomatic engagements with BRICS, the Asia-Pacific Economic Cooperation Summit in the U.S., and the G20 Summit in India. In this context, Wang may be a temporary placeholder and a future permanent appointment may be undertaken.
Finally, speculation about the reasons for his absence and removal are raging on. Three dominant theoretical strains have emerged from these speculations, each more likely and unlikely than the previous – that he was removed due to differences between his policy approach and that of Wang's, that he was disciplined and purged due to his apparent extramarital affair with Phoenix TV journalist Fu Xiaotian, and that he was terminally ill and could not manage the Foreign Affairs portfolio well, which is why he needed to be removed.
We cannot know for sure if it was one or more of these factors compounded by coincidence, but each of these comes with its own caveats. For example, it is possible that Xi faced a difficult choice between following Wang Yi's line of foreign policy and that of his protégé Qin, and had to give in to the former. In this case, it could be that as consolation, Qin was allowed to retain his post as State Councillor. But this doesn't explain why he couldn't be present at his removal ceremony.
Moreover, given the nature of Qin's removal (as opposed to dismissal), as well as his retention of the State Councillor position, it doesn't seem like his case is that of disciplinary action, even though Fu herself has been out of the public eye since April 11, which was when she flew from the U.S. to Beijing. Qin's removal and the controversy surrounding his relationship with Fu may just have coincidentally come together.
It is not possible that ill health is entirely the reason why Qin was removed, given the urgency of his removal and the fact that his mentions have been entirely scrubbed off of the Chinese MFA website (even though they remain on the State Council website). The latter could also be explained by two other factors – that the Chinese Communist Party is obsessed with control over information, and saw merit in removing any informational links to Qin to avoid further engagement on the matter; or that his webpage simply crashed due to the surge in traffic! (especially considering that now, some of his mentions are returning to the MFA website).
Without these caveats, a serious injury or health issue, which was also the very first reason Chinese Ministry Spokesperson Wang Wenbin presented for Qin's absence at the ASEAN Regional Forum Foreign Ministers' meeting, could have explained his removal.
Overall, it remains to be seen how the case will progress, as little to no official follow-up information has been revealed. If it is indeed a political controversy, Qin Gang may be expected to give up his position as State Councillor to make for a respectable exit. If not, the speculation as to his whereabouts, and his role as State Councillor, will continue.
(The author is Research Analyst with the Takshashila Institution's Indo-Pacific Studies Programme. Views expressed in this article are personal.)