Leadership, Humour And The Rise Of India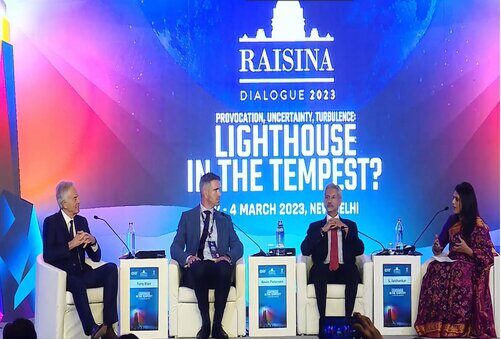 NEW DELHI: What is common to Tony Blair, Kevin Pietersen and Dr S Jaishankar?
The three men —one a former Prime Minister of the UK, the other a cricketer who contributed significantly to the British team winning its first T20 world cup in 2010, and the third India's external affairs minister who whose straight-talking no-nonsense attitude has won him the kind of following that many rock stars would envy—are well known in their own domains and beyond.
But at a talk on the second day of the Raisina Dialogue, titled "Turbulence, Temperance and Temerity—leadership in the age of uncertainty", the three men displayed another common characteristic which most leaders are not known for: their sense of humour.
The Durbar Hall of the Taj Palace Hotel, where the Raisina Dialogue—the annual flagship event jointly organised by the Indian Ministry of External Affairs and the Observer Research Foundation is held—was overflowing at the seams, with latecomers jostling for standing room for the session, moderated by journalist Palki Sharma.
Sharma set the tone with her first question for Blair, asking him to comment on how the world—and cricket—had changed from the British Raj to Amritkaal, a phrase coined by the Modi government which essentially sets an ambitious road map for universal and inclusive growth for India powered by technology and cutting-edge digital tools by 2047, when the country marks its 100th anniversary as an independent nation.
After describing Jaishankar as his good friend and reminding Pietersen about the time when he had welcomed the English Cricket team to 10 Downing Street after it won the Ashes in 2005, "when he (Kevin) was easily the most sober person on that team… the best actor. That's what it was," Blair turned to the question.
"I think the real challenge today is how you make sense of shifting geopolitics. The position of India is absolutely critical because the progress of India in these last years has been remarkable and extraordinary, and the position of India is potentially more powerful than it's ever been with the G20.
"It is absurd to think that India is not a permanent member (of the UN Security Council) but you can say that for other countries as well," he added. "The West has no option but to share power. The question is how to make sense of diplomacy in this new world."
Lauding India's digital ID programme as "one of the best programmes that has brought remarkable transformations," he said the rise of India is a pointer that "we are in a new era. India's position today is potentially more powerful than it's ever been. And India is expected to lead the Global South in a manner like never before."
"Leadership has been more challenging in the age of social media. Good leaders know that criticisms come with the job. The essence of leadership is taking bold decisions and standing by them," he said.
Asked whether India's rise as a geopolitical power, a post-colonial country that also dominates the originally British game of cricket was a reversal of power, Jaishankar said: "I would call it rebalancing but I would also say this is history which is switch-hitting. It's hitting the other way. It's not often that countries get a second or third bite of the apple. I think India today is in a very unusual position: Once more, very decisively upwardly mobile, which a lot of other civilizations states are not in a position to do."
"The most popular film in India last year was a film called RRR and this had to do with the time the British were around, and just trying to put it delicately, you were not the nice guys in the movie. I think the game of cricket has shifted as well. That's the kind of things happening in the world."
Reverting to the cricket analogy when asked to describe Prime Minister Narendra Modi's captainship, he said "with Captain Modi there's a lot of net practice. This starts at 6 am and goes on till fairly late. However, Captain Modi does give his bowlers a certain amount of freedom. I mean sure, he expects you to take that wicket if he gives you the chance to do it. If we look back at the last three years, the decision to lock down was a very, very tough decision but it had to be taken at that point of time. If we now look back, what would have happened if you had not taken that decision? The decision to push vaccine production in the manner in which it was done, one of the reasons why Tony and I have been so closely in touch during the pandemic was because we were on the raw materials flow for AstraZeneca and Covishield. To have the confidence to devise a programme to vaccinate so many people or the call to send vaccines abroad. There was a lot of questioning about that. So whether it's sports or politics, any competitive situation, that willingness to take the difficult call and stand by those calls, and give your people the confidence that you will stand by them when they take the risks. That is leadership."
Asked how he perceived the India's journey, both on the cricket pitch and the geopolitical arena, Pietersen said "India is a place that I love. I've been coming here for 20 years now and the country just keeps getting better and better. At the moment, there's conflict everywhere. As a father of two children, as Joe public, the world is actually a very scary place for us. (But) Look at the world of cricket that we're talking about. All the players from all around the world, friendships, almost homes. Here in this beautiful country, that's what cricket has done. Great friendships with Indian players. Indian players have great friendships with English players, with players from the Caribbean. Australian players. And so I think that sport can be used in some sort of fashion, to be able to try and mend things (although) China and America don't play cricket. And Russia certainly doesn't."
While Pietersen was adamant that social media was a plague, Jaishankar's take was "I have two and a half million followers and I like them."
Pietersen also felt that for the sake of peace, sometimes it was important to just accept something even if you know it was not quite right. For instance, people who "can say to their wife, 'yes, you're right, even though you're not right.' I think just getting people together in the room is sometimes not enough. You can ask Dr Jaishankar, he tried that yesterday," he said, referring to the G20 meeting where the foreign ministers, including those of Russia and the United States, met under one roof.
To which Jaishankar replied: "I was just tempted to say I wasn't negotiating with my wife."