Is Mozambique Becoming India's Gateway For Investments And Security In Africa?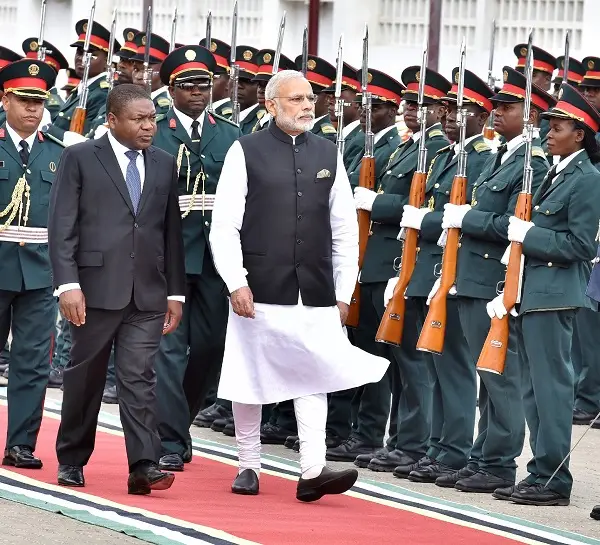 NEW DELHI: India's strong and expanding partnership with countries on the south-eastern coast of Africa will once again be in the spotlight during External Affairs Minister S Jaishankar's visit to Mozambique this week.
Jaishankar, who kicked off his Africa trip from Uganda on Monday, arrives in Maputo on Thursday to further stimulate and build upon the vibrant, versatile and robust bilateral cooperation between the two countries.
Mozambique enjoys a privileged geographical location with its 2500 km long coast bordering the Indian Ocean. It was earlier described by Prime Minister Narendra Modi as a 'gateway for Indian investment in Africa' during his visit to the country in 2016.
Since that landmark statement made by PM Modi with Mozambique's President Filipe Nyusi standing by his side in Maputo, India and Mozambique have engaged in new areas of cooperation: defence and security, trade and investment, agriculture, disaster management, health and pharmaceuticals, and science and technology.
In July 2019, during Rajnath Singh's first visit abroad as Defence Minister—also the first-ever trip to Mozambique by an Indian Defence Minister—India and Mozambique signed MoUs on cooperation in hydrography, sharing of white shipping information and joint surveillance of Mozambican Exclusive Economic Zone (EEZ) aimed at fostering bilateral maritime security ties.
Rajnath's counterpart Atanasio Salvador M'tumuke sought cooperation from India to deal with the growing menace of terrorism and radicalisation in the region as Singh handed over two India-made Fast Interceptor Boats (FIBs) which have played a key role in Mozambican defence forces enhancing coastal security and conducting effective patrolling.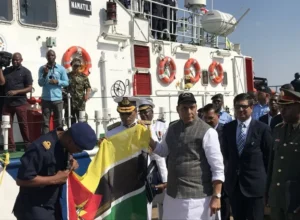 Singh, while announcing assistance of communication equipment, stated the importance of working together to prevent non-traditional threats like smuggling, terrorism, piracy and poaching in the Indian Ocean Region (IOR).
As reported by IndiaNarrative.com, the first-ever India-Mozambique-Tanzania Trilateral (IMT TRILAT) maritime exercise last October began a new chapter in the Indian Navy's growing efforts to enhance the IOR security.
Guided missile stealth frigate INS Teg, a Chetak helicopter and the personnel from the Marine Commando Force (MARCOS)—India's only Special Forces trained and equipped for the conduct of special operations in the maritime environment—took part in the three-day joint exercise involving the Indian, Mozambique and Tanzanian navies at Tanzania's largest city Dar Es Salaam.
At the same time, India and Mozambique continue to take giant strides in their partnerships in the energy sector.
Offshore gas discoveries in 2010 in two adjacent offshore blocks have seen the emergence of Mozambique as a significant hydrocarbon-rich nation. Strategically located, the African nation is ideally suited for bringing natural gas to India at a market-determined price.
ONGC Videsh and Oil India Limited have taken a 20 per cent stake in the Andarko-led consortium in the north of Mozambique where huge quantities of natural gas were discovered. In addition, some other Indian companies are investing in the coal, mineral and hydrocarbon sectors, including Tata Steel, JSPL, JSW, Essar, Coal India Ltd and BPRL.
Mozambique also acts as one of the principal exporters of Pigeon Peas (Tur), a staple diet in India.
During his visit, Jaishankar would visit the Mozambican Ports and Railways Authority (CFM) and also take a train ride in a Diesel Electric Motor Unit (DEMU) that has been sourced from India through the Government of India's concessional Line of Credit of US $95 million.
He would then inspect the facilities of the Fabrica Nacional de Medicamentos (FNM) in Matola which has entered into a joint venture with the Serum Institute of India for manufacturing vaccines with technology transfer in Mozambique.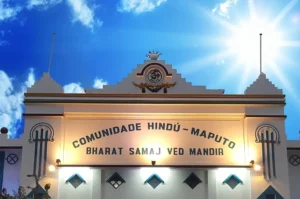 The warm and friendly relations between the two countries are not just cemented by robust development partnerships but also by a large presence of Indian diaspora that would get a chance to interact with Jaishankar as he visits the 100-year-old Salamanga Temple and offers prayers at the Shiva Temple in Maputo.
(This article appeared first on indianarrative.com)