India Defence Conclave: Focus On Jointness, Modernisation And Working With Strategic Partners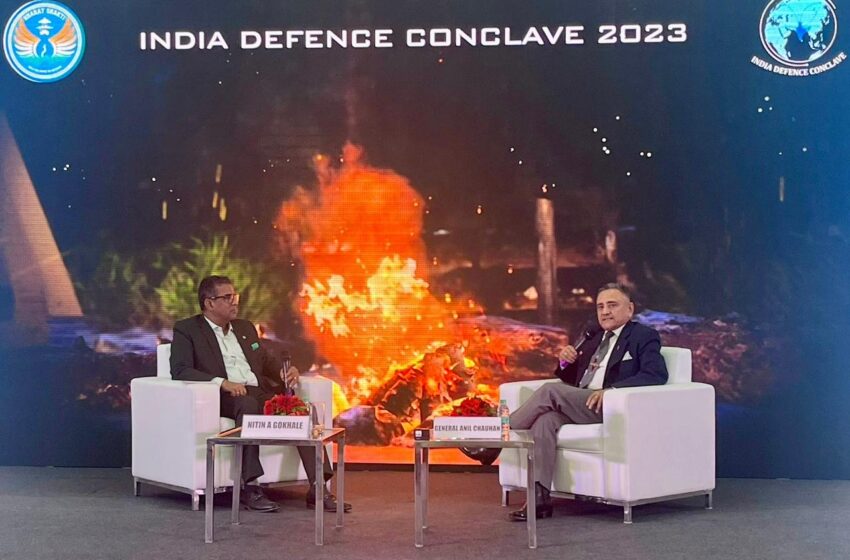 NEW DELHI: China's bid for Great Power status makes it inevitable that the Indo-Pacific will remain a region of contestation, warned Gen. Anil Chauhan, Chief of Defence Staff at the India Defence Conclave organised by Bharatshakti.in in Delhi on Tuesday.
"In the long run, because of compulsions of geography, our northern neighbour (China) will have to run its writ on at least two oceans if it wants to be a superpower. Indian Ocean is one and the Pacific the other," he underscored.

On theaterisation and jointness, he claimed "consensus" between the three service chiefs and himself on "macro issues", emphasizing that the services had managed to "remove whatever little mistrust" that had existed between themselves, paving the way for integrated military commands. Nine verticals had been identified for integration including Operations, Operational Logistics, Intelligence, Training, HR and Administration.
"In the case of logistic supply change, all the systems are different for the three services who do not talk to each other. So, there is a large inventory and in some cases there is a common inventory. We will codify and standardise the inventory as one when physical integration takes place."
He made another point. "There is no point creating joint structures where people are not ready to fight together. Consensus was important for me," he said adding that "obviously, consensus is not the best solution. So somewhere you have to compromise to take everyone along. But I think we will be able to get to a good solution."
Army Chief Gen. Manoj Pande echoed Chauhan, saying the army was looking to improve its "jointness and integration with our sister services and other agencies."
Emphasising the army's focus on research and development, he pointed out that "340 indigenous defence industries were working towards the fructification of 220 contracts by 2025 entailing an outlay of Rs 2.5 lakh crore." This he said was in line with the Army's bid to leverage and infuse new technologies as well as increasing the technological threshold of soldiers.
"Apart from weapon systems and equipment, we are also pursuing 45 niche technologies which we have identified for military application. Indian Army Cells have been co-opted within lead academic institutes, to foster and take forward research in niche domains. One hundred and twenty indigenous projects are currently underway to develop and absorb these niche technologies. We have set up centres of excellence in our technical institutions, including a 5G test bed, Artificial Intelligence (Al) lab and a quantum lab."
In the space domain, he said the Indian Army's project for its own satellite (G-SAT-7B) was in progress.
Technology was also high on the air force's agenda. Air Chief Marshal V.R. Chaudhari, in a powerpoint presentation, outlined his vision for the service over the next ten years, underscoring four key pillars: capability development, technology assimilation, HR management and training, and jointness and integration. Capacity development would involve the identification of potential risks which would be key in determining whether the air force needed to "equip and train for a short and swift war or we need to equip and train for a protracted conflict. Which part of the country or the globe is going to be affected next, is also something that we need to keep analysing all the time," he said.
The IAF chief referred to plans to buy 97 more Tejas Mark-1A aircraft besides upgrading 84 Sukhoi-30MKI jets at a cost of Rs 60,000 crore and the induction of C-295 transport aircraft. "The C-295 project will involve 125 MSMEs spanning seven states and is expected to generate a little over 40 lakh man-hours of work. And 96 per cent of these man hours will be undertaken in India," he said.
There was also recognition that the services needed to work with friendly countries to safeguard key strategic interests specially in the Indo-Pacific. Lt Gen Greg Bilton, Chief of Joint Operations, Australia said ties with India was at a point where both countries' militaries could work on a greater degree of coordination both in terms of intelligence gathering and at sea.
"We are at a point of our relationship where we de-conflict and make each other aware of the activities we are doing, but we are not at a point where we coordinate our activities in the Indian Ocean and other parts of the Indo-Pacific. My view is that there is an opportunity to perhaps start to coordinate our activities, leverage of the resources of both our nations to be able to achieve better levels of situational awareness," he said.