How India Is Ahead Of China In Battle For Railways In Nepal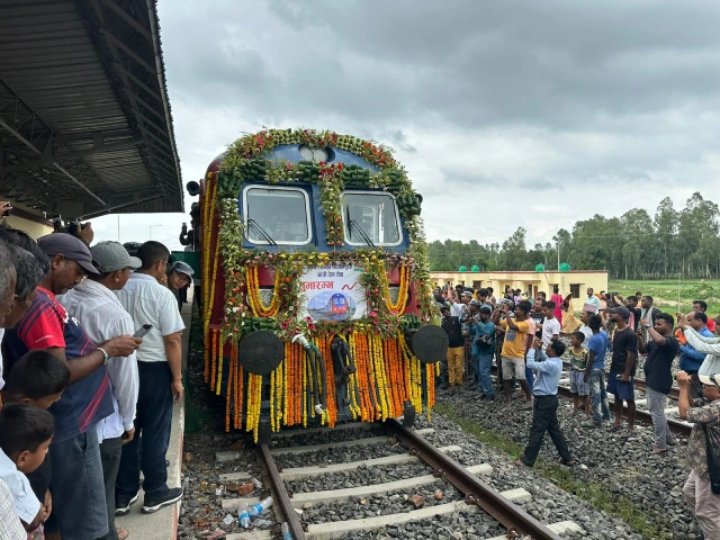 KATHMANDU: As India recently handed over the Final Location Survey of the proposed cross-border Raxaul-Kathmandu railway, China has also stepped up its effort to connect the railway with Kathmandu.
Many analysts consider the proposed railway connecting Indian town-Raxaul and Nepal's capital city and China's efforts to connect Nepal with Kerung-Kathmandu Railway as the two rivals' efforts to bring the Himalayan country into their orbit of influence.

So far, India is a step ahead in this new Great Game, with the southern neighbour already preparing the Final Location Survey, a type of Detailed Project Report, which has been shared with Nepali authorities for their comments.
"We are currently studying the report of the Final Location Survey," Rohit Bisural, director general of Nepal's Department of Railway told the India Narrative.
On the other hand, when it comes to Kerung-Kathmandu Railway, the Chinese technical team is conducting a field survey, according to the railway department officials. "The Chinese team has been conducting the field survey since March as a part of conducting the detailed feasibility study," said Bisural. "Field survey is now almost completed."
As a part of detailed feasibility study, the Chinese team will conduct aerial survey and mapping, geological survey and mapping, special technical studies, on-site surveying and mapping, geological survey, construction condition studies, engineering studies, and preparation of feasibility study report, according to the department.
In late December last year, a Chinese technical team representing the China Railway First Survey and Design Institute Group visited Nepal and conducted a reconnaissance survey of the railway project, according to the railway department.
A reconnaissance survey is the first engineering survey in a previously unsurveyed territory for the purpose of project implementation.
Bisural said there is a plan to conclude the ongoing feasibility study within 42 months. "The Chinese side is conducting the feasibility study with its grant assistance to Nepal amounting to RMB 180 million (NPR 3.33 billion)," he added.
China got into the frame of developing railways in Nepal during former prime minister KP Sharma Oli's visit to China in March 2016. The two sides then had agreed that the authorities of both sides would exchange ideas and proposal on constructing cross border railways and railways network in Nepal, and support enterprises to start related preparatory work as soon as possible.
The Chinese then sent their technical teams to conduct a preliminary feasibility study for the proposed railway in November 2017 and May 2018.
An MoU was signed between the two countries on 21 June 2018 on Cooperation in Railway Project when Oli visited China during his second stint as Prime Minister, followed by an MoU in 2019, when Chinese President Xi Jinping visited Kathmandu a year later.
However, the feasibility study could not move ahead instantly because of COVID-19 pandemic. China sent its team to conduct the feasibility study in late December last year.
Not to be undone by the Chinese move, New Delhi stepped up its game, focusing on the Raxaul-Kathmandu stretch.
"India considers China a bigger threat compared to Pakistan in recent years as India has already left Pakistan way behind economically and emerged as one of the key global powers," Lok Raj Baral, former Nepali ambassador to India, told India Narrative. "That's why India does not want increased influence of China, an adversary, in Nepal which New Delhi considers its own backyard."
He said that New Delhi historically considered the Himalayas as a major security guarantor to it which would be diminished with greater connectivity between Nepal and China.
"So, it is natural that New Delhi sees Nepal's railway connectivity with China through the lens of suspicion amid strained relations between two neighbour giants," he added. Post-Galwan Valley clash of troops of two countries in May 2020, bilateral relations between India and China are experiencing a deep chill.
In the past few years, Nepali leaders had been advocating making the Himalayan country a bridge between India and China. For this, transport connectivity with both neighbours would be important. But with India-China relations going south, such a proposal under current circumstances seems far-fetched.
"As long as the trust deficit remains between India and China, Nepal's dream to become a 'dynamic bridge' between two countries will just be a mirage," Baral said.
Surya Raj Acharya, an expert on infrastructure policy, planning and management, said that Nepal needs to address the security concerns of India in case it wants to expand railway connectivity with China.
Experts say different gauge systems adopted by India and China could prevent the seamless railway service across Nepal once Raxaul-Kathmandu and Kerung-Kathmandu railway lines are built.
They cite the era of the Great Game, when the Russian empire had adopted a different gauge system compared to other European countries. They made their railway gauge 89 mm broader than the 1435 mm in order to thwart an eventual invasion, according to reports.
India plans to extend its broad-gauge railway system to Nepal while China aims to extend its standard gauge system. The width of the broad gauge remains 1676 mm to 1524 mm while the width of the standard gauge is 1435 mm and 1451 mm.
There is a debate in Nepal whether to adopt broad gauge or standard gauge. Besides these cross-border railways, Nepal has designed most parts of the proposed East-Way Railway under the standard gauge system. Jayanagar-Kurtha Railway, which is currently under operation, was upgraded to board gauge from narrow gauge with Indian assistance.
Ananta Acharya, former director general of Nepal's Department of Railway, said he was in favour of adopting broad gauge because of Nepal's widespread cross-border movement of people between Nepal and India and Nepal's massive trade dependency with its southern neighbour.
Two thirds of Nepal's trade takes place with India and majority of third country trade of Nepal also takes place by using Indian territory as transit.
"Nepal's cost of trade will decrease substantially if we have the same gauge system as that of India because it ensures seamless railway services," Acharya told India Narrative. "Nepal can also work as a transit for India's railway system to connect India's north-eastern region to New Delhi."
He said that it would be easier for Nepal to get parts of the railway from India compared to other countries when trains break down on some occasions.
However, Nepal has a long way to go before a cross-border railway from two neighbours connects with the country's capital city. "Based on a detailed feasibility study report, the government needs to make a decision whether to go ahead to implement these projects— both appear to be very expensive," said Bisural, director general of the department of railway.
A senior official of the railway department earlier told India Narrative that construction cost of Raxaul-Kathmandu has been estimated at INR 260 billion (NPR 416 billion) as per the Final Location Survey. The official added that the length of the proposed railway would be 141 km of which around 41km would need tunnels.
When it comes to Kerung-Kathmandu Railway, it is not only expensive but also difficult to build because of rough terrain.
According to a pre-feasibility study, 95 per cent of the 73-km railway network will need tunnelling. Its construction cost is estimated at NPR 293 billion (INR 1=NPR 1.6), according to Bisural.
While Nepal portion of the proposed railway of Kerung-Kathmandu is 73 km, China must build a railway network up to Nepal border on its own territory. It takes around 35 km to reach Kerung from Nepal's Rasuwagadhi border and further 540 km away is the Shigatse city in Tibet where the Chinese railway system has connectivity.
"Indian railway has already arrived at the border town of Raxaul and India can build the Raxaul-Kathmandu railway from the bordering town," said Prakash Upadhyaya, former undersecretary at Nepal's Department of Railway. "In the case of a cross-border railway with China, Beijing should build the railway on its own territory. So, it will take longer to build the Nepal-China cross-border railway."
(This article appeared first on indianarrative.com)