'Hamas Attack Broke Convention On Calibrated, Restrained Terrorism'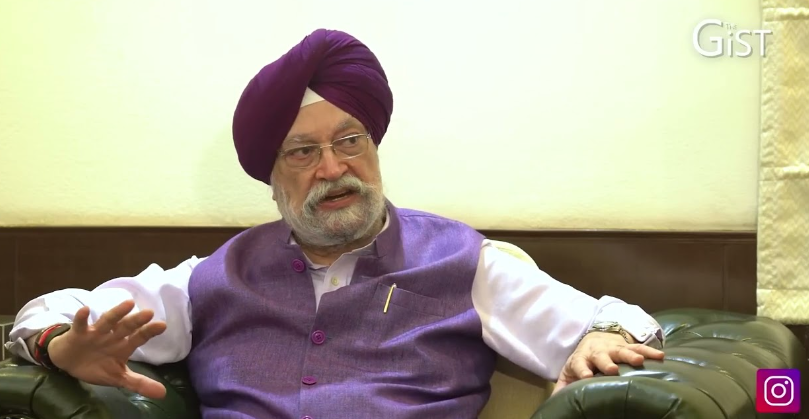 "The axis of the world has changed," warned Ambassador Hardeep Puri in an interview with StratNews Global recently, pointing out that Hamas's actions on Oct. 7 have no justification, but they also broke a convention that even acts of terror would be carried out in a "calibrated" and "restrained" manner.
"What has happened till now is that we believed the world would act with restraint – acts of terror would be committed by people in a calibrated and restrained manner," he argued.  "That (Hamas's action) was in a class apart in that it was designed to invite a maximum response. Because the game they are playing is that a disproportionate response will lead to half the world being pitted against Israel. This was a totally wrong calculation because while you may be in favour of group X nobody is going to accept that the foundations of a free world is going to be destroyed like this."

In his view, Hamas may not have expected the severity of Israel's response. "The Hamas outfit has bitten off more than it can chew and troubles in one part of the world can spill over into another. This is the beginning of a churning that will take place in West Asia and other parts of the world. Because once you have people saying I am right, and you are wrong, you risk the dangers of a much bigger conflagration drawing other players into it. The amount of weaponry and funding shows that this could spiral out of control."
He added, "I am always an optimist and I believe people will be able to see what the downside is."
Puri recalled his years in Colombo as first secretary when he had to deal with the LTTE crisis in Sri Lanka. "The Sri Lankan terror crisis had an Indian dimension to it because the terrorists sought sanctuary in parts of South India. There is a large Tamil population in India and elsewhere from which the Sri Lankan militant or terrorist – depending on which language you want to use – drew strength. So it was natural when the LTTE was formed we were invited to become the peacemakers. I made contacts with the militant groups in Jaffna and I was the person designated to fly out the LTTE leader Prabhakaran from his hideout to India. The India-Sri Lanka peace agreement was then signed in a valiant attempt to forge peace in an ethnically divided country."
This experience Puri believed could have wider lessons for other countries grappling with problems of terrorism. The UN already had a number of instruments in place, but these instruments came about only when the West faced a major terror attack for the first time.
"We have always been at the receiving of terrorism but the West faced it for the first time on its own doorstep. It was then that they said that this is a very serious matter, you must set up the 1373 Committee (in September 2001). They thought it was so important that for the initial years the chairmanship of the committee was only held by the P5," he pointed out.  The UN has other instruments and systems such as the 1267 ISIL (Da'esh) and Al-Qaida Sanctions Committee to exert some form of control over groups like Hamas during and after the conflict.
Despite these instruments, the effectiveness of the UN is seriously in doubt. Puri said  currently there were three UNs. "There is a UN which is a combination of the 193-member states, then there is a UN out there which is a Secretariat funded by the member states but sometimes does things on its own and the third UN is made up of civil society NGOs etc. These are powerful bodies but collectively the UN is in disarray."
Elaborating, Puri said. "This is because the UN has two functions: peace and security and development. On the peace and security part, you have a paralysed Security Council it has been paralysed since we were on the Council 2011-12 and it has been paralysed because the five members of the UNSC are in disagreement on the Middle East, on the Russia-Ukraine war."
"This is serious because this is the one international agency that can use force to maintain peace and security through 'all means necessary.' But today no one bothers to go to the UN to resolve conflict which speaks volumes about its effectiveness. Unless you correct the multilateral system post-1945 that will remain the case."