'From Technology Sharing To Checking China, India US Is Partnership Plus'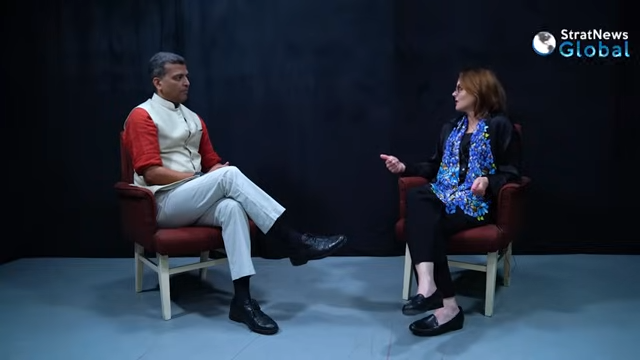 "India and the US are not allies but we are more than partners. It is a partnership plus," says Lisa Curtis, Senior Fellow and Director of the Indo-Pacific Security Programme at the Centre for a New American Security. Curtis, who was interviewed by StratNews Global in Delhi recently, said the foundations for the India-US relationship were strong which has resulted in both sides cooperating in both traditional sectors and newer areas.
"Now we have the defense-enabling agreements, trade is going well, and we have this breakthrough agreement where the US and India are going to co-produce jet engines. This is really remarkable. Not even China has this capability to co-produce jet engines, so this is really an important milestone in the relationship," she said.

Curtis lauded the Initiative on Critical and Emerging Technologies (Icet) had shown that the US was ready to work with India on AI and quantum computing.
"This is important because if you look at China – we have this technology race going on with China. There's concern about how they'll apply emerging technologies like AI to defence capabilities so it's a hands-on-deck situation. So the US needs India to cooperate on these issues and there is a lot of synergy in that tech relationship between these two countries."
Asked if the Biden administration viewed India as a cat's paw or proxy in its ongoing challenges with China, she dismissed the idea.
  "India is not a cat's paw for the US in getting at China. It was India and China that had a border crisis in 2020 and that changed India's strategic perceptions. You have had a major clash here with soldiers dying for the first time on the LAC since 1975. There is no question of the US  using India, but it wants to see India protect its own sovereignty and have the capabilities it needs to also stand up to China," she said adding that Washington had hopes that India would act to check China in the Indo Pacific
"Being a powerful country, a powerful democracy with a large capable military with a growing navy, India plays a prominent role in ensuring that China does not dominate the region both militarily and on the technological front. India also has a large amount of soft power by being the world's largest democracy and having good relations with many nations in the region. We hope India can use that positive influence in maintaining a free and open regional order in the Indo-Pacific."
She acknowledged divergent positions on the war in Ukraine and the tensions in the India-Canada relationship but President Biden's visit to India in September for the G20 summit, and the fact that he might visit again as chief guest for India's Republic Day celebrations showed how important the India relationship was to Washington.
On Pakistan, Curtis admitted that India's neighbour lived in "perpetual crisis mode." "Right now, the economy is teetering, it is not doing well at all. There is also a great deal of political instability. The military has put Imran Khan in jail because they are fearful of his power to bring people onto the streets. On top of that, you also have a terrorism crisis. Since the Taliban took over Afghanistan two years ago we've seen the strengthening of the Tehreek-e-Taliban (Pakistan)," she said.
"The situation is not as dire as it was in 2007-14 when there were incessant terror attacks in Pakistan. But I will say that there are causes for concern. We saw recently an attempted terror attack on the Mianwali air base. So, Pakistan has challenges and we have to manage this carefully.  We don't want it to implode as Pakistan is a nuclear weapon state."
She compared Pakistan's expulsion of Afghan refugees with Bangladesh that has absorbed thousands of Rohingya refugees from Myanmar.
On the Taliban now ruling Afghanistan, she admitted Washington had few hopes. "Taliban will not help US counter-terrorism problems just because both oppose ISIS (K) Taliban still allied with Al Qaeda and other terrorist groups. They are also building up a terrorist infrastructure where they are opening up new madrassas and exposing young men to radical extremist ideology. We need to prevent the Taliban from turning Afghanistan into a terror safe haven," she said.
As for India's Afghanistan policy, she said "India believes it has more to gain by engaging with the Taliban. This way they can be in Afghanistan and be able to keep their eyes on what is happening in the country. So, India will work with the Taliban to ensure that groups that target it do not flourish in Afghanistan. We have to be careful though because in the long run, neither India nor the US would want to legitimise the Taliban."