Evacuation From A War Zone: What It Takes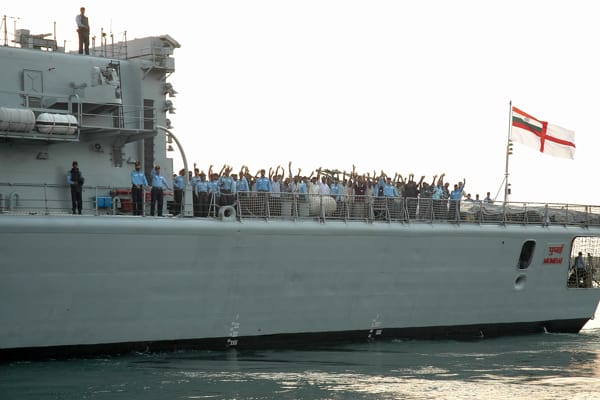 NEW DELHI: Rescue and evacuation missions are rarely easy and when they are from a war zone, things get even more complicated. Rewind to July 2006, when India launched 'Operation Sukoon' to bring back its citizens stranded in war-torn Lebanon. It came to be known as the largest evacuation operation of civilians undertaken by the Indian Navy.
A Naval Task Group (TG 54.1) comprising four ships—INS Mumbai, INS Brahmaputra, INS Betwa and fleet tanker INS Shakti—was headed home after overseas deployment in the Mediterranean Sea for exercises with Israel, Turkey and Greece.

The Call Of Duty
Half way through the Suez Canal on July 17, Vice Admiral Anup Singh (Retd), who was then Commander of the Western Fleet, distinctly remembers the call he got from the Naval Headquarters to turn back and evacuate Indians stranded in Lebanon.
"There's no way to turn around within the Suez Canal, whether you are part of a north- or southbound convoy. Warships always lead the convoy and the senior-most pilot of the Suez Authority embarks the lead ship (in this case INS Mumbai). We told him we have a message to turn back. He said you cannot join the northbound convoy now, so you will have to go all the way to Port Suez (at the southern end of the Suez Canal), anchor there and wait for permission to go north," he recalls.
Though July 17 was a Monday, it was a holiday in Egypt, and there was a long queue of ships waiting. But thanks to intervention by the Ministry of External Affairs (MEA) and India's cordial ties with Egypt, things were sorted. "We anchored at 4 pm in Port Suez and in early morning convoy which was to leave for Port Said (at the northern end of the Suez Canal), we were put in the lead. We reached Port Said late afternoon and straightaway headed for Beirut."
Arrival In Beirut
A naval blockade (70 by 58 nautical miles) declared by the Israeli Defence Forces off the coast meant permission had to be taken from their patrol vessels to move into Beirut. The green signal took about 15-20 minutes to come by, with a rider: one ship at a time can proceed into the blockade area. "We told them we wanted all four ships to move together till the 'gate' of the blockade but entry into the Beirut port would be one ship at a time. India's ties with Israel (and Lebanon) were good. They agreed."
An Empty Port
There were some U.S. warships about five nautical miles away; they wouldn't move in (the memory of over 200 US Marines and Navy personnel killed in Lebanon in a terrorist strike in 1983 being fresh). Instead, American tourists were to be ferried by civilian ferries directly to Cyprus. The port was empty; there wasn't anyone on the jetty as INS Mumbai moved into the harbour. A lot of Israeli F-16s criss-crossed the sky; bombardment was going on right up to just south of the harbour; the Beirut lighthouse, which had the harbour control tower had been bombed, recalled Admiral Anup Singh. "We stayed there for the full day; our Ambassador (to Lebanon) was there as well. There was no power in the Indian embassy or the Ambassador's residence. It appeared as if the entire city had been evacuated."
Orders from the Fleet Commander were clear: all self-defence weapon systems on the ships, till they are in Lebanese territorial waters, to be in absolute readiness round the clock. It was a departure from normal practice when ships are in harbour but the situation demanded it.
Singh vividly remembers one incident as INS Brahmaputra was leaving the harbour with evacuees. "An Israeli F-16 dropped some bombs south of the port and it shook the entire harbour, which had a ripple effect in the water that got transmitted to the hull of the ship as well."
Boarding And Journey To Cyprus
It took about five-six hours for passengers to board. Navy personnel put up control desks on the jetty; the skeletal embassy staff pitched in as well. But scrutinizing evacuees, making passes and baggage tags were done by the sailors, and a passenger manifest was prepared just like it's done for air travel. The elderly boarded first, followed by women including Nepalese and Sri Lankans some of whom had little children. The majority of the evacuees were Indians aged between 20 and 40. The forward-most messes of the ships had already been vacated to accommodate the evacuees. The ship's crew stood on action duty and guard throughout the passage to Cyprus.
During the entire operation that lasted about 11 days from July 20 to August 1, 2006, evacuees were shifted to Larnaca port in Cyprus which is 115 nautical miles (212 km) from Beirut. It took about eight hours of sailing at high speed to get there.
Deboarding at Cyprus was smooth. The Indian mission there—about three to four people in all, including the High Commissioner—had brought the Chief of Disaster Management of Cyprus to the jetty, which was of great help. Besides, tourist buses had been arranged by our mission to ferry evacuees to the airport. And almost simultaneously, an Air India jumbo jet, followed by another a little while later, landed at the airport.
The airport had a single storied terminal and could barely accommodate around 2500 passengers at a time. But it was already brimming over, with tourists from the United States, Europe and Australia; there were about 10,000 people, recalls Singh, adding that our evacuees were given priority, thanks to a proactive Indian mission there.
The operation was codenamed 'Sukoon' by my staff, he said. It's been about 17 years since then and the summary report prepared by the team has guided successive evacuation operations, be it in Libya or Yemen. We were lucky to be relatively close to the place of occurrence and around the right time but 12 hours is all we had to prepare for the evacuation, says Singh. All hands on deck ensured nearly 2280 people, including some foreign nationals, were brought to safety.