Discrimination In America: Has The Die Been Cast(e)?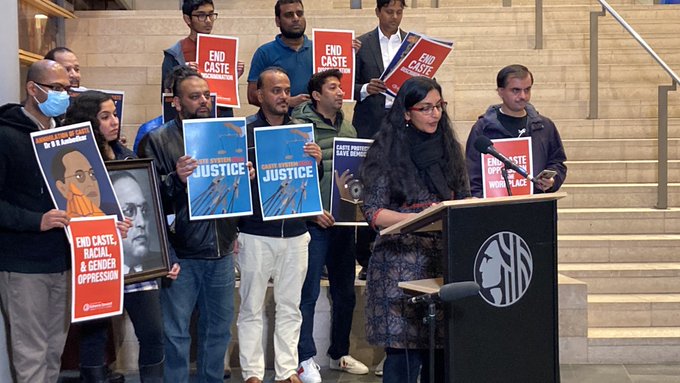 NEW DELHI: On February 21, Seattle became the first city in the United States to ban caste-based discrimination after a resolution moved by Kshama Sawant, an Indian-American councillor, was approved by the City Council by a six to one vote.
This was a "historic" step and "now we need to build a movement to spread this victory around the country," said Sawant. "Love has won over Hate," said Equality Labs, which bills itself as a "Dalit civil rights organization dedicated to ending caste apartheid," and campaigns against such discrimination in the US.

But as in India, caste remains a hot potato in the U.S., with opinion sharply divided, especially among Hindu Americans. Last year, a scheduled talk by Dalit activist and the Executive Director of Equality Labs, Thenmozhi Soundararajan, was cancelled by Google after a section of employees objected. A senior manager at Google who had arranged the talk quit the company in protest. A report in The Washington Post said the employees who opposed the event claimed "their lives were at risk by the discussion of caste equity".
Soundararajan wrote to Google CEO Sundar Pichai to register her protest. "I cannot find the words to express just how traumatic and discriminatory Google's actions were towards its employees and myself, as the company unlawfully cancelled a talk about caste equity. Google must address the casteism within its workforce that allows for these attacks to occur and continue. Even a consultant like myself is facing casteist smears in the company you lead. Imagine what a caste-oppressed worker at Google would face if they dared to come forward."
She pointed to a 2016 survey by Equality Labs that found "two out of three Dalits surveyed reported being treated unfairly at the workplace".
That incident at Google which revealed how polarised views are on both sides of the caste divide has manifested itself yet again over the Seattle resolution. The Hindu American Foundation, an advocacy group which had campaigned against the resolution, asked why South Asians were being singled out under the "guise of non-discrimination".
Suhag Shukla, co-founder and executive director of the Hindu American Foundation, insists that the Seattle resolution violated the U.S. Constitution's guarantees of equal protection and due process that prohibit the state from treating disparately people on account of their national origin, ethnicity or religion, and implemented a vague, facially discriminatory and arbitrary category.
Racism is already a burning issue in the United States. Now America seems headed for a battle over another facet of discrimination. The law may be cast in stone, mindsets aren't.