Africa Trade: India Pitches Partnership Against Predatory Chinese Behaviour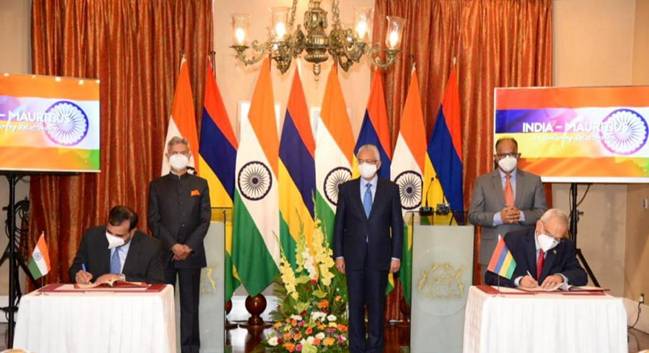 NEW DELHI: The barometers of cooperation between India and Africa span a wide range. To take only two examples: last month India signed a Comprehensive Economic Cooperation and Partnership Agreement with Mauritius, which would enable Indian goods to enter the African Continental Free Trade Area (AfCFTA) duty free. Another example is India's aid and assistance to African states that cover grants for development projects to educational scholarships and more.
If the first is recognition of the potential clout of this emerging free trade area, the latter underscores the depth of India's commitment to Africa. Partly this commitment is driven by commercial considerations, partly for strategic reasons (need for minerals, countering China, checking extremism). But nearly three months after the African continental free trade area came into being, India is hoping to capitalise by leveraging its political, economic and diaspora connections forged over decades.
"We do not have a donor-recipient relationship with Africa but consider our partner countries as development partners," said Rahul Chhabra, Secretary, Economic Relations, Ministry of External Affairs, at a recent event. "Out of 54 African countries, we have Indian projects operating in 48 African countries with 75 projects worth US $13 billion. This is the size of our commitment to the African continent," he said.
With 54 countries participating, it is touted as the world's largest free trade area covering 1.3 billion people with a combined GDP of $3.4 trillion. The deal that entered into force in May 2019 and has been ratified by 36 of the African countries so far commits to the creation of a seamless market for goods and services—one of the main objectives of Agenda 2063 for transformation of the continent into a global powerhouse.
Under the AfCFTA trade deal, tariffs on 90 per cent of goods are to be phased out within 10 years and the remaining in some more time. This could take up to 2035. The idea behind the free-trade area is to boost intra-Africa trade and import from within Africa rather than source products from outside the continent, like China, the U.S., Europe. Trade within the continent has been very poor. According to UN trade agency Unctad, intra-Africa trade was around 2 per cent in 2015-17, compared to 47 per cent with America, 61 per cent with Asia and 67 per cent with Europe.
According to data, most of the African countries do a significant amount of trade with their former colonial powers than with their neighbours. The trade area would also resolve the challenges of the multiple regional trade blocs, like the Common Market for Eastern and Southern Africa (Comesa), the Economic Community of Western African States (Ecowas), the Southern African Development Community (Sadc) and the East African Community, which often overlap. Of the 55 countries in Africa, only Eritrea is still out of the trading bloc.
Terming the pan-Africa integration project as a "game changer", India has said the AfCFTA is a great opportunity for Indian businesses to partner with their African counterparts to deepen integration and accelerate their development.
"India has very good trade relations with Africa and this agreement will help enhance the development of local Indian companies… They will get the opportunity to promote themselves; it will help them to locate to different African countries and get different opportunities," Dr Tizita Yimam, Ethiopia's ambassador to India told StratNews Global.
"Rather than locking up the continent to outside trade, the AfCFTA would open up opportunities for countries like India to enhance their involvement in Africa. The same would happen in Ethiopia, where over 600 Indian companies are present, which employ thousands of Ethiopians in different sectors. So opening up the FTA would give opportunities to these companies to operate in different parts of Africa," Dr Yimam said.
"The AfCFTA will create one single unified market for African countries and will provide many more opportunities for Indian investors and firms to tap into a single big market. What India needs to do is to look at African countries not just from a short-term vision but as partners for medium and long-term growth," says Abhishek Mishra, researcher on Africa at the Observer Research Foundation in Delhi.
For China, which is the top investor in mega infrastructure projects across Africa, the AfCFTA fits in very well with President Xi Jinping's Belt and Road Initiative. Beijing is likely to play a key role in constructing transport corridors criss-crossing Africa, like Kenya's standard gauge railway (SGR) and the Addis Ababa-Djibouti railroad to boost the AfCFTA. According to reports, China created $470 billion worth of roads, rail lines, ports, airports, oil, gas and power facilities, pipelines, office buildings and other projects in 2018 in Africa.
"China is planning to integrate the BRI and AfCFTA. In East Africa, like in Kenya and Tanzania, they are building ports, building railway lines connecting the ports to cities, and from cities they will cross the border and go to some other central African country. Beijing is trying to create those kinds of networks and linkages that will help them if they trade products via sea to east Africa," says Abhishek Mishra.
"With Africa becoming a single market and having proper transportation and connectivity and infrastructure, it will provide China more returns on their investment and there will be more two-way trade. That is the idea behind China and India both supporting the AfCFTA, to help Africa in its economic integration," he adds.
According to reports, China's role as "the world's factory" has hit the development of manufacturing and supply chains across Africa. Cheap Chinese products have flooded the African market, affecting intra-Africa trade. For example, while Kenya is a major producer of cement, its exports to its East African neighbours has been negligible compared to cement imported from China. Over the past decade, Tanzania and Uganda increased their imports of cement from China by 60 per cent while sourcing just a fraction from Kenya. Cheaper Chinese products have caused concern about the impact of the AfCFTA on businesses and their costs. This concern could accentuate if the flood of cheap Chinese goods wipes out local industry, as India has discovered to its cost.
(The author is a senior journalist on the foreign policy beat. Views expressed in this article are personal)