In Another Snub, Myanmar Junta Barred From Asia-Europe Meeting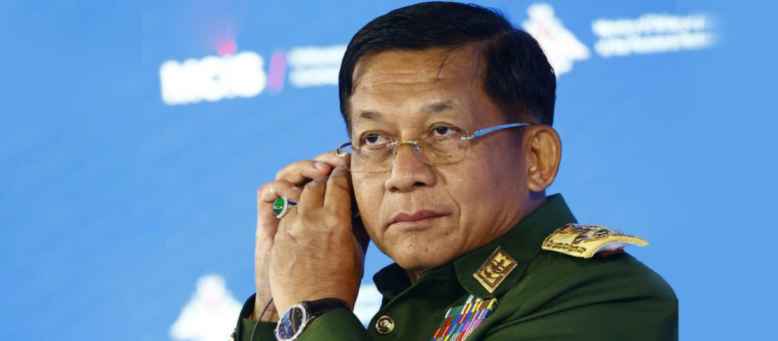 Myanmar's military regime, which has become notorious for its brutal crackdowns on protesters, is appearing increasingly isolated on the world stage after being shunned from another international summit on Thursday, in the third such snub in two months.
The two-day virtual Asia-Europe Meeting (ASEM) involving leaders of Asia and Europe is being hosted by Cambodia.
Association of Southeast Asian Nations (ASEAN) sources said the junta was told it could only send a "nonpolitical representative" to the meeting as the regional bloc continues to sideline Myanmar junta leader Senior General Min Aung Hlaing over the country's post-coup political turmoil. Myanmar is an ASEAN member.
Kyodo News reported that the regime informed Cambodia it would not participate in the summit, citing the ASEAN sources.
Prior to its exclusion from the ASEM summit, the Myanmar regime was sidelined at the ASEAN-China special summit early this week. Junta ally China tried to persuade the bloc's other member states to allow Myanmar to be present at the meeting. However, faced with ASEAN's opposition, China was unable to help bring Myanmar to the table.
The 10-member bloc first excluded Myanmar junta leader Min Aung Hlaing, who has led bloody crackdowns on protesters against his regime since his power seizure in February, from its leaders' summit in October. It attributed the coup leader's exclusion to his failure to honor commitments he made to ASEAN to ease the political turmoil caused by his takeover.
ASEAN's unprecedented sanctioning of the Southeast Asian country is a departure from its basic principle of non-interference in member states' domestic affairs. In response, Myanmar has criticized the bloc for not adhering to the longstanding principle.
The regime still hasn't made any official statement on its exclusion from the ASEAN-China summit, however.
Being barred by ASEAN from the summits is a huge blow for the regime, which desperately seeks recognition as Myanmar's rightful government, especially from its regional neighbours. It also faces a contesting claim for legitimacy by a civilian shadow government formed by lawmakers from the ousted administration and their ethnic allies. At the same time, the regime has seen growing armed resistance from civilian forces across the country who refuse to submit to its rule.
(By arrangement with 'The Irrawaddy')